Just invited to a party or neighborhood get-together and need to bring something to share?
I highly recommend this Almond Bark Puffcorn. It's so easy, only three ingredients using only the microwave, and your kids can help too!
The perfect combination of the salty puffcorn and the sweet almond bark makes it a delicious treat everyone will love.
Ingredients
Almond Bark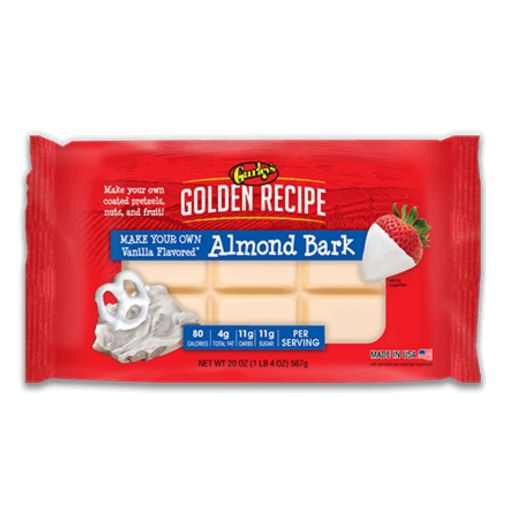 I usually stock up on almond bark when it's on sale because you never know when you will have a random party pop up where you need to bring something to share.
I recommend using the vanilla almond bark over the chocolate. I'm a huge chocolate fan, but for some reason, the puffcorn tastes so much better with the vanilla almond bark
Puffcorn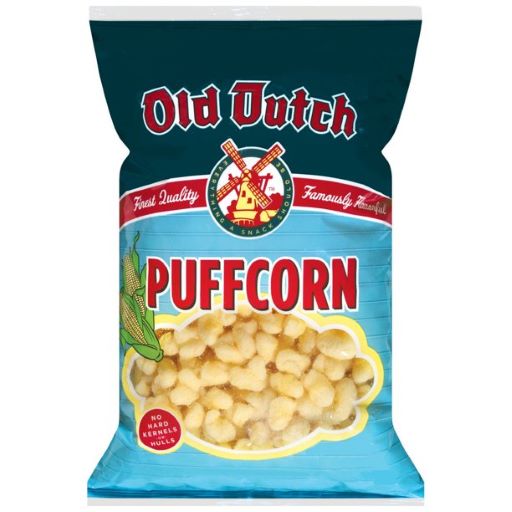 I also stock up on Old Dutch Puffcorn when I see it on sale at the grocery store. It typically lasts quite a while and makes for a perfect snack for movie nights since regular popcorn can be a choking hazard for kids four and under.
Sprinkles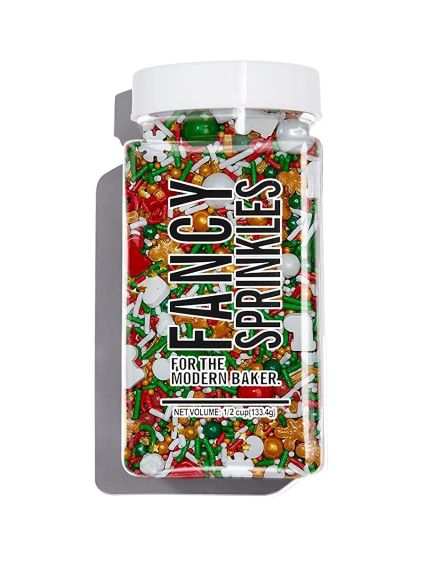 The best part about this recipe is that you can easily change up the sprinkle color to go with any holiday, theme, or occasion.
While I do recommend the small, round sprinkles to ensure they stick better, here are a few options that will make your almond bark puffcorn festive!
How to Make Almond Bark Puffcorn
This almond bark puffcorn recipe is so simple that even your kids can help you make it! Let them help you microwave and stir the almond bark, pour the puffcorn into a bowl, toss the puffcorn with melted almond bark and sprinkle on the sprinkles.
Melt Almond Bark
Break apart the almond bark into small chunks and place it in a microwave-safe bowl. Microwave for one minute to start, making sure to stir once done. If almond bark is not completely melted after one minute, microwave for an additional 30 seconds, stirring between each 30-second increment to ensure the almond bark does not burn.
If you get to the point where the almond bark is almost completely melted, try just string it to melt the rest. The heat of the mixture will help continue to melt it.
Mix Almond Bark and Puffcorn
Empty the entire bag of puffcorn into a large bowl and pour melted almond bark over top. Using a spatula, mix the almond bark and puff corn until well combined.
Spread out on Parchment Paper
I recommend lining a baking sheet with parchment paper ahead of time because you'll need to move fast once you mix the almond bark with the puffcorn so that it doesn't dry before you apply the sprinkles
I typically use two baking sheets per block of almond bark and one bag of puffcorn.
Pour the almond bark-covered puffcorn onto the parchment paper-lined baking sheets and spread evenly, trying not to leave large mounds. This makes it easier to evenly coat with sprinkles.
Add Sprinkles
Once your almond bark-covered puffcorn is spread out evenly on the parchment paper, add your sprinkles of choice, as little or as much as you'd like.
Let Harden
You can certainly let it harden just sitting out on the counter, but if you have a party to go to in an hour or so, throw it in the fridge or even outside if you live somewhere cold like I do.
Once it has hardened, you may need to break apart some of the larger chunks.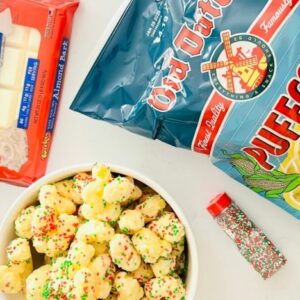 Almond Bark Puffcorn
This three ingredient almond bark puffcorn is the perfect salty sweet recipe that will impress anyone. Bring it to a party, share with neighbors, or enjoy at home on a movie night.
Equipment
1 Large bowl

1 Microwave safe bowl

1 Spatula

2 Baking sheets

Parchment paper
Ingredients
1

Block

Vanilla Almond Bark

or vanilla candy coating

1

Bag

Puffcorn

Sprinkles of choice

small, round sprinkles work best
Instructions
Break apart almond bark block into small chunks and place in microwave safe bowl. Microwave for one minute to start, stirring once done. If not melted completely, microwave at 30-second increments, stirring after each until completely melted.

Empty puffcorn into a large bowl and make sure there's enough room to stir. Add melted almond bark to puffcorn and stir until evenly coated.

Line two baking sheets with parchment paper and pour almond bark covered puffcorn mixture onto parchment paper, half on each baking sheet. Spread evenly and avoid large mounds.

Add sprinkles and let harden on counter top or stick in fridge or outside.
Dye Free Sprinkles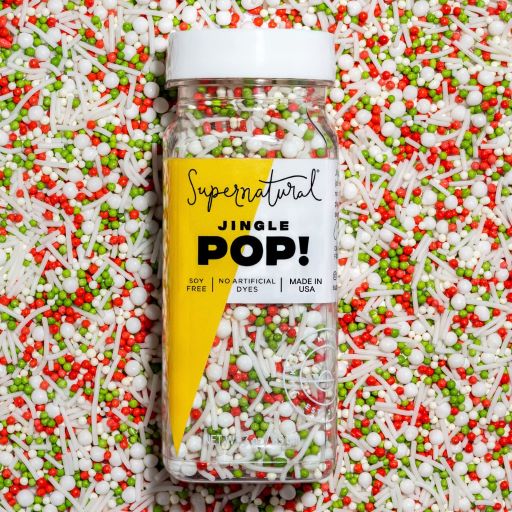 For those looking to avoid artificial colors, you can try Supernatural Confetti sprinkles or their fun Jingle Pop sprinkles.
How to Store Almond Bark Puffcorn
You can store your almond bark puffcorn in a Ziploc bag or air-tight container for around a week. After about a week, it starts to get stale.