Costco, also known as the $200 store, is known for its ability to stock a family's fridge and freezer with great meal ideas.
By the way, it's called the $200 store because you can't leave without spending $200.
I head to Costco roughly 2-3 times a year, and when I go, I mean business. I'm buying all the easy meals and bulk snacks I can to make my life easier and cut out any decision fatigue for the next few months when it comes to meal planning.
Whether you go on a weekly basis or only a few times a year like me, I'm sharing my favorite easy Costco dinner ideas as a dietitian and mom. These meals are not only delicious, but they're super simple to put together.
Suggestions and prices within this post may vary depending on season and location.
Is Costco Really Worth it?
It's easy to quickly rack up a big tab at Costco without realizing it. Most items are $10-20 a pop.
I'm not a Costco Expert, but I'm a dietitian who loves food and a mom with two kids who also love food, most of the time, so I think it's definitely worth it, and here's why:
You get access to brands that you may not have access to at your local grocery store.
You get access to larger quantities of your favorite brands.
Their produce is usually pretty decently priced for the quantity you get. You have to make sure you can go through it before it goes bad.
Some items are more affordable than your local grocery store: eggs, milk, butter, and produce.
The samples!
You have the choice of a gold membership or upgrade to an executive plan and get 2% back.
Your best bet is to go in on it with someone else and split the cost because you can have up to two cards per account.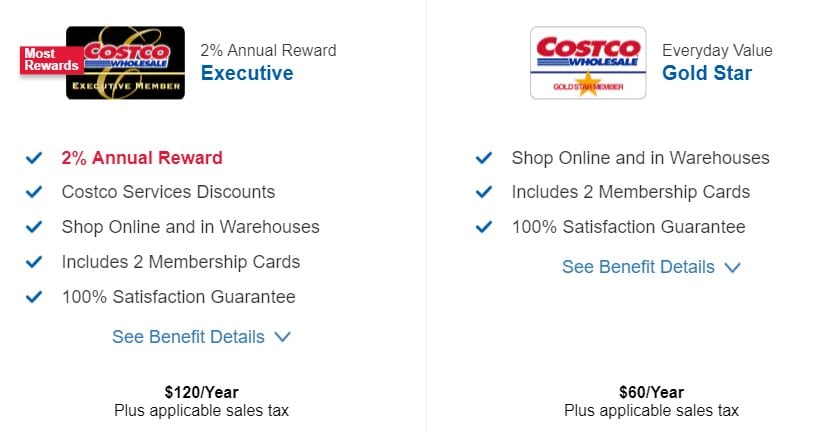 Dietitian-Approved Costco Dinner Ideas
As a dietitian and mom, I am always on the hunt for meals that are easy to make while still providing lots of great nutrition.
With convenience, you do usually end up with a little more sodium and added sugar, however, life is about balance. So pair it with fresh veggies, and sprinkle convenience into your meal rotation when it works for you.
Of course the availability of the items I recommend will greatly depend on the time of year, location, and what's available at your nearest Costco.
Below are 10 of my favorite easy Costco dinner ideas.
If you'd like to take the thinking out of planning and preparing meals with your Costco groceries, grab my Super Simple Costco Meals guide!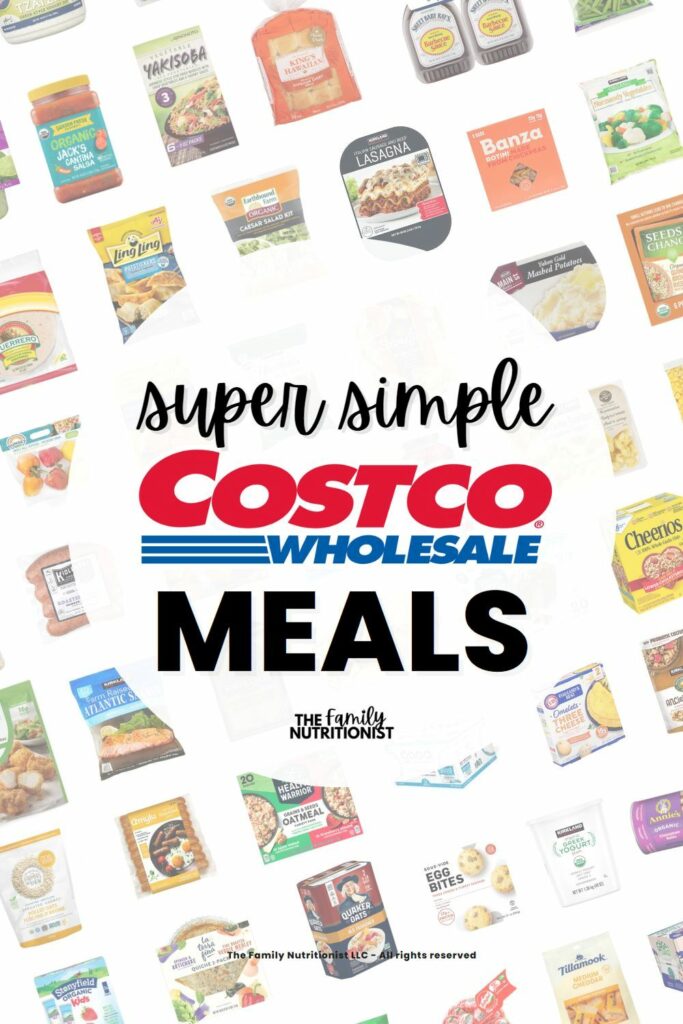 Fresh Made Meals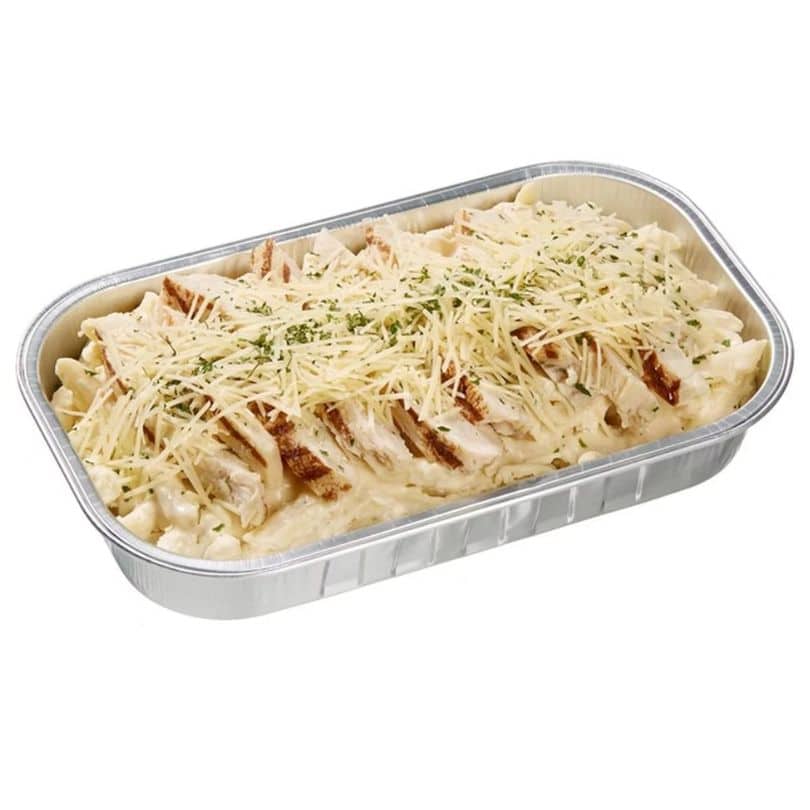 I literally have their fresh made meatloaf and mashed potatoes in the oven as I'm writing this post.
I always stock up on Costco fresh made meals when I get the chance. They're so good and for a family of four, can typically last for two dinners or at least be incorporated into lunch the following day.
The best part about most of these fresh made meals from Costco is that you can freeze them for later! Here are a few things to consider when freezing their fresh made meals:
Pull it out of the freezer to thaw 1-2 days prior to when you plan to bake it, otherwise, it will take hours to cook thoroughly.
Freezer meals usually last roughly 3 to 6 months in the freezer before the quality starts to go downhill.
These fresh made meals are the perfect gift to bring new parents. Trust me, they probably have enough cute baby clothes and stuffed animals. What they really want is help and a fresh meal they don't have to cook will be greatly appreciated.
The only downside to these is that they don't have many options for those who may have food allergies or intolerances.
A few of my favorites:
Ravioli Lasagna
Macaroni and Cheese
Chicken Alfredo
Meatloaf and Mashed Potatoes
Chicken Tacos (don't recommend freezing)
Rotisserie Chicken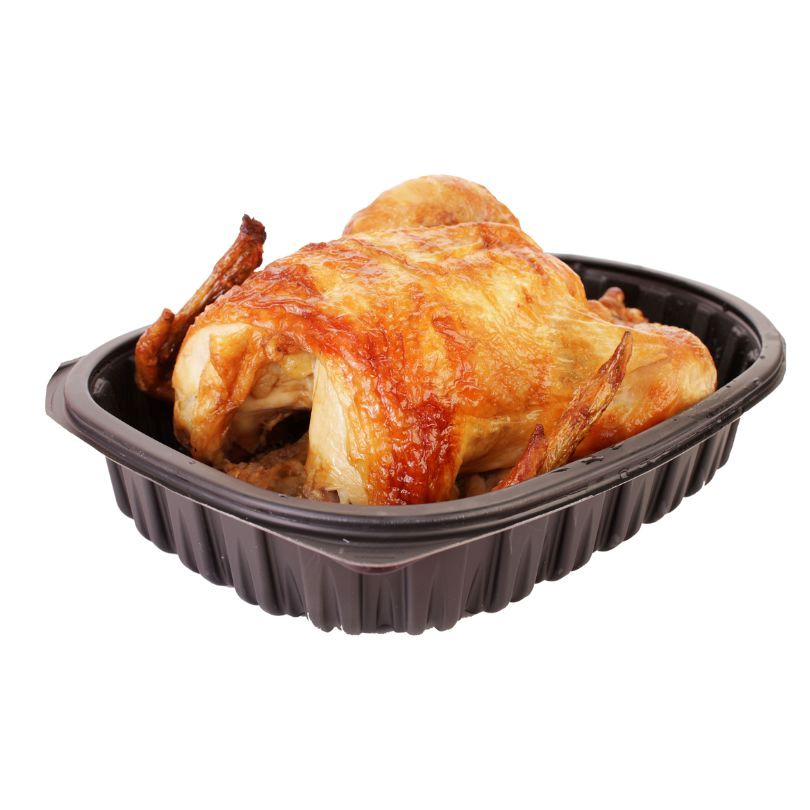 Costco rotisserie chicken is always a steal compared to purchasing it at your local grocery store. You can even purchase their rotisserie chicken already taken off the bone for convenience.
Add to any salad, casserole, chicken salad sandwich, soup, pasta, or just on top of mashed potatoes with gravy.
Sukhi's Indian Cuisine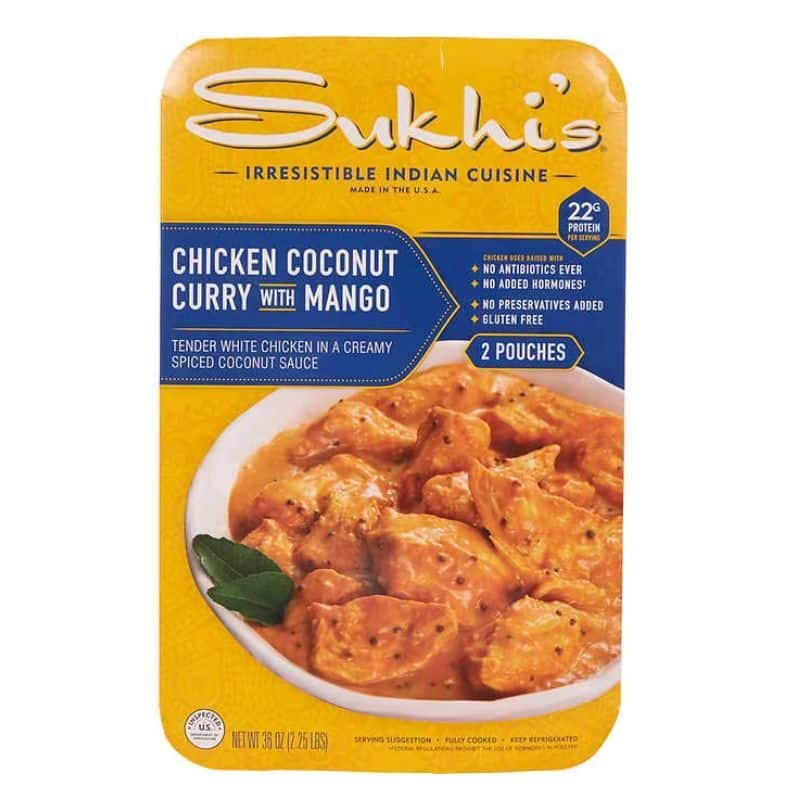 I don't think I really ever experienced Indian cuisine until I started shopping at Costco. I absolutely love Sukhi's Indian Cuisine microwave entrees.
They're so tasty and easy to make. They usually come with two pouches so you can save one for later.
I typically pair this with white rice, freshly roasted veggie, or steamer veggie if I'm short on time and fresh produce, and Stonefire mini naan dippers – you can also find these at Costco!
Kirkland Three Cheese Tortellini
What kid doesn't like noodles or cheese? These Kirkland Three Cheese Tortellini come in a two-pack that you can freeze and only take 3 minutes to cook in boiled water.
Warm up some Costco marinara sauce and serve with garlic bread or veggie and it's probably the easiest meal you've ever made.
Annie's Mac N Cheese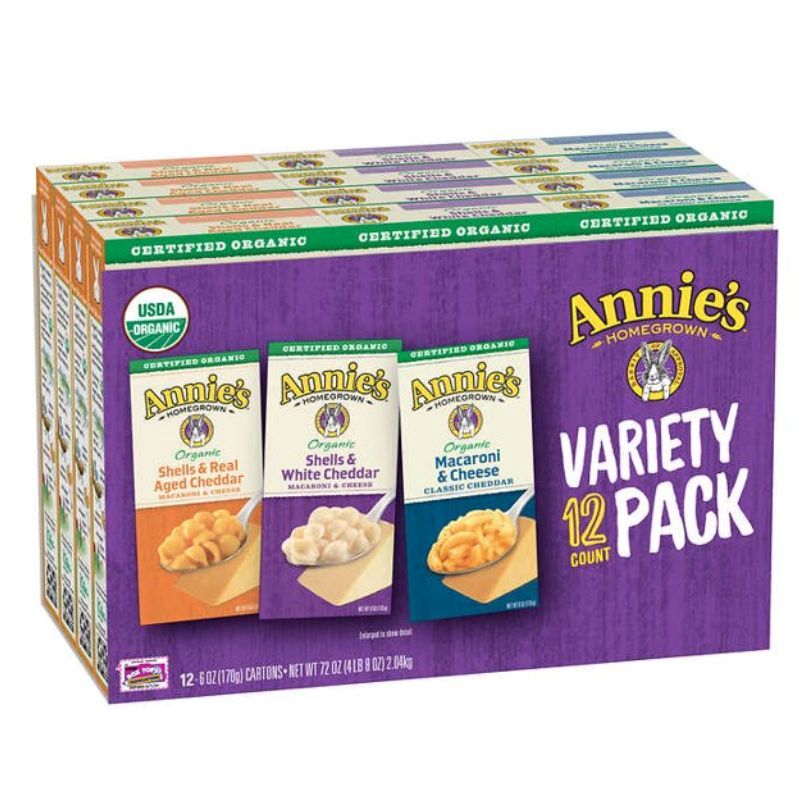 We go through Mac N Cheese like no one's business in our house. While I love Costco's fresh made Mac n Cheese, it's basically illegal not to have a few boxes of mac n cheese in your pantry for those moments when you need to whip up something kid friendly for dinner.
I particularly love the Annie's Mac N Cheese bundle at Costco because it comes with three different varieties; regular, shells and real aged cheddar, and shells and white cheddar.
If you're looking for ways to boost your mac n cheese game and make it healthier, check out my blog post: 10 Ways to Make Healthy Mac and Cheese for Kids.
Salad Kits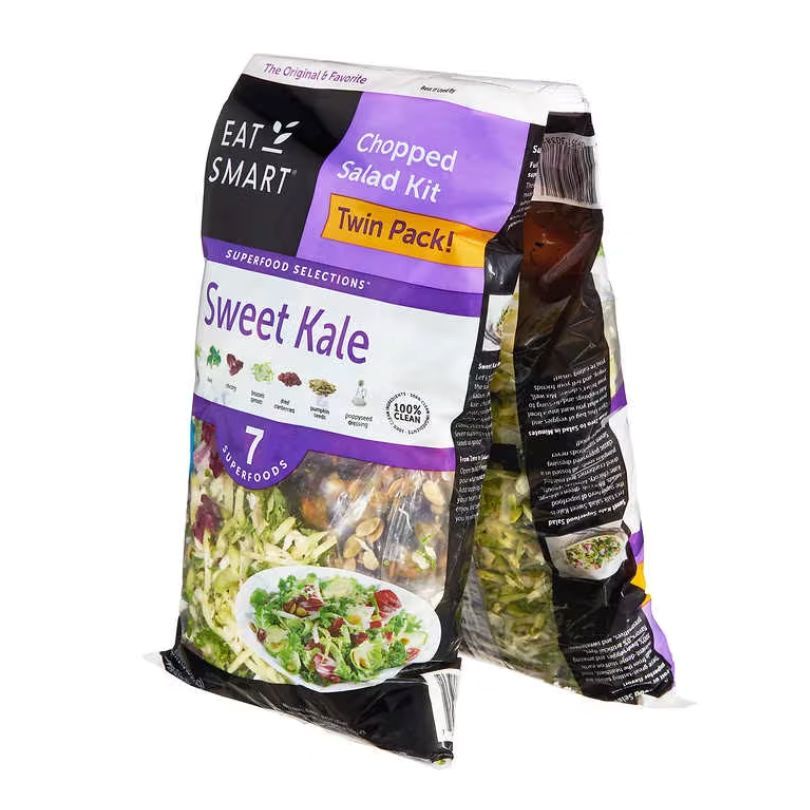 Honestly, I forget how good salads are. I think I avoid them because really yummy salads have all these different ingredients that give me anxiety thinking about buying and preparing.
But Costco salad kits take away my salad anxiety. It's all there, in one bag, ready to be tossed and eaten. Pair with some Costco rotisserie chicken, or salmon, or use as a side to your main dish and call it a day.
They usually come in a two-pack, so you do need to be mindful of making sure you actually eat them. I've definitely thrown out produce from Costco before because I got too excited and bought more than I could eat. Whoops!
Everything Seasoning Breaded Cod
This Everything Seasoning Breaded Cod is so good, you won't even know you're eating fish. I like to call them "grown-up fish sticks," even though they're not in the shape of sticks. However, I do really like the Trident fish sticks from Costco too.
It's important to incorporate fish into your diet because it has extremely valuable nutrition such as Omega 3s, and many other valuable vitamins and minerals. This Everything Seasoning Breaded Cod makes it so easy to get your fish in for the week.
If you're not eating fish on a weekly basis, sometimes I don't, I would recommend considering an Omega 3 supplement. Always speak to you or your child's physician prior to incorporating any supplements.
Many Omega 3 supplements will have a fishy taste and that's not likely to go over well with you or your kids. We take Mary Ruth's 3-6-9 gummies and they have zero fishy taste.
Slow Cooked Pork Carnitas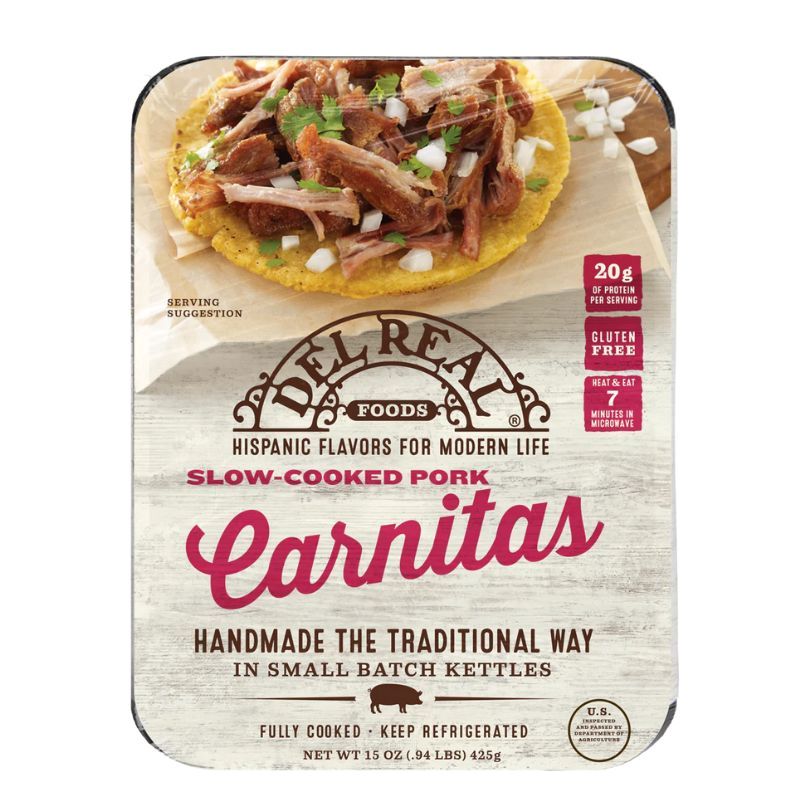 These slow-cooked pork carnitas have been a favorite in our house for several years. They work great for simple meal planning because you can make pork tacos one night and then BBQ pulled pork sandwiches the next night with minimal effort.
Even though these come in the refrigerated section, you can still freeze them. Make sure to pull them out a few days prior to when you plan to prepare them.
Yakisoba Japanese-Style Fried Noodles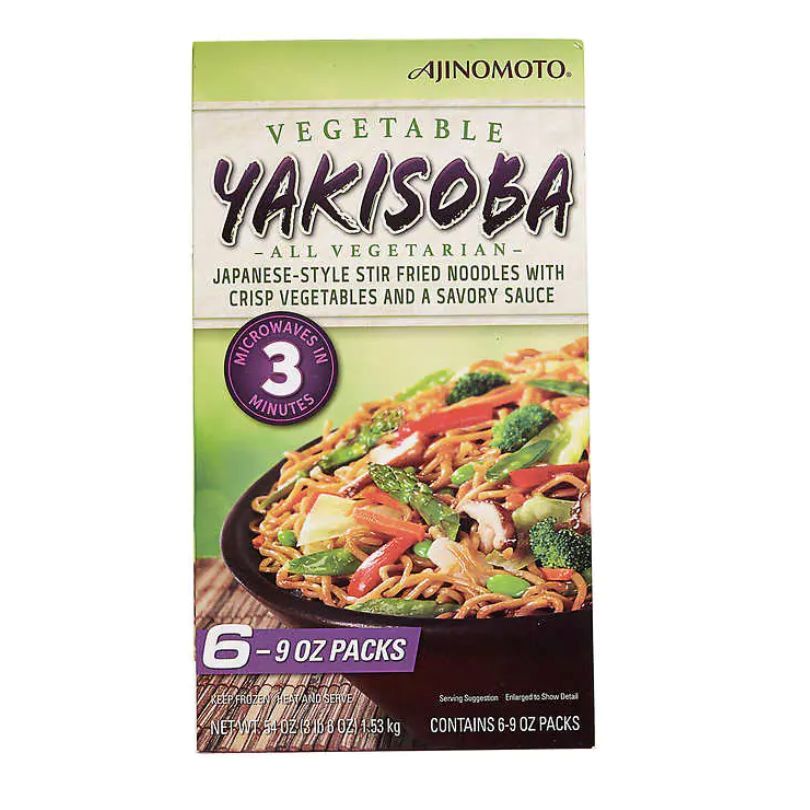 My kids love basically any pasta or noodle so these Yakisoba Japanese-Style Fried Noodles are naturally a favorite in our house. They literally take three minutes to make in the microwave.
If your child loves noodles but doesn't care for vegetables much yet, these Japanese-Style Noodles can be a helpful way to help your child learn to be more comfortable with vegetables. Essentially, you're leveraging a favorite food to help introduce a not-so-favorite food.
They may be a bit high in sodium, but balance is key, so pair them with more fresh roasted veggies and watch your portions.
Just Bare Lightly Breaded Chicken Breast Chunks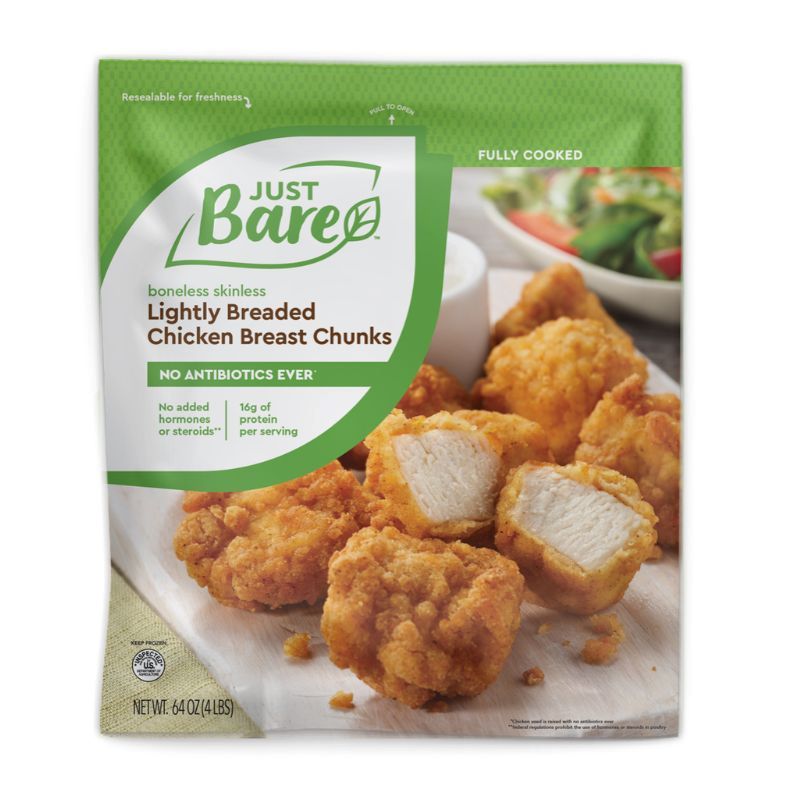 It's likely that you won't have to convince your child to eat breaded chicken, so these Just Bare Breaded Chicken Chunks are a solid option.
You can pair it with Reser's All Natural mashed potatoes, fresh veggie, and dinner roll or croissant, toss in BBQ sauce and add some carrots, celery, and ranch for your own spin on boneless wings, or add to a salad kit for a few quick and easy dinner ideas.
Other Favorite Costco Items
Costco has so many great options, especially for families. I've already talked about some of my favorite staples for easy Costco dinner ideas, but here are a few of our favorite staples and healthy snacks at Costco.
Grab my free Super Simple Costco Snacks for Kids!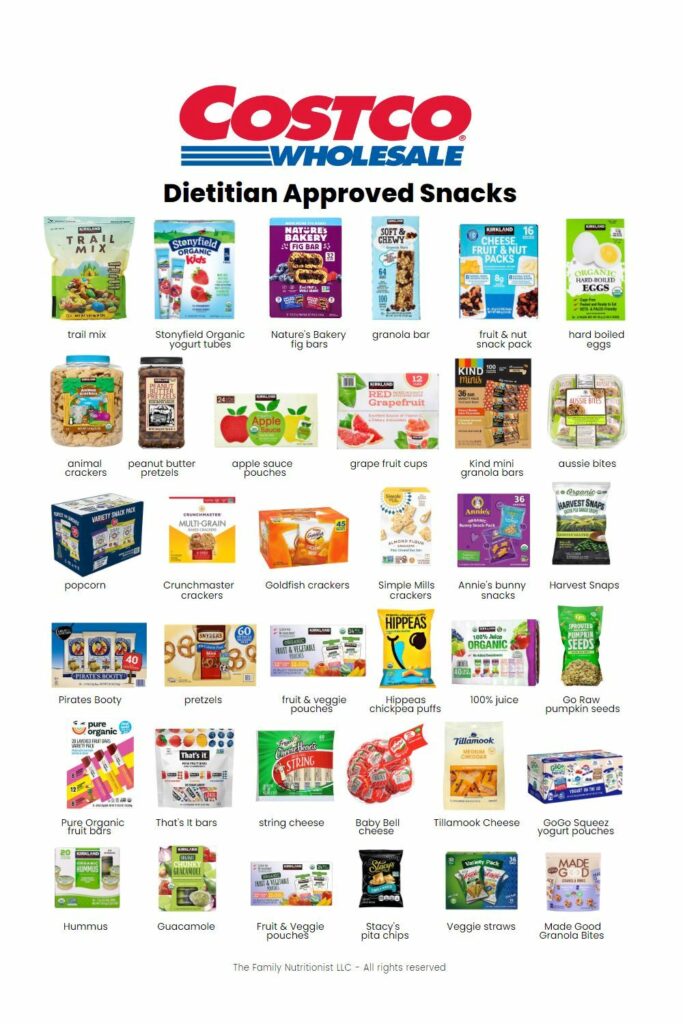 Costco Snacks
Hard-boiled eggs
Kirkland granola bars
Applesauce pouches
Gogo Squeez yogurt pouches
Mini Naan dippers
Aussie bites
Peanut butter pretzel bites
Harvest Snaps
SproutedpPumpkin seeds
Peelz mandarine oranges
Frigo Cheese Heads string cheese
Pure Organic layered fruit bars
Stonyfield Organic Yogurt Tubes
Bare apple chips
Trail mix
Off the Eaten Path Veggie Crisps
Honest Kids Organic juice boxes
Fresh fruit
Fresh vegetables
Mini chocolate chip cookies
Costco Staples
Kirkland whole milk
Kirkland unsalted butter
Eggs
Shredded cheese
Peanut butter
Toilet paper – duh!
Maple Syrup
Olive oil
Honey
These lists are by no means exhaustive and simply the foods that I purchase as a dietitian and mom for my own family.
Conclusion
While it's usually pretty easy to rack up a large tab at Costco, you can find some pretty great options that make meal planning and prepping super simple.
Some of my favorite go-to east Costco dinner ideas include:
Fresh made meals
Rotisserie chicken
Suhki's Indian Cuisine Thai Coconut Chicken
Three cheese tortellini
Annie's Mac n Cheese
Salad kits
Everything seasoning baked cod
Slow-cooked pork carnitas
Yakisoba Japanese-style fried noodles
Just Bare lightly breaded chicken breast chunks
I also love to pick up a few bulk staple items from Costco such as applesauce pouches, honey, maple syrup, milk, eggs, and fresh produce.
Comment below with your favorite things to purchase from Costco.