This post contains affiliate links
If you're like me, you have 10 bags and boxes of different crackers, chips, and cereals hanging out in your pantry – half empty. And you're lucky if you get to all of them before they're stale.
To help you use up the random assortment of snacks in your pantry, I have a super simple, and delicious, homemade snack mix that you can quickly mix up. I have a few specific ingredient recommendations, but you can easily customize this recipe based on what you have hanging out in your pantry.
This recipe is so good because it combines a variety of textures, your kid's favorite crackers, and the perfect flavor combination of butter and ranch seasoning, plus requires no cooking, only stirring.
Ingredients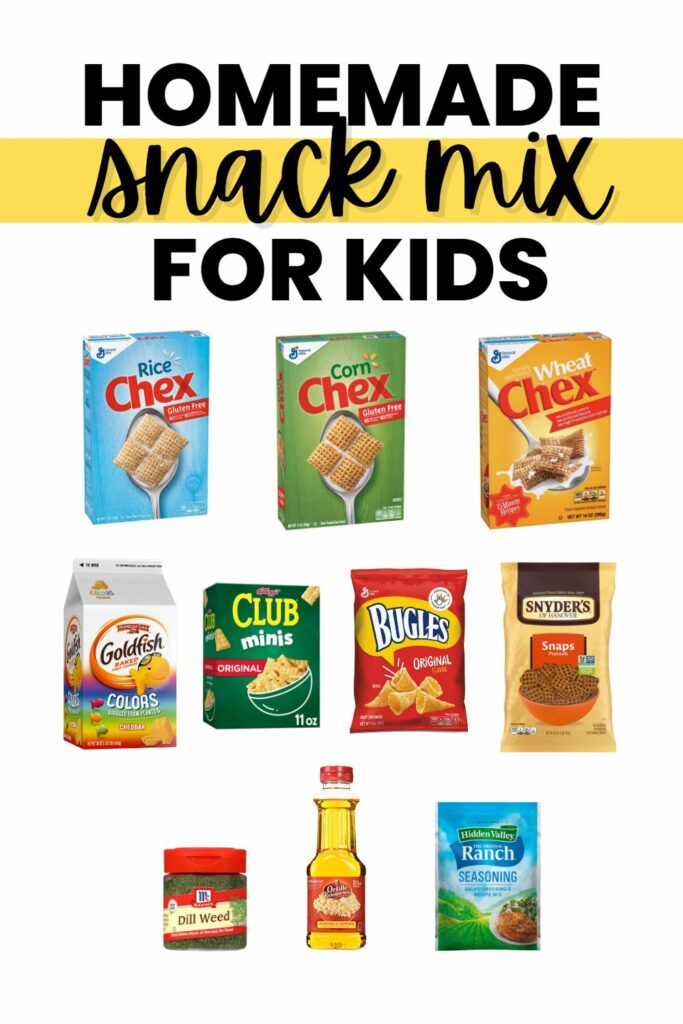 The first time I tried this homemade snack mix was at a neighbor's Christmas party. The combination of different crackers, chips, and cereal was so good, but the flavor was what made it absolutely to die for.
I'll share the ingredients I used, as well as a few suggestions for substitutions too.
Cereal
The basic cereal used in this recipe includes rice Chex, corn Chex, and wheat Chex—the base of any Chex mix. The different types of Chex cereal add a variety of textures and colors.
You could also use toss in a plain cheerio if you have those lying around. This recipe is savory, so sweetened cereals may not taste the best.
Rice Chex
Corn Chex
Wheat Chex
Other: plain cheerios
Crackers
You have a lot of options when it comes to crackers you can use in this homemade Chex mix recipe. I recommend using smaller crackers so it's easier to pick up and eat. In this recipe, I used mini club crackers and Goldfish. My kids love Goldfish and to add color, we use the rainbow variety.
You could also try oyster crackers, Annie's cheddar bunnies, mini Ritz, or mini Saltines.
Mini club crackers
Goldfish
Other: oyster crackers, Annie's cheddar bunnies, mini Ritz, mini saltines, cheez its
Chips
The one ingredient that ultimately made this recipe so delicious was the bugles. I remember eating bugles as a kid, putting the pointed chips on my fingers, and pretending I was a witch or an animal with claws. Pretty sure I'm not the only one who's done this.
We also add pretzels to this homemade snack mix and typically use pretzel snaps or sticks. Around the holidays we use Christmas-shaped pretzels.
Another great option to add to this snack mix is rye or bagel chips, but I can never seem to find them. So if you do, add them! They'll add a really nice crunch.
Bugles
Pretzels
Other: rye or bagel chips
Seasoning
The seasoning for this homemade snack mix is not only super easy, but it's also irresistibly delicious. All you need is a packet of Ranch seasoning, a tablespoon of dried dill, popcorn butter, or real butter if you prefer.
How to Make Homemade Snack Mix
There's not a whole lot of action with this recipe. You basically combine all the cereals, crackers, and chips in a large bowl.
Once that simple step is complete, you combine the butter, dill, and Ranch seasoning and pour over the snack mix.
This recipe's one and only hard part is stirring it every 15 minutes or so until it dries. This usually takes several hours, and even overnight.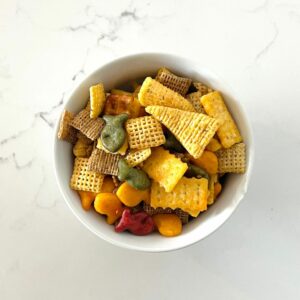 Homemade Snack Mix for Kids
A delicious combination of your favorite crunchy snacks
Equipment
Large bowl

Mixing spoon

Whisk
Ingredients
3

cups

Rice Chex cereal

3

cups

Corn Chex cereal

3

cups

Wheat Chex cereal

3

cups

Mini Club crackers

3

cups

Goldfish crackers

3-6

cups

Bugles

16

oz

Popcorn butter

1

packet

Ranch seasoning

1

Tbsp

Dill, dried
Instructions
Mix together butter, Ranch seasoning, and Dill until well combined.

Add snack ingredients to a large bowl. Pour butter mixture over snacks and stir to coat evenly. Snack ingredients will appear "wet." Continue to stir the snack mixture every 15-30 minutes until the butter mixture has dried. Typically takes overnight, but can be enjoyed immediately – napkin recommended.
Choking Hazards
Children, and adults for that matter, can choke on any food, but hard, crunchy foods can increase the risk, especially for kids under four.
To be safe, you could exclude the pretzels, and bagel or rye chips since they are relatively hard to chew. If you are going to add pretzels try the pretzel sticks since they are easier to bite into smaller pieces.
Learn more about choking hazards here.
How to Store
This homemade snack mix will last for quite a while if kept in an air-tight container or bag, but it's so good, you likely won't have to worry about storing it for long.
I like to store our homemade snack mix on our counter in glass storage containers. It makes me feel like our snacks are fancy. Plus, they're really pretty and air-tight too!