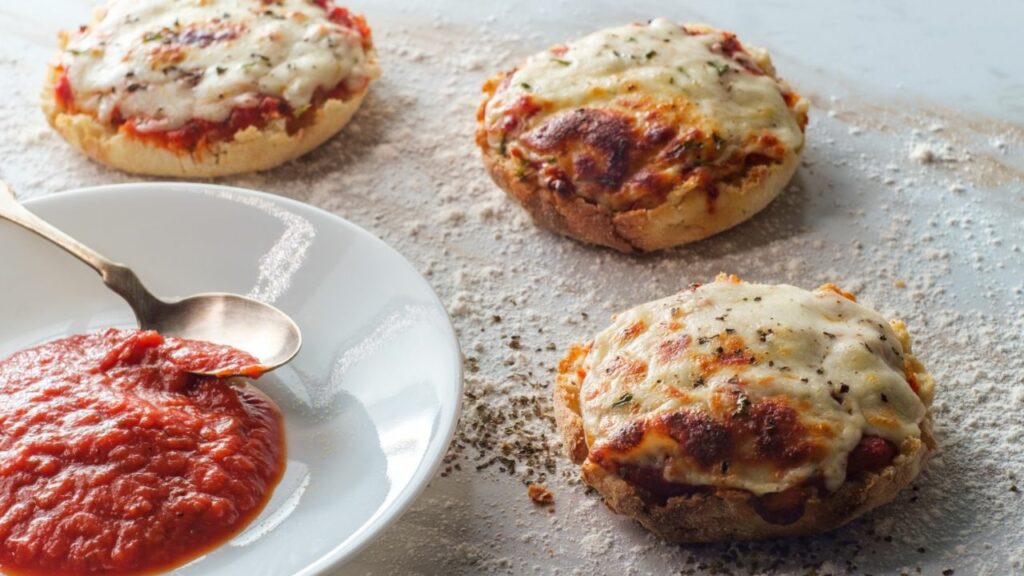 If your toddler won't eat dinner, simply try changing up what they already know and love – pizza! If you ask me, having a few easy pizza recipes for kids on hand is key to keeping them fed.
Friday nights are known as pizza and movie nights in our house and we like to change it up. Sometimes we order pizza, plenty of times we throw a frozen pizza in the oven, and other times we make it homemade. Friday night pizza night is a tradition that I hope continues when my kids have their own.
While some may see pizza as an unhealthy choice that should be limited, as an exhausted mom and picky eating dietitian, I highly recommend using this kid-friendly entree as an easy way to expose your picky eater to valuable cooking skills and new foods – especially vegetables.
What's my secret to getting them to actually eat any other topping than cheese or pepperoni? Let them help you make it! Even if your child doesn't eat the vegetable toppings once the pizza is done, if they've touched, licked, or tasted them throughout the process, that's a win!
To help your picky eater actually eat their veggies, read more here!
What You'll Need to Make It
English muffins – try the whole grain option for more fiber!
Pizza sauce – feel free to use up leftover marinara or pasta sauce
Shredded mozzarella cheese – go crazy and try offering two different kinds of cheese to give your picky eater autonomy over choosing which cheese they want.
Olive oil – to add a heart-healthy fat and help make every bite count.
Garlic powder – skip all the unnecessary sodium with garlic salt and go with powder!
Toppings of your choice – we like to use mini turkey pepperonis, diced zucchini, sliced mushrooms, quartered cherry tomatoes, and even grated broccoli as sprinkles, but choose whichever you'd like.
Oil brush
Kid-friendly knives
Spoons
How to Make Pizza for Toddlers
Making homemade pizza with kids might sound stressful, but just take a deep breath and embrace the cheese all over the floor and sauce all over their faces. The pizzas may not look pretty, but that's not the point.
Getting my kids up at the counter safely without the chance of them falling is all thanks to my Guidecraft Kitchen Helper. We now have the double version so both of my kids can safely fit in one kitchen helper – until one starts hitting the other because they're siblings of course.
I know it's more dishes, but I like to put all my ingredients into bowls for my kids to easily dish themselves. This helps make the ingredients more accessible, plus I can control the amounts better.
Preheat your oven to 375 degrees Fahrenheit.
Cut or separate English muffins and place them on parchment paper on a baking sheet. I like to use cooking as an opportunity for my kids to learn. I will often ask them to count or point out shapes they see: "What shape is an English muffin?"
Mix olive oil and garlic powder together.
Let your child brush the garlic oil mixture onto the tops of the muffins.
As much as it may pain you to watch your child do this next step, try to refrain from helping too much. Let your child spoon pizza sauce onto each muffin top.
Inbetween the samples of the shredded cheese your child is probably stealing, encourage them to sprinkle cheese over top of the pizza sauce.
Last, but not least in the pizza preparation process comes the toppings. Your child may only want cheese and that's okay. Ask them to help make yours with the additional ingredients you have available.
Bake your English muffin pizzas at 375 degrees Fahrenheit for 10 minutes or until cheese is melted to the color your picky eater prefers. Most likely not brown, because that means it's burnt.
Variations
One of the best things about pizza is that you can make it in so many different ways. This is a great strategy to use when you have a picky eater at home: take a favorite or familiar flavor and change it ever so slightly.
You can make homemade pizza for kids with so many different variations of crust:
Tortillas – you can even make them into a quesadilla
Naan or flatbread
Banza pizza crust – more iron and fiber, plus it's super yummy!
Garlic toast
Plain old sliced bread – doesn't get much easier than that
Pizza for Babies
You might be wondering if you can offer these English muffin pizzas to your baby. Yes, you certainly can. While takeout pizza will likely contain much more sodium, you can control the ingredients more when making homemade pizza for babies and toddlers at home.
To make the English muffin pizzas easier to eat, cut them into 2" strips so your baby can easily pick it up and munch on the yummy homemade pizza you all made together. Plus the Vitamin C from the pizza sauce will help your baby absorb iron better.
How to Store and Reheat
Leftovers are a lifesaver for me because it means it's one less meal I have to make the next day and more time I get to spend with my family or crossing things off my list.
You can store leftovers in the fridge for three days or freeze up to three months. To freeze, place the English muffin pizzas on a sheet pan and once frozen, add them to a freezer bag. This way the ooey-gooey cheese on the pizzas doesn't get stuck to one another.
Any foods that you are reheating should be reheated to 165 degrees Fahrenheit to destroy any potentially harmful bacteria.
What to Serve With It
To keep pizza night simple, I always add on a salad kit. Without these super convenient options for salads, I'd never try so many delicious flavor combinations and neither would my kids. It can be a pain in the butt to purchase all the ingredients so instead, I just throw a kit in my cart and call it a day.
Lettuce can be a choking hazard for babies and toddlers. To make salad a safer option, try offering the toppings family-style in separate dishes so your child can pick out the ones they want without having to dig through the salad.
And of course, pizza and veggies always go great with Ranch.
Other Recipes You'll Love
My Baby Food Cookbook for First-Time Parents has 75 recipes for baby plus the whole family that you will love, including a super yummy Homemade YoYo Ranch Dip to enjoy with your English Muffin pizzas. You can also check out a few super simple recipes for your baby here.
English Muffin Pizza for Toddlers
A super simple recipe using kid-friendly ingredients that will help your picky eater engage with and likely try a few new foods (toppings).
Equipment
Baking sheets

Parchment paper

Kid safe knives

Oil brush

Spoons
Ingredients
4

English muffins

2

cups

Shredded mozzarella

1

jar

Pizza sauce

1/4

cup

Olive oil

1

tsp

Garlic powder

Toppings of choice

mini turkey pepperonis, diced zucchini, broccoli, sliced mushrooms, quartered tomatoes, etc
Instructions
Preheat your oven to 375 degrees Fahrenheit.

Cut or separate English muffins and place on parchment paper on a baking sheet.

Let your child brush the garlic oil mixture onto the tops of the muffins.

Let your child spoon pizza sauce onto each muffin top.

Encourage your child to sprinkle cheese over top of the pizza sauce.

Bake at 375 degrees Fahrenheit for 10 minutes or until cheese is melted.