Packing a healthy lunch box for kids can seem overwhelming. It's hard enough to find meals to make at home and now you have to come up with a healthy lunch box for kids that can be transported safely and is something they'll actually eat without you around to encourage them.
I was a school food service dietitian for six years so I've watched thousands of kids eat and enjoy lunch at school, whether from school or brought from home. So I know a thing or two about planning lunch ideas for kids at school.
Keep reading and you'll learn the 6 simple steps to building a healthy lunch box for kids, including examples of each category, how to prepare your child for lunch at school, and a few benefits of choosing school lunch.
How to Prepare Your Child For Lunch at School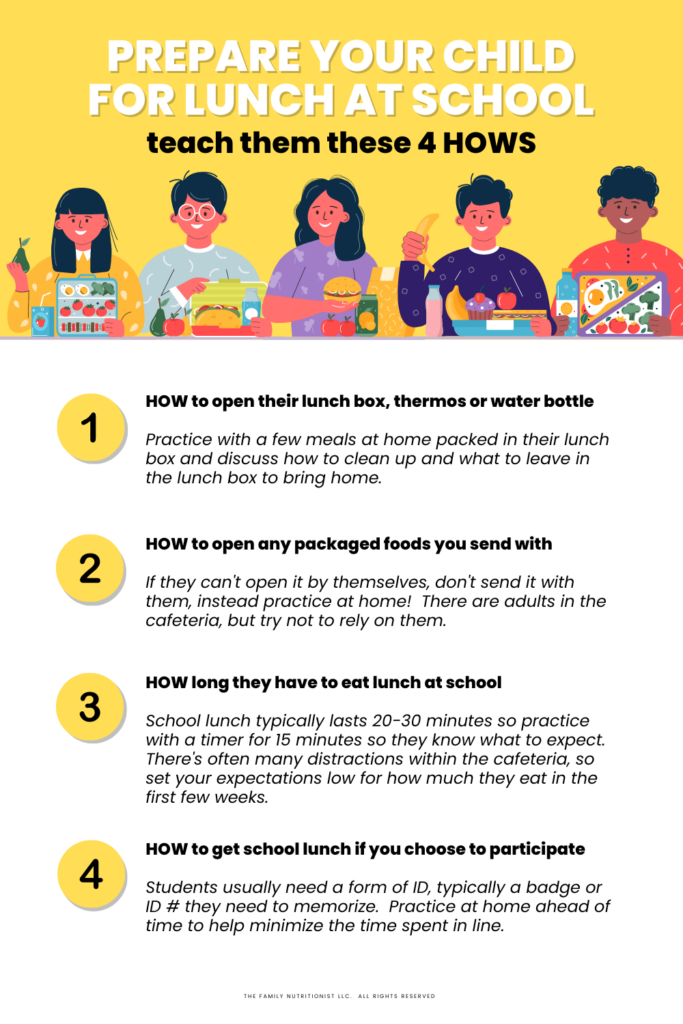 Before you start packing your child's lunch, it's important to set them up for success and help them prepare for eating lunch at school.
Eating lunch at school is quite a bit different than eating lunch at home. There are hundreds of kids eating together at one time, long lines, lunch numbers, and typically only 20-30 minutes to eat their lunch with a million distractions everywhere you look.
To make sure your child can independently eat their lunch in the allotted time, make sure they know how to do these four things:
How to Open Their Lunch Box, Thermos, etc
There are a million different lunch bags, boxes, and accessories out there, but more important than what color it is, is how easy it is for your child to open.  Grab my free Ultimate Lunch Box Review guide where I provide an honest review of the 25 most popular bento boxes and lunch bags.
How to Open Any Packaged Foods
You're probably used to opening many of your children's packaged items for them, but you won't be with them at school to help them. Yes, there are adults within the cafeteria, but they do not have time to open everyone's yogurt tube or juice box straw.
Whatever packaged item you send with your child, they should be able to open it by themselves, give or take the occasion stubborn seal on their yogurt tube.
How To Get School Lunch
Maybe you will choose to have your child eat school lunch a few days a week to give yourself a little bit of a break. If you do, make sure they are aware of how to get school lunch.
There's typically a line and depending on what's for lunch, it may be long, especially on a French toast stick day.  Once your child goes through the lunch line, they will need to present some form of identification, such as punching in a number or scanning a badge.  If they have a lunch number, make sure to practice it at home.  The cashier will always be able to somehow look your child up, but it does slow things down, especially if every child doesn't know it.
Don't worry this takes time and practice. Draw out a picture of numbers in the format of what you see on your phone on a piece of paper and have them practice over and over again. You can also try setting any screen passwords as their lunch number so they get more practice.
How Long Do They Have to Eat Lunch
Most school lunches will last around 20-30 minutes. If your child chooses school lunch, this gets cut down by 5-10 minutes depending on how long the lines are.
Have them practice eating timed meals at home, so they understand what to expect and how long to eat.  Some children eat fast, while others eat slow, that's why it's so important to help them practice so they are more efficient.  
Sand timers are a great visual tool to help them practice at mealtimes and any other transition like bathtime, screen time, or clean-up.
Packing a Healthy Lunch Box for Kids
Throwing together a healthy lunch box for kids doesn't have to be hard, but it should be balanced. When building your child's lunch box, make sure to include the components listed below. Try not to overthink it, sometimes the lunches that don't make sense are your kid's favorite lunches anyways.
Protein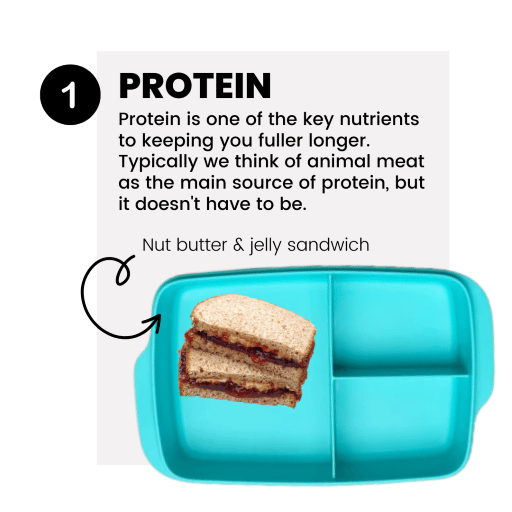 Protein is essential for your child's growth and development, but probably not as much as you think. Many parents are concerned that their kids aren't eating enough protein, but protein deficiencies are extremely rare in developed countries.
To determine how much protein your child may need, read more here. Always discuss your child's growth and development with their pediatrician and registered dietitian.
When it comes to packing a healthy lunch box for kids, protein is an important thing to prioritize because it will help keep them fuller longer – that's if they eat it of course.
When people think of protein, the first thing that may come to mind is animal meat sources of protein for kids like chicken nuggets, cheeseburgers, and fish sticks, but plant-based proteins are also a great protein option for kids too!
Animal proteins for lunch box: cheese stick, cheese cubes, Babybel cheese, cheese slices, shredded cheese, yogurt, deli meat, cottage cheese, egg
Plant proteins for lunch box: peanut, nut and seed butter, hummus, beans, chickpea or lentil-based pasta, tofu, quinoa, nuts
Most of these options are for cold lunches, but you can use a thermos to offer hot entrees for your child to bring to school!
*Double check with your districts nut policy as some schools do not allow peanuts or tree nuts
Grain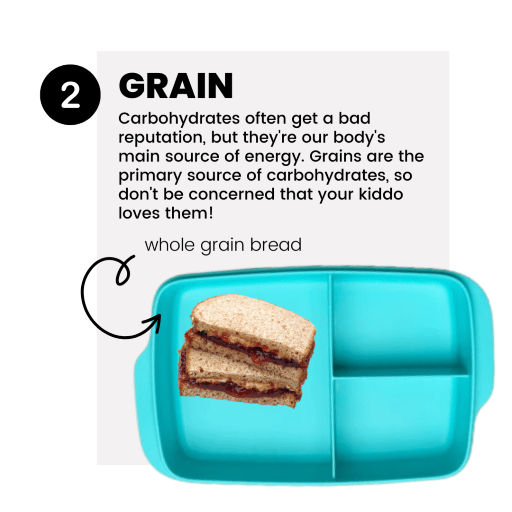 Grains are a very important component of building a healthy lunch box for kids. The main nutrient in grains is typically carbohydrates and unfortunately, they often get a bad reputation, but they're our body's main source of energy. Grains are the primary source of carbohydrates, so don't be concerned that your kiddo loves them!
When choosing grains like bread and pasta, try to find the whole grain option so your child is getting more nutrition out of each bite they take in the little time they have to eat lunch at school.
To easily identify if something is whole grain, look for the word "whole" as a part of the first or second ingredient.  You can also look for the whole-grain label too!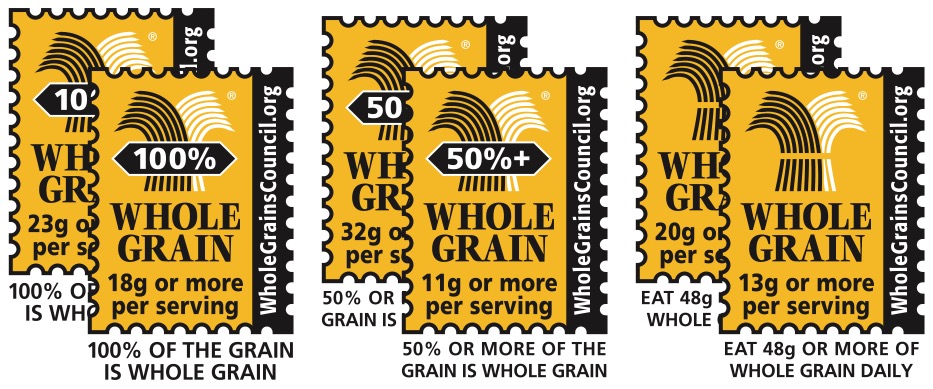 Don't worry if you can't find their favorite cracker in the whole grain variety.  Not every grain option has to be whole grain but see where you can make a few swaps.
Grain lunch box examples: bread, crackers, pasta, naan, pita bread, pretzels, waffles, pancakes, English muffins, bagels, tortillas, granola, oatmeal, breadsticks, granola bar.
Fruit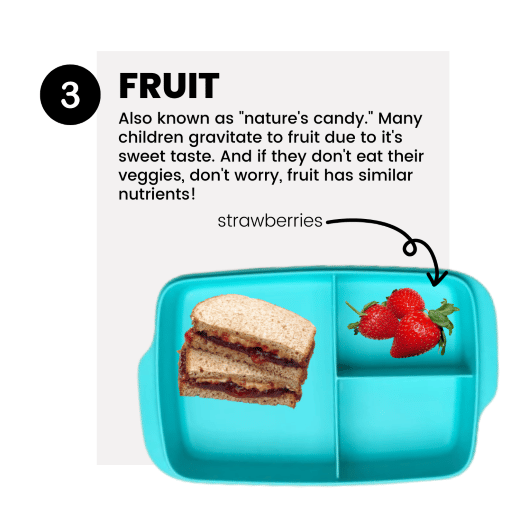 Also known as "nature's candy," fruit is usually a safe option for most kids because it's sweet. If your child loves fruit, that's great news because it packs tons of vitamins, minerals, and fiber with each bite. It even helps them go number two too.
Aim for a variety of different colored fruit throughout the week. Different fruits provide different vitamins and minerals.
Fruit lunchbox examples: fresh berries, sliced apples, craisins, nut butter banana tortilla roll-up, grapes, orange wedges, freeze-dried peach slices, canned pineapple, applesauce pouch, raisins, fruit bars, basically any fresh, canned, freeze-dried, or dried fruit you can think of.
Vegetable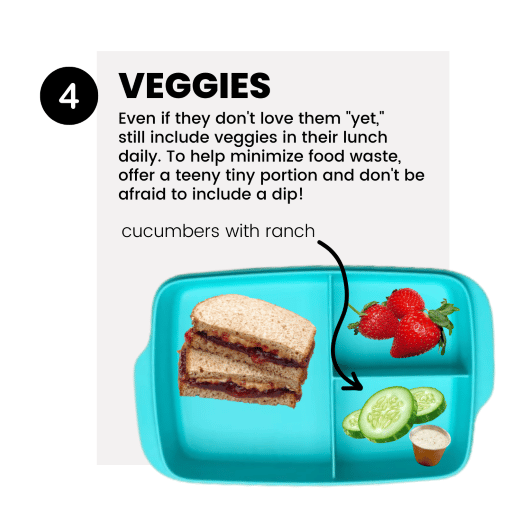 Vegetables aren't always the favorite food group out of the bunch, but they're essential to complete a balanced and healthy lunch box for kids.
It's just fine if your child doesn't enjoy vegetables yet.  Sometimes it takes 20 to 30 times, or even years of trying.  Think of all the vegetables you didn't enjoy as a child, but tolerate or love now.  There are likely a few.
If your child doesn't care for veggies "yet," just put in a teeny tiny piece because the exposure is important too. To help encourage them, don't be afraid to offer dips like hummus, guacamole, and even ranch or ketchup.
Veggie lunch box examples: cucumbers, carrot sticks, carrot chips, jicama, bell peppers, zucchini, tomatoes, leafy greens, broccoli, cauliflower (purple and yellow too!), hummus, beans, corn, peas (try them frozen), radishes, etc.
While, foods like Snapea Crisps, Hippeas Organic Chickpea Puffs, and Veggie Straws may have vegetables within their ingredients. I don't necessarily count those as a vegetable. That doesn't mean you can't include these foods! These would fit more into the 6th component: "A favorite."
Beverage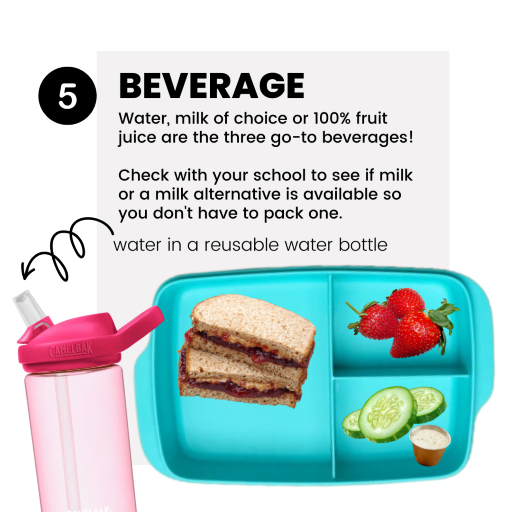 When packing a healthy lunch box for kids, you usually think about the food you'll pack in your child's lunch box, but a beverage is just as important!
Often, your child's school will offer milk to be purchased, and regulations under the USDA National School Lunch Program state that schools must have water available for students. This may mean a drinking fountain in the cafeteria or a dispenser with cups. Make sure to ask so you know if you need to pack something instead.
If your child needs a milk alternative, contact your school's food service department to determine your options. They typically always are able to provide lactose-free milk or soy milk since those have the closest nutrient profile to milk, but other options like almond milk, coconut milk, oat milk, etc may need a doctor's note.
Packing a reusable water bottle, milk box, or 100% juice box is your best bet for your child to quickly and efficiently have access to a beverage.  Even if your child only eats a few bites at lunch, staying hydrated is very important.
Learn more here about how much water your child needs and how to help keep them hydrated.
Beverage lunch box options: water in an insulated water bottle, shelf-stable milk (regular cow's milk, chocolate cow's milk, pea protein original, pea protein chocolate, soy milk), 100% juice, flavored water.
Just be mindful of flavored milk and the added sugar they may have. Some are okay!
Read more here about milk alternatives and how to choose the right one. It's geared toward toddlers, but so much of the information is beneficial for older kids too!
A Favorite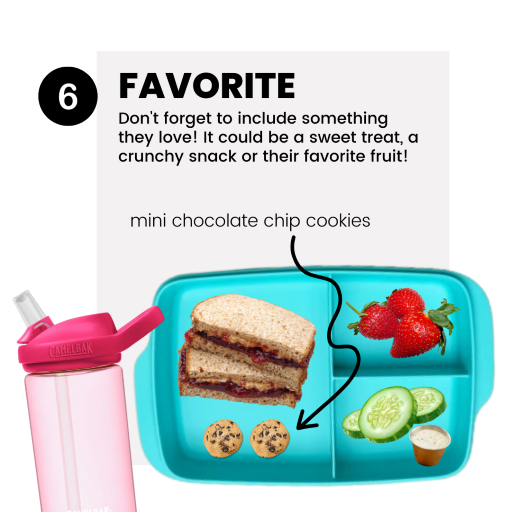 While it may seem like your child's lunch box is balanced and complete, it's important to consider one more component: something they love! This may be a sweet treat, crunchy snack, or their favorite fruit.
Yes, including dessert-type foods with meals is definitely okay. In fact, it can help minimize the obsession over it since you are providing accessibility without any conditions to eat their veggies first.
This is an excellent opportunity to include them in the meal-planning process. Let them pick out which favorite items they want in their lunch for the week.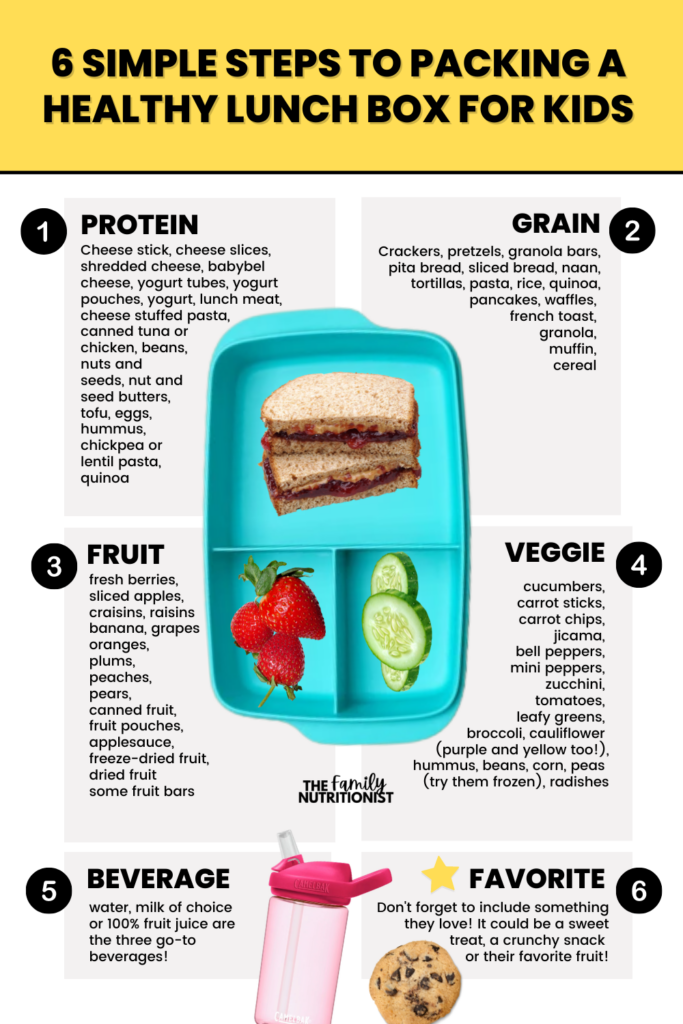 Give School Lunch a Try
Just because your child is headed to school, doesn't mean you have to pack their lunches. Most schools provide a hot lunch option for children daily. And while school lunch hasn't always had the best reputation, there are strict nutritional guidelines schools have to follow when building menus. This will vary depending on the school, state, and country.
School lunch is sometimes associated with having low economic status, but that's simply not true. Anyone can utilize school lunch, even children with food allergies and other dietary restrictions. Reach out to your district's food service department to ask questions.
Feel free to utilize school lunch a few days out of the week to help save time, and likely money too, plus get your child to maybe even try something new. In most public schools within the US, for every school breakfast or lunch that is provided to a student, your district receives funding that helps support programs and staffing.
And remember, your child's school lunch staff help prepare and serve hundreds, sometimes thousands of meals a day, so make sure you are kind and considerate, and thank them for what they do.
Why you should consider school lunch:
Gives you a break – do I need to go any further?
Provides funding to your district for programs and staffing
Allows your child to be exposed to foods you may not make at home
Conclusion
Packing a healthy lunch box for kids might feel daunting, but it doesn't have to be. You don't have to have a Pinterest-perfect lunch box packed for your child every day. Sometimes the best lunches are the ones that don't make sense and use up whatever is in your pantry or fridge.
When packing a healthy lunch box for kids, remember these six components:
Protein
Grain
Fruit
Vegetable – even a tiny bit
Beverage
A favorite!
And don't forget to include them in the planning and preparation process!
Grab my FREE Lunch Box Review guide with honest reviews of the 25 most popular lunch box reviews plus my favorite snack containers and tons of accessories to make packing a healthy lunch box for kids more fun!