This post is sponsored by the Egg Nutrition Center.  All opinions are my own.
This post may contain affiliate links
As a parent, it's easy to fall into the deep dark hole of searching for the healthiest possible options to feed your kids.
It's even easier to fall into the rut of eating the same foods week after week, especially if you have a picky eater who doesn't seem to want to try anything new.
Not only does eating the same thing over and over get boring, but it can also actually set your picky eater up for even pickier eating habits.
If you do have a picky eater at home, it's important to make sure every bite counts and finding nutrient-dense options they'll actually eat isn't always easy.
That's where eggs, a nutrient powerhouse with essential vitamins and minerals, plus high-quality protein come in handy. They're easy to make, affordable, and extremely versatile.
If you're in need of some variety in your weekly menu and options your kids will love too, even the pickiest of eaters, you're in the right place.
I have 11 different ways to cook eggs, plus a super simple rainbow egg muffin recipe for baby and the whole family!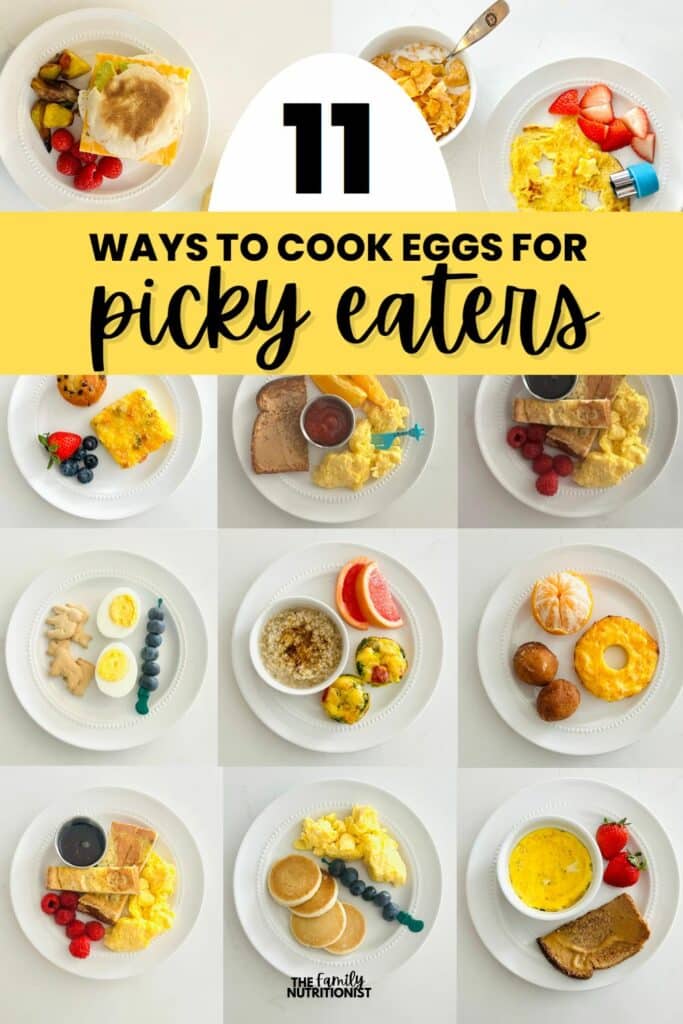 Nutritional Benefits of Eggs
When it comes to feeding your family, eggs are a great option for so many reasons.
First off, they're loaded with essential vitamins and minerals for growing brains and bodies. And if you have a picky eater at home who has a hard time trying new foods, they're a nutrient-dense option in a compact, versatile package!
Eggs also contain high-quality protein with one large egg providing 6 grams of protein. For many toddlers, that's almost half their daily needs.
While protein deficiencies aren't typically a concern in the United States, eating animal protein like chicken, beef and fish can be tricky for picky eaters because they're hard to chew, but eggs are not!
Eggs are one of the only foods that naturally have Vitamin D (1 mcg per large egg) which along with calcium, is critical for building strong bones.
In addition to all these benefits, you can read more here to learn why you should be including eggs on the menu on a regular basis.
11 Ways to Cook Eggs for Picky Eaters
Regarding picky eaters, small changes can add up to big wins. If your child already enjoys the safe option of scrambled eggs, you can easily use that to your advantage and try these 11 ways to cook eggs for your picky eater.
If they don't like eggs YET, check out the picky eater tips I share with each way you can cook eggs.
Scrambled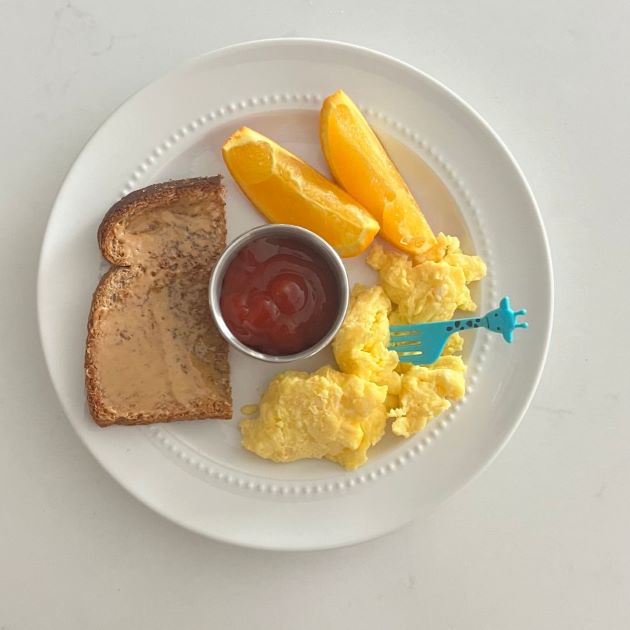 Not sure what to make for dinner? One of the easiest dinners you'll ever make is scrambled eggs. They're easy to whip together and take less than 10 minutes. Throw some bread in the toaster and wash up some fruit. Done.
Picky eater tip: mix in shredded cheese or offer their favorite dip on the side for them to enjoy with their eggs, regardless if it's a crazy combination.
Fried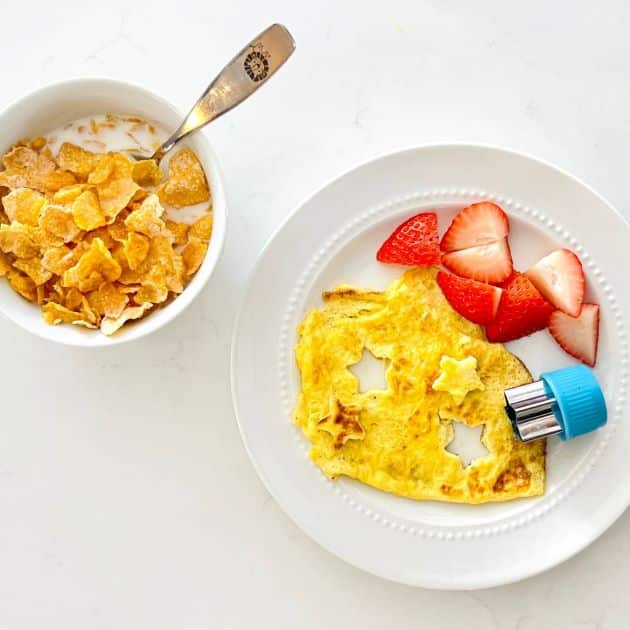 Fried eggs can be used in so many different ways. You can eat them as they are, throw them on avocado toast, or even make a breakfast sandwich.
Picky eater tip: once you crack the egg into the pan, break the yolk, lightly whisk, and form almost a small omelet. Give your child mini cookie cutters to cut out shapes from the fried egg.
Hard-boiled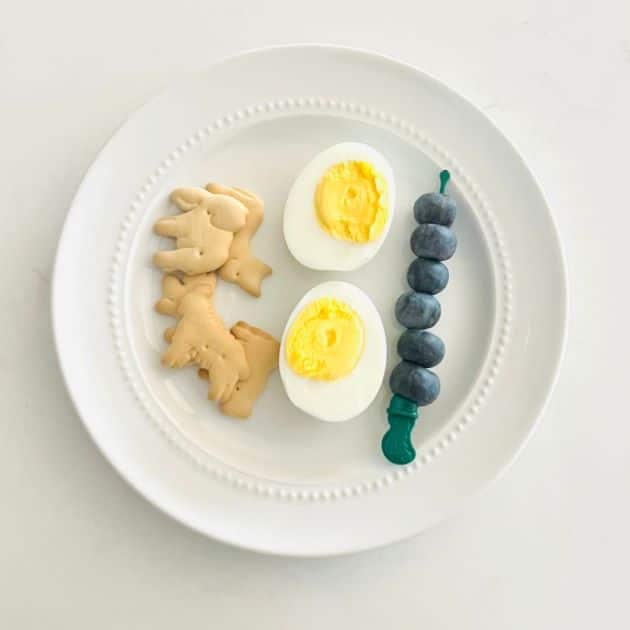 Hard-boiled eggs make for a great snack option. You can hard boil them yourself, or even purchase individual packs to throw in their lunch box or take with you on the go.
Picky eater tip: let your child use an egg slicer to slice their hard-boiled egg. You can even give them kid safe knives to cut up as well.
Breakfast Sandwiches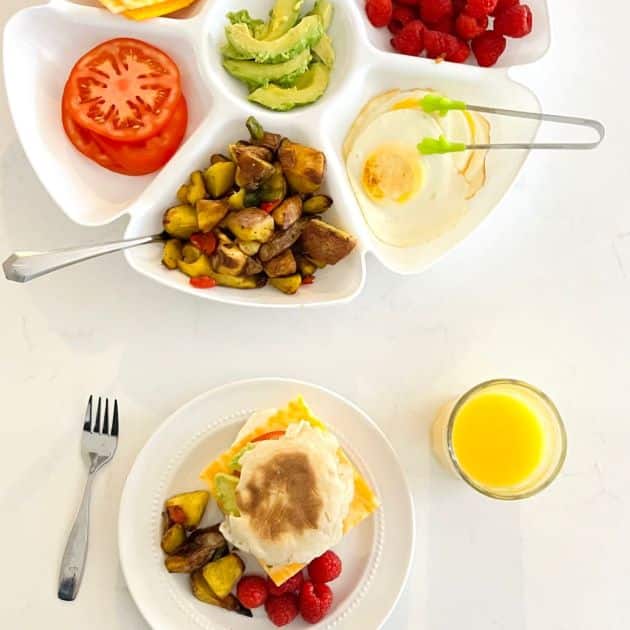 Breakfast sandwiches are one of our favorite weekend breakfasts to make. We also love them as a brinner (breakfast for dinner) option too.
Picky eater tip: offer the ingredients for the sandwich (fried egg, bacon, sausage, cheese, avocado, tomato slices, and bread of choice) deconstructed and let them assemble their own sandwich. They may eat the ingredients separately and that's okay.
Casserole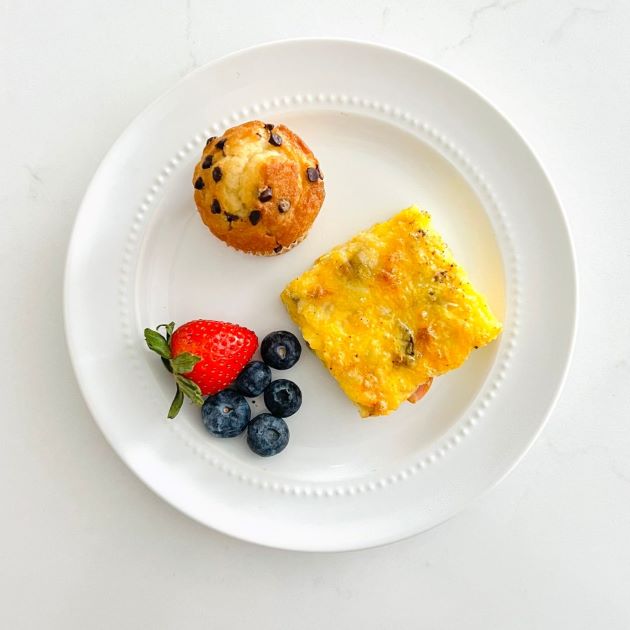 Also known as an 'egg bake,' an egg casserole is an easy way to make breakfast or dinner in advance. You can typically put together the ingredients the night before and throw them in the oven the next day.
Picky eater tip: let your child practice cracking and whisking the eggs themselves, with your supervision of course. Avoid cracking eggs on the bowl you're putting them in to minimize any eggshell pieces in the mixture.
Egg Donuts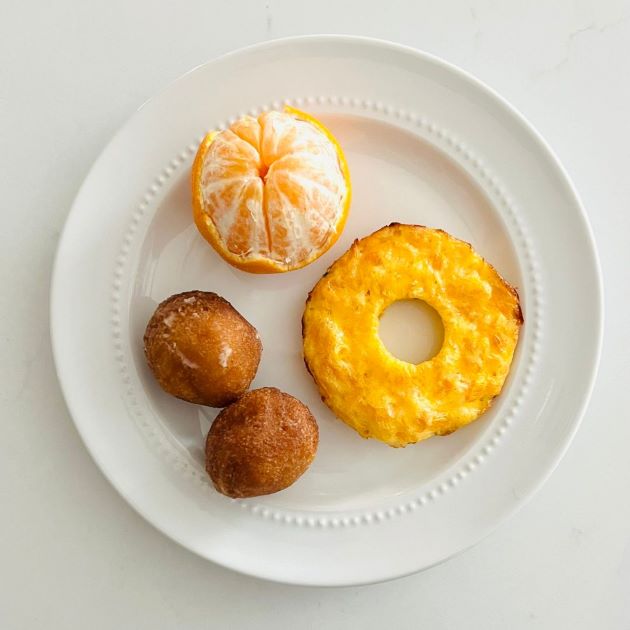 Sometimes the shape makes all the difference! If your kids don't like square pieces, try making egg donuts. All you need is a donut pan (silicone or regular nonstick)! Use the egg muffin recipe below as the base and make donuts instead of muffins.
Picky eater tip: while these egg donuts aren't actually a donut (just donut-shaped!), you can certainly offer them alongside regular donuts. Always offer at least one preferred food with meals so your child is more likely to come to the table. Discuss the differences between the two.
Microwave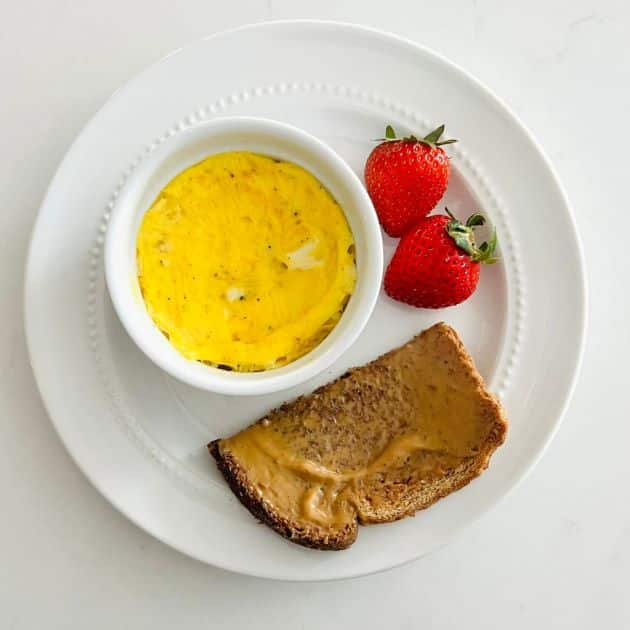 If you thought making scrambled eggs on the stovetop was easy, making them in the microwave is even easier. Add whatever ingredients you'd like and bam, you have breakfast in a cup in 1 minute.
To make a microwaved egg in a cup, simply spray a small, microwavable cup or mug, mix two eggs with a tablespoon of milk, and microwave for 30-second increments until light and fluffy. Sprinkle in a little cheese if you'd like!
Picky eater tip: this is the perfect way to help your child gain confidence cooking in the kitchen. See if they can manage to crack, whisk, and cook their eggs in the microwave from start to finish by themselves, with your supervision of course. (4 years +).
Pancakes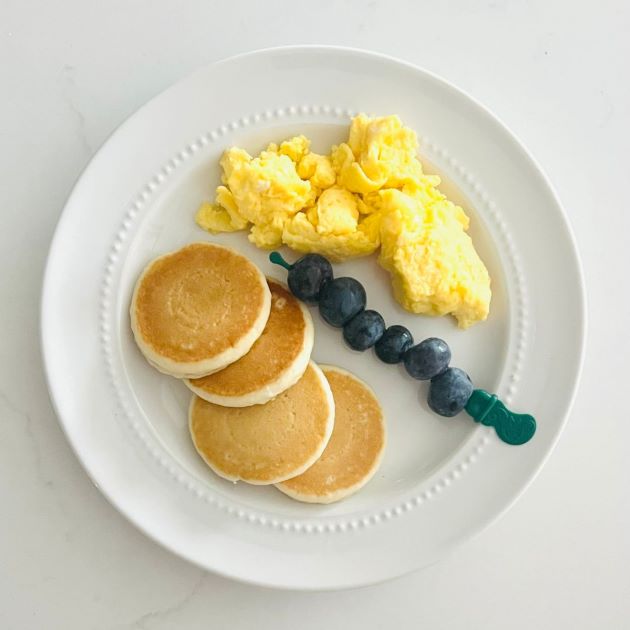 Maybe your kids don't like eggs yet – the keyword is yet. Incorporating them into a recipe like pancakes is an easy way to reap the nutritional benefits eggs still have to offer.
Did you know you could make pancakes without flour? Try these Banana Pumpkin Pancakes with just four ingredients.
Picky eater tip: Even though eggs are in the pancake recipe, you can still scramble up a few to have on the side. If your child doesn't like eggs alone, you can put a teeny tiny piece on their plate or let them scoop the eggs onto your plate.
French Toast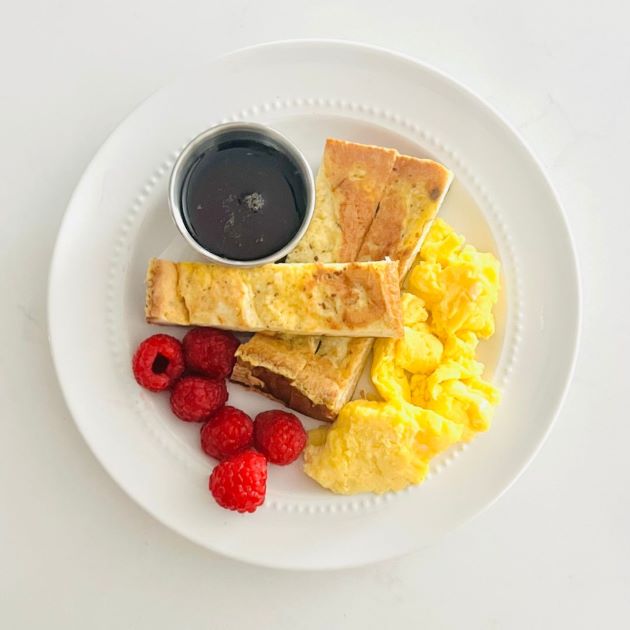 French toast is hands down my kid's favorite dinner. Yes, dinner! We love to use Texas toast (the thick stuff), eggs, whole milk, and ground flaxseed for extra fiber.
Picky eater tip: cut the French toast into strips for them to dunk, or give them the whole piece to use mini cookie cutters and cut out fun little shapes.
Tacos
Next taco Tuesday, try using scrambled eggs instead of your typical beef or chicken. Breakfast tacos are delicious and an easy way to add variety to your menu with little effort.
Check out these delicious breakfast tacos with avocado spread and scrambled eggs.
Picky eater tip: offer breakfast tacos family style and let your child build their own taco, with or without the egg. I recommend using a divided serving tray to make serving and clean-up easy. You can find them at the dollar store.
Egg Muffins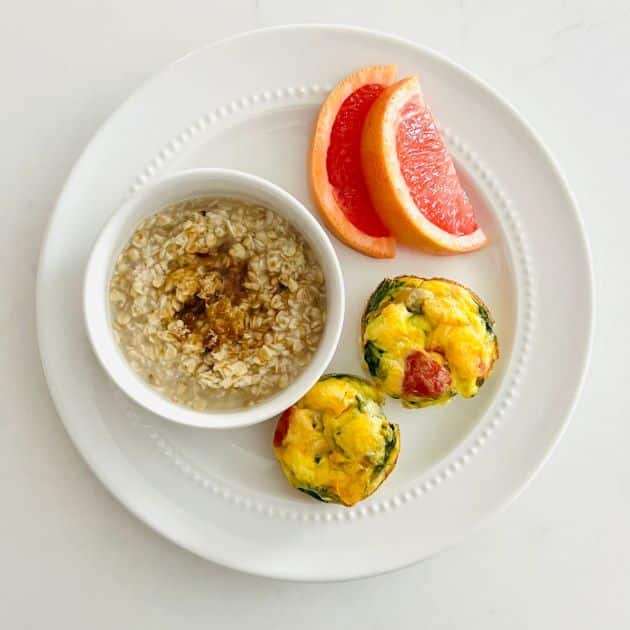 Egg muffins are a great way for not only you and your picky eater, but they're a great option for your baby too. Try using a mini muffin pan for the perfect kid-size egg muffins. They can always have more than one!
Picky eater tip: ask your child to pick out one new ingredient (preferably sway them to a vegetable) to add to some of the mini muffins. Have them help you wash, prep, and add the ingredient to the egg muffins.
Try these super simple rainbow egg muffins for baby and the whole family!
If your picky eater already loves eggs cooked any way, you can still use these 11 ways to cook eggs to help them get used to change and ultimately slowly learn to try other foods they love in different ways too.
Sometimes for picky eaters, it's the unfamiliarity or change that they don't trust at mealtimes, therefore not wanting to try something they've never tried before. If you can help them get used to changing, you can help them learn to add more preferred, or at least tolerable, foods to their list.
Let Them Help!
One of the best ways that you can help your child learn to like new foods is by getting them in the kitchen and letting them help, especially if they're already a picky eater.
To learn more about how to help your kids get into the kitchen without a fight, check out the Three E's to Help Get Kids in the Kitchen resource from the Egg Nutrition Center.
I highly recommend getting yourself a kitchen helper to help your children safely and easily be at the counter helping you in the kitchen.
Always make sure your kids are washing their hands before and after helping out in the kitchen, especially when working with raw eggs.
Cracking Eggs
To avoid the annoying eggshell floating in your bowl, and this is likely to happen if your kids are helping, use the countertop to initiate the crack instead of the side of a bowl or pan. This will help minimize shell fragments from getting into your mixture.
You can also crack eggs into a separate bowl first to help too.
Conclusion
Eggs are an all-around nutrient powerhouse, a complete protein, with essential vitamins and minerals for healthy living, like choline, vitamin D and so much more.
There's no doubt that they're also extremely versatile because there are so many different ways that you can enjoy them!
Even if you have a picky eater at home, there are plenty of ways that you can introduce eggs and get them involved to help them learn to like eggs and reap all the nutritional benefits they have to offer.
The USDA recommends cooking eggs until the yolk and whites are firm and cooking egg dishes to 160 degrees Fahrenheit.
Egg Recipes You Will Love!
Blueberry Banana Avocado Muffins
Whole Wheat Chocolate Chip Pancake Poppers