This post may contain affiliate links
This rainbow egg muffin recipe is the perfect way to help introduce not only new foods to your whole family but also a wide variety of colors too.
If your kids don't enjoy veggies yet or have a hard time trying new foods, use this recipe to help them engage with a wide variety of colorful veggies. Each step lists out how your child can be involved. Skill level will be dependent on age and prior experience in the kitchen.
Remember, your child doesn't have to eat new foods to still make progress in enjoying it one day. Touching, smelling, licking, and playing with are all forms of progress too.
Eat The Rainbow
While many veggies contain fiber, some carbohydrates, and little protein, their nutrient profiles will vary depending on their color. Different colored vegetables contain different vitamins and minerals.
Because children tend to gravitate towards bright colors, speaking about vegetables in terms of the rainbow can help them be more appealing, especially for picky eaters, and of course without the pressure to eat them.
Let's take a look at the different colors of vegetables and what they have to offer.
Red Vegetables
Red vegetables get their color from what we call antioxidants (a molecule that helps fight unstable molecules that can cause disease and cancer). The antioxidants found in red vegetables are lycopene and anthocyanin.
Overall, red vegetables help reduce risks associated with our cardiovascular system. Think red vegetables are good for your heart when talking to kids.
Tomatoes, red bell peppers, radish, red potatoes
Orange Vegetables
You've probably heard the phrase: "Carrots are good for your eyes" once or twice before. That's because orange vegetables like carrots are loaded with Vitamin A with is great for eye health.
Other valuable nutrients orange vegetables contain include vitamin C, potassium, and vitamin K. Like red vegetables, they can help reduce cancer risk.
Sweet potatoes, orange bell peppers, carrots
Yellow Vegetables
Just because a vegetable isn't green doesn't mean it doesn't have anything to offer. Yellow vegetables have a wide variety of antioxidants, vitamins, and minerals too.
Yellow bell peppers, summer squash, yellow carrots, yellow cauliflower
Green Vegetables
When it comes to vegetables, green vegetables probably have the most to offer and there's a lot more to choose from. Depending on the green vegetable, they usually will contain some amount of iron, magnesium, potassium, folate, and even calcium.
Spinach, kale, swish chard, collard greens, broccoli, green onions, green beans, zucchini
Blue/Purple Vegetables
Blue and purple vegetables are trickier to find, but they're definitely out there. They get their beautiful color from anthocyanins, an antioxidant that helps prevent cancer, heart conditions, and neurological conditions.
Red cabbage, red onion, beets, purple potatoes, purple cauliflower, eggplant
White/Brown Vegetables
Just because some vegetables are white or brown, does not mean that they lack valuable nutrients. White and brown vegetables will contain potassium, fiber, and other valuable nutrients.
Potatoes, mushrooms, onions, water chestnut, cauliflower
Vegetables are often a harder sell and the least favorite food group for kids. And this makes sense; they're hard to chew, lack quite a bit of flavor when raw, and are often associated with being healthy, which our society has automatically tagged 'healthy' as not tasting good, which is far from the truth.
It's okay if your child doesn't enjoy vegetables yet.
Continue to expose them to a wide variety of vegetables without any pressure and instead get them involved in the kitchen and help them engage with veggies through touch, smell, play, and even taste.
And as a safety net, fruits provide many similar nutritional benefits as vegetables. So if they don't enjoy veggies, but love the sweet flavors of fruit, that's great too!
Remember, some vegetables, no matter their color, are better than none at all!
Nutritional Benefits of Eggs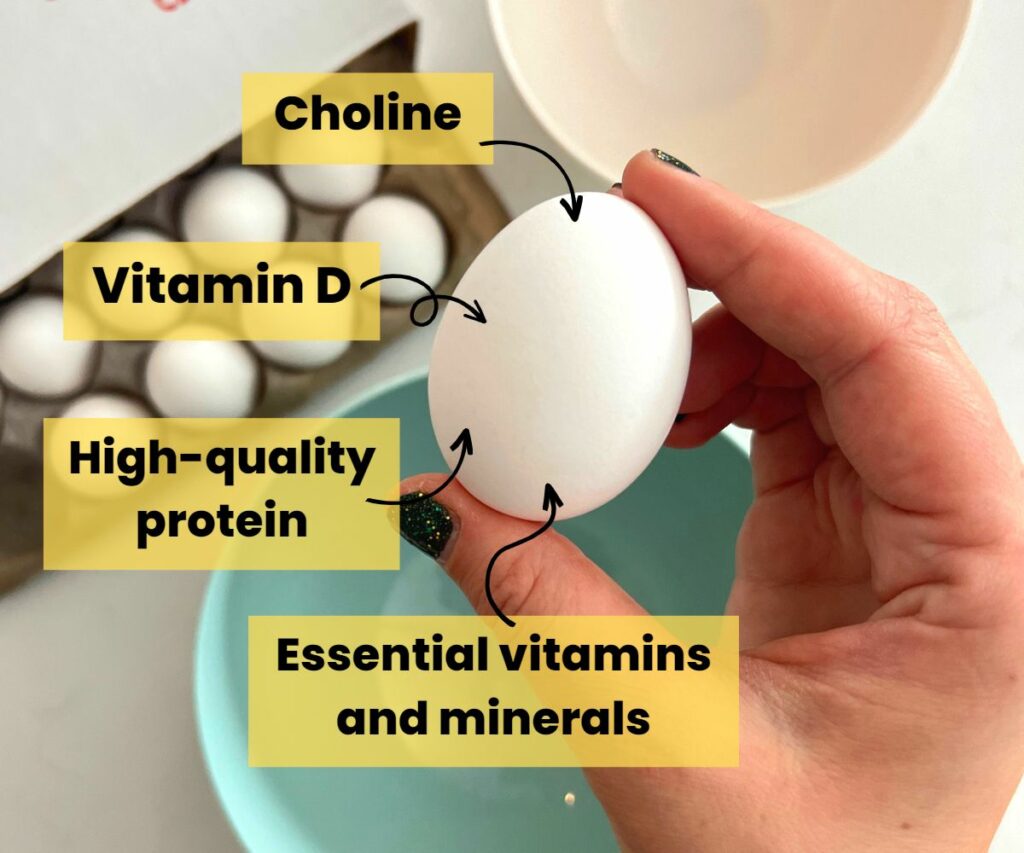 Eggs certainly aren't a fruit or vegetable, but they're a high-quality protein option that's loaded with essential vitamins and minerals for growing brains and bodies. If you have a picky eater at home who has a hard time trying new foods, they're even more important!
Eggs are one of the only foods that naturally have Vitamin D (1 mcg per large egg) which along with calcium, is critical for building strong bones.
Rainbow Egg Muffin Ingredients
Eggs
If there's one thing you should always have stocked in your fridge, it's eggs. You never know when you're going to need one for a recipe, plus they make for a super simple snack or meal option that takes less than ten minutes to make.
Milk
I'm not much of a milk drinker, but I use whole milk for my kids to give them more fat and calories because their appetite is so unpredictable sometimes.
If you or anyone in your family has a milk allergy, is lactose intolerant, or simply chooses not to consume cow's milk, you're welcome to use your favorite milk alternative instead.
Shredded cheese
Cheese makes everything better, doesn't it? Plus it's pretty safe to say that it's kid-friendly and may even help them try new foods if it's included. I recommend using cheddar or Colby jack cheese for this recipe, but you can use whatever cheese you'd like.
Vegetables
Roughly 90% of the US population is not meeting the recommendation for vegetable intake. That's why it's helpful to find ways to add vegetables to your favorite dishes to help you enjoy and eat more, like these rainbow egg muffins for baby and the whole family.
There are so many options you could choose from, but I recommend bell peppers, broccoli, spinach, mushrooms, and onions.
Salt and pepper
While you should be watching your sodium intake, that doesn't mean you have to sacrifice flavor. Add salt and pepper if you'd like or even opt for garlic or onion powder – not the salt varieties.
How to Make Rainbow Egg Muffins
Wash and prep produce
This is an easy task for your child or even toddler to help with. We use a kitchen helper to help them safely and easily access the sink and counter. Use code familiy10 for 10% off.
When cutting vegetables, you can have your child help using kid-safe knives, crinkle cutters, or even mini cookie cutters. If you're a little leary of using these kid-safe options, you can always purchase a cut glove to make it even safer.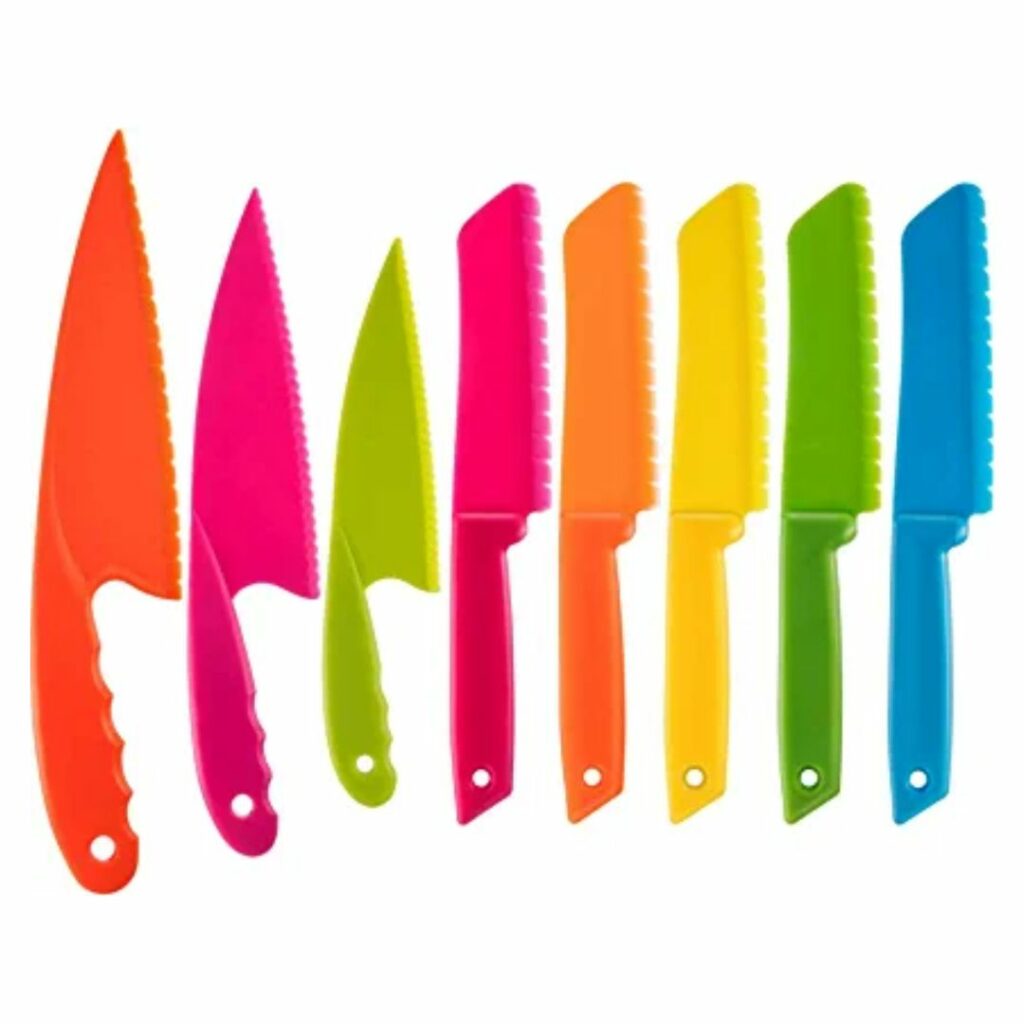 There's no need to cook the veggie ahead of time. Just make sure they are diced small so they cook easier in the egg mixture – think the size of a pencil eraser or even a little bigger.
Crack and whisk eggs
You might be hesitant to let your child crack eggs, but it's great practice and they have to learn someday. Why not start now?
Crack eggs using the surface of the counter instead of the edge of the bowl to minimize shell fragments in your egg mixture. It's also helpful to crack them into a separate bowl before combining them with other ingredients.
Add milk and cheese
Getting your kids in the kitchen is not just great for helping them try new foods and gain valuable life skills, but also to learn math. Have your child learn fractions by letting them pour liquids into measuring cups or measuring out dry ingredients.
Only add ½ the shredded cheese to the egg mixture. You will use the rest to sprinkle on top.
Fill muffin tins with egg mixture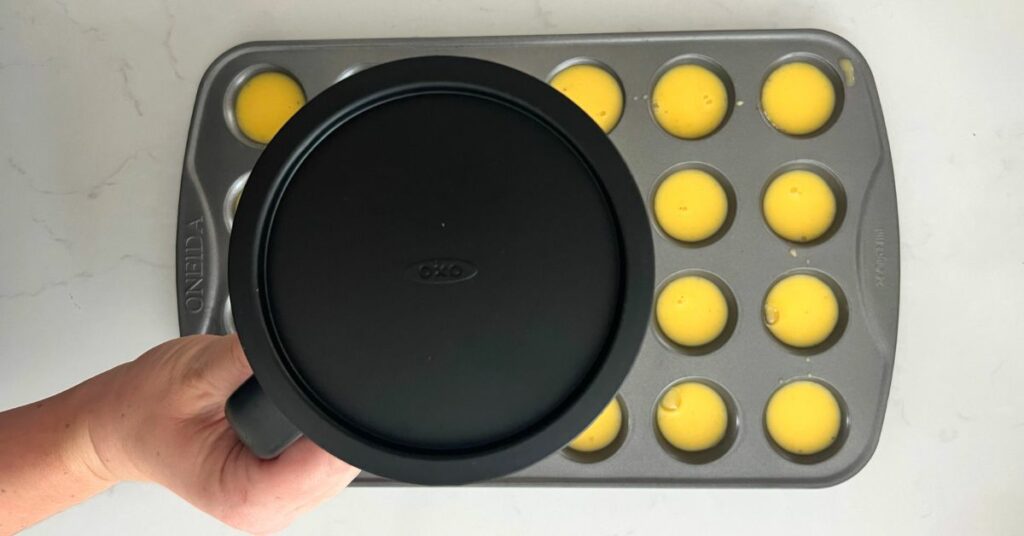 This recipe works best with a silicone mini muffin tin, otherwise, I highly recommend using a nonstick muffin tin for best results.
You can also use a pancake batter dispenser to easily pour the egg mixture into the muffin tin. Works like a charm!
Pour the mixture into the mini muffin tin until ¾ of the way full. The eggs will rise some so you don't want to fill it all the way.
Add rainbow veggies and top with cheese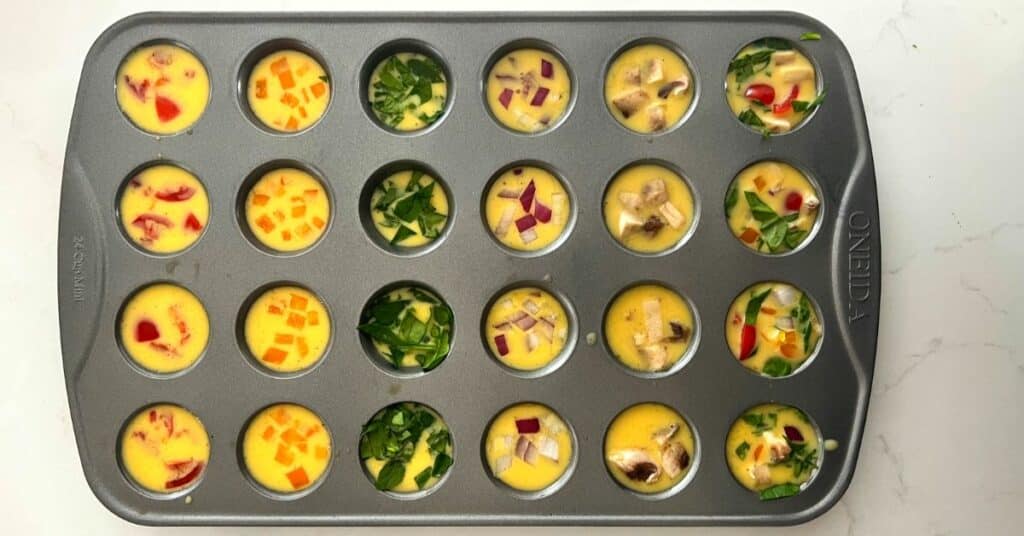 Next, you will add the rainbow veggies you selected. I recommend using a minimum of two to four veggies to provide the rainbow look.
You can either mix all the veggies together or add one type of veggie to each egg muffin. This is totally up to you. Sometimes it's nice to do them separately, so your child can pick or choose which ones they'd like to try.
Bake
If you're using a mini muffin tin, you'll only need to bake them for 10 to 15 minutes, or until they start to pull away from the sides.
If you're using a regular-sized muffin tin, you can almost double the time.
Cool
Always let food cool prior to eating to prevent burns.
Enjoy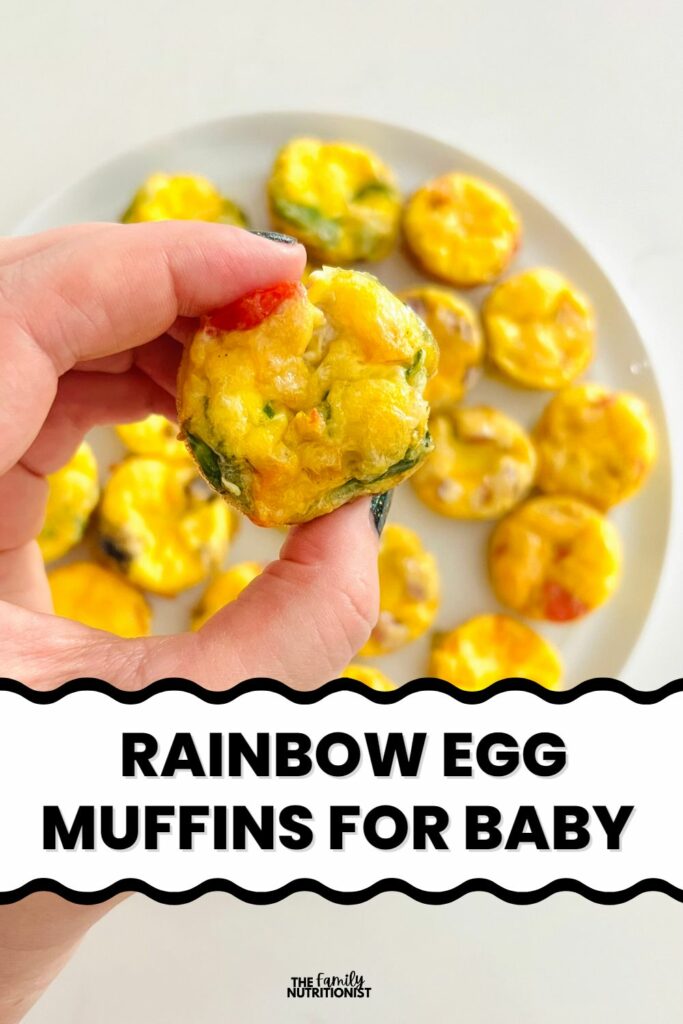 Pair your rainbow egg muffins for baby and the whole family with fruit and some kind of grain such as toast, pancakes, waffles, or oatmeal to ensure a balanced breakfast.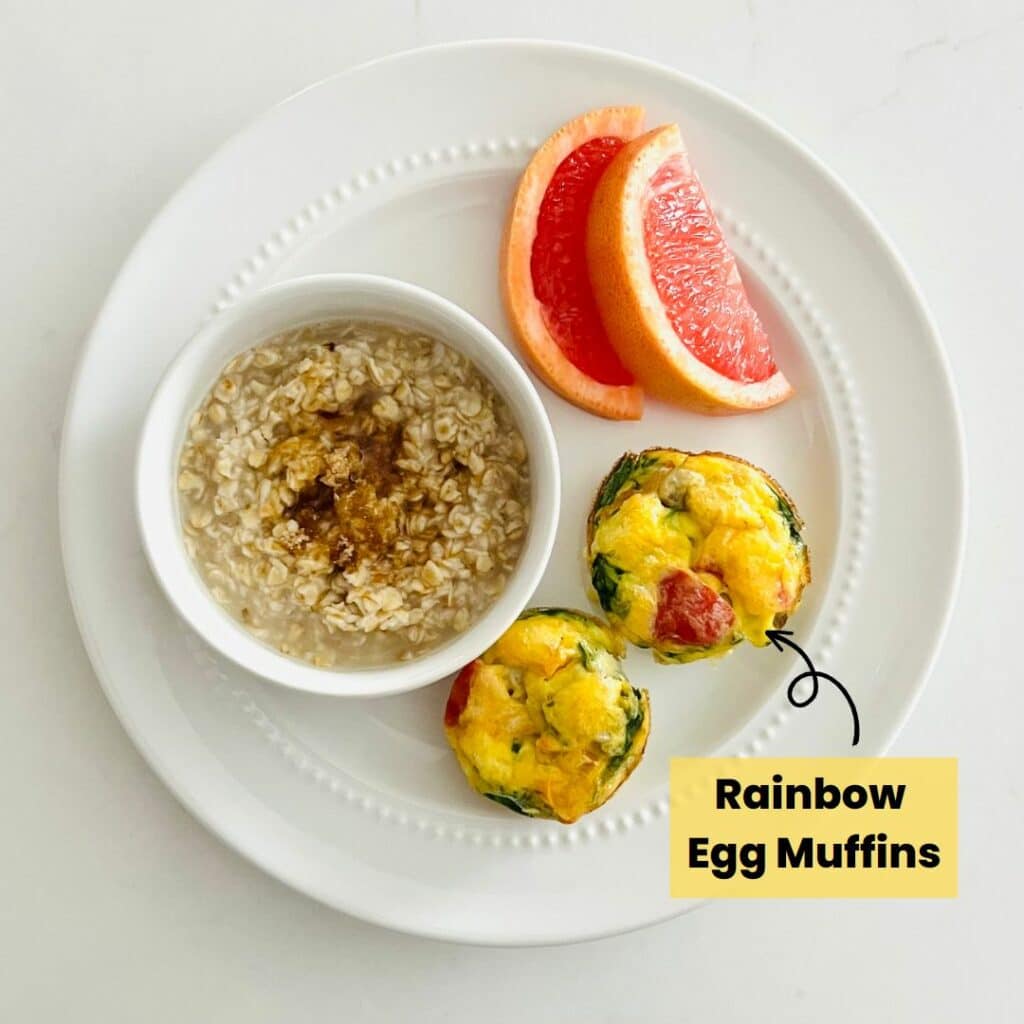 Freezing Egg Muffins
You can easily freeze these rainbow egg muffins for baby and the whole family.. Place in a freezer bag or air-tight container, label with the date, and store in the freezer for up to three months.
I'm a big fan of working smarter, not harder and anytime I have the opportunity to make extra to save time down the road, I'm game. These work great to pull out for a quick breakfast in the morning or even a protein/veggie-filled snack. Just zap in the microwave for 30 to 60 seconds.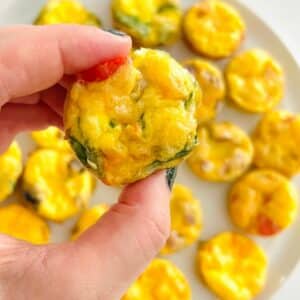 Rainbow Egg Muffins for Baby
A delicious and nutrient dense breakfast, lunch or dinner for you and your baby filled with a rainbow of vegetables
Equipment
Mini muffin tin

Silicone muffin tins work great!

Whisk

Pancake dispenser

Knife

Cutting board
Ingredients
12

Eggs

1/2

cup

Milk

1

cup

Shredded Cheese

1/4

cup

each of variety of vegetables, diced

salt and pepper

optional
Instructions
Preheat oven to 350 degrees F.

Wash any produce selected for the recipe, dice vegetables and set aside.

Crack eggs into a separate bowl.

Measure out 1/2 cup milk and 1/2 cup shredded cheese into separate measuring cups and pour them into the egg mixture. Whisk together eggs, milk and cheese untillthoroughly combined. Add salt and pepper (optional).

Spoon or pour mixture into mini muffin tins using spoon or pancake dispenser.

Add rainbow veggies (all mixed together or one veggie per muffin tin so each is a different color).

Sprinkle remaining cheese onto each mini muffin.

Bake for 10-15 minutes or until the eggs pull away from the sides of the muffin tin.
Notes
Store leftovers in the fridge for up to three days or freeze them in a freezer bag or air-tight container for up to three months.
Egg Recipes You Will Love!
The wonderful thing about eggs, besides their amazing nutritional benefits, is their versatility. Check out 11 ways to cook eggs for your picky eater here.
Blueberry Banana Avocado Muffins
Whole Wheat Chocolate Chip Pancake Poppers