You probably remember growing up and enjoying a popsicle on a hot summer day.  It likely dripped all over or fell off the stick before you could finish it.  These are memories that just make childhood complete.
It's absolutely cool (no pun intended) for you or your child to enjoy a classic cherry, orange or grape popsicle whenever you want, but I'm here to give you a super simple frozen banana popsicle recipe that only uses three ingredients: bananas, nut butter, and sprinkles of choice.
This recipe will make it easy for you or your child to enjoy a healthy sweet treat on a hot summer day. It's loaded with fiber, healthy fats, and protein – plus it's such an easy recipe, your kids can help you too.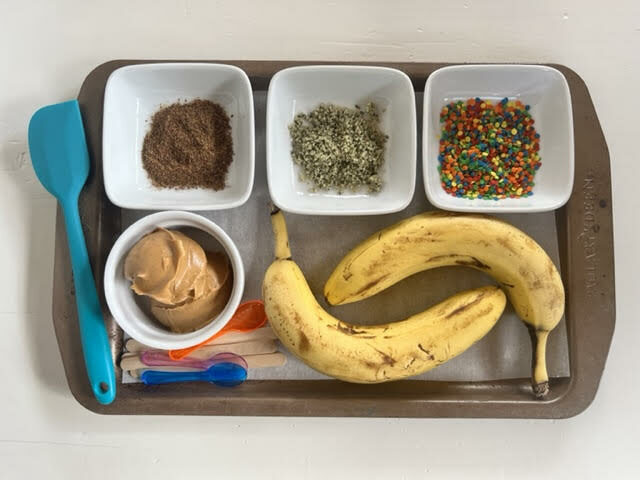 What you'll need
2 Bananas – not too ripe
½ cup nut or seed butter of choice
Sprinkles of choice – Tiny sprouts hemp hearts, digestive booster or regular sprinkles!
We love using Tiny Sprouts super seed boosters for a nutritional boost. You can use the Digestive Boosters for a hint of apple cinnamon, which goes great with frozen banana pops, or their hemp hearts. Use code ALEX10 for 10% off your first order.
Sheet pan
Parchment paper
Spatula or knife for spreading nut/seed butter
Microwave safe bowl to melt nut/seed butter in
Mini tasters spoons (optional)
How to Make Frozen Banana Popsicles
Peel bananas and cut or gently break them in half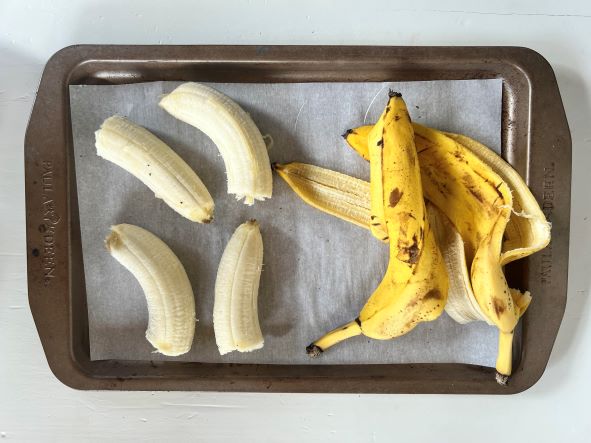 2. Place a popsicle stick into each banana leaving enough room for little hands to hold.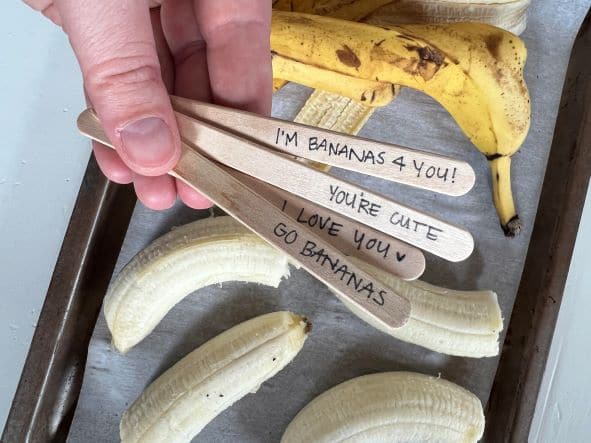 3. Microwave nut/seed butter for 10-30 seconds or until it has thinned out slightly. This makes it easier to spread on the bananas.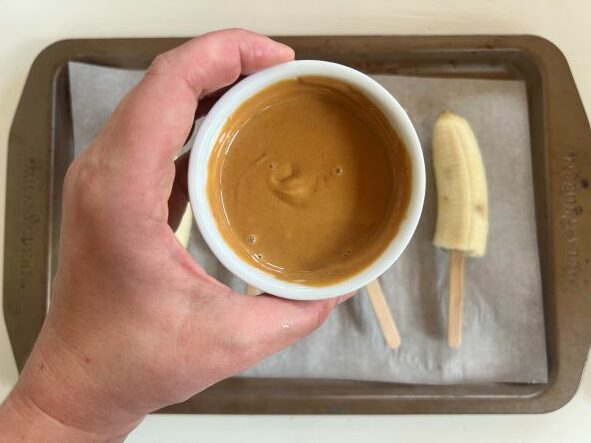 4. Spread nut/seed butter on banana popsicles until completely covered. This may get a little messy, but that's okay!
5. Use Tiny Sprouts super seed boosters (hemp hearts or Digestive Booster) to sprinkle onto the melted nut/seed butter.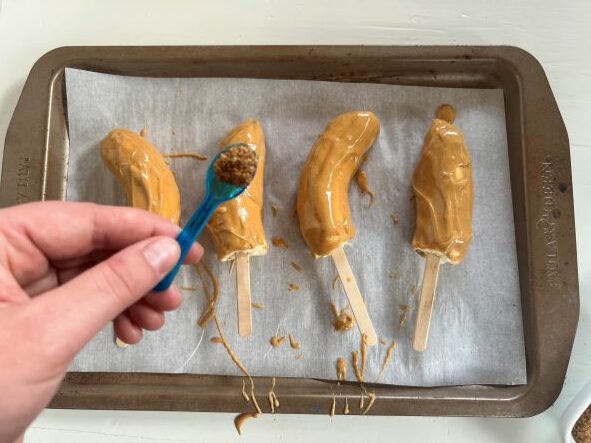 6. Place in the freezer overnight or until frozen solid. Once frozen, you can place frozen banana popsicles in a Tupperware container or freezer bag for up to three months.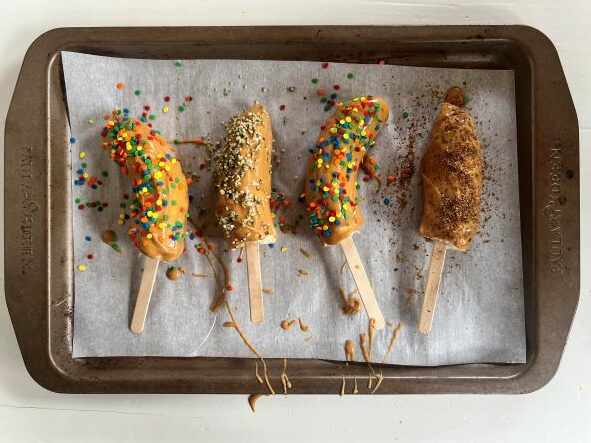 Can you use any kind of nut butter?
Yes! Any nut or seed butter should work, so choose the one that your family enjoys best. We use Skippy, but many families prefer a natural version with no added sugar or salt. Whichever variety you choose, you should enjoy it!
Many children are allergic to peanuts and tree nuts. Therefore, choosing a nut or seed butter that your child can safely enjoy is most important.
You can even use yogurt, plain or flavored, instead of a nut/seed butter. Skip the microwave because yogurt is the perfect consistency to spread onto your banana popsicles already!
What age are these for?
These frozen banana popsicles work best for toddlers and children who can easily hold a popsicle, likely around the age of two plus. You can make smaller versions by cutting the banana into smaller sections to make it easier for infants and younger toddlers to hold.
What to Serve With It
These frozen banana popsicles work as a healthy balanced snack on their own, but you're always welcome to add another item to it. If this is new for your child, I recommend pairing it with something familiar, like their favorite cracker to add a crunchy factor too.
Getting kids to try new foods isn't always the easiest task, but getting them in the kitchen to help is a great start. Read more here on how you can help your picky eater try new foods without a fight.
If you enjoy making these frozen banana popsicles with your kids, you'll also enjoy making the easiest toddler pizza recipe with them too! These work great for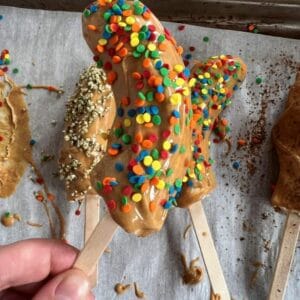 Banana Popsicles
A healthy treat that you can make with your kids that's sure to cool you down on a hot summer day!
Equipment
1 spatula or butter knife

1 small microwave safe bowl

1 sheet pan

Parchment paper

4 popsicle sticks
Ingredients
2

Bananas

1/2

cup

Nut or seed butter

can sub plain or flavored yogurt

Sprinkls of choice

Tinysprouts hemp hearts or digestive booster or regular sprinkles
Instructions
Peel bananas and cut or gently rip in half

Place popsicle sticks through the cut edge of each of the bananas

Microwave nut or seed butter in microwave safe bowl for 30 seconds until slightly thin

Spread nut or seed butter over entire banana while holding popsicle stick

Continue to hold popsicle sticks or set down on parchment paper -lined sheet tray and sprinkle with your choice of sprinkl

Place in freezer over night or until frozen

Store in freezer bag or container in freezer for up to three months