This post may contain affiliate links.
Friday nights have been deemed family pizza nights in our house. It's easy, pizza for kids is a no-brainer, and it's predictable. The hardest part is deciding which kind of pizza we will make; homemade, pizzadillas, take-out, or throw in a frozen pizza and call it good.
There are so many different ways you can change up family pizza nights without eating the same kind of pizza week after week – which is a recipe for making your picky eater even pickier.
If your child loves pizza but doesn't stray from a plain ole slice of cheese pizza, you can still provide variety in the way you prepare it to help them get used to change and not get fixated on one specific kind because eventually, that will get old.
Whether your picky eater is starting to get sick of pizza, or you're stuck in a rut with what to make for dinner, here are 15 super simple family pizza night ideas that will make your life, and meal planning easier.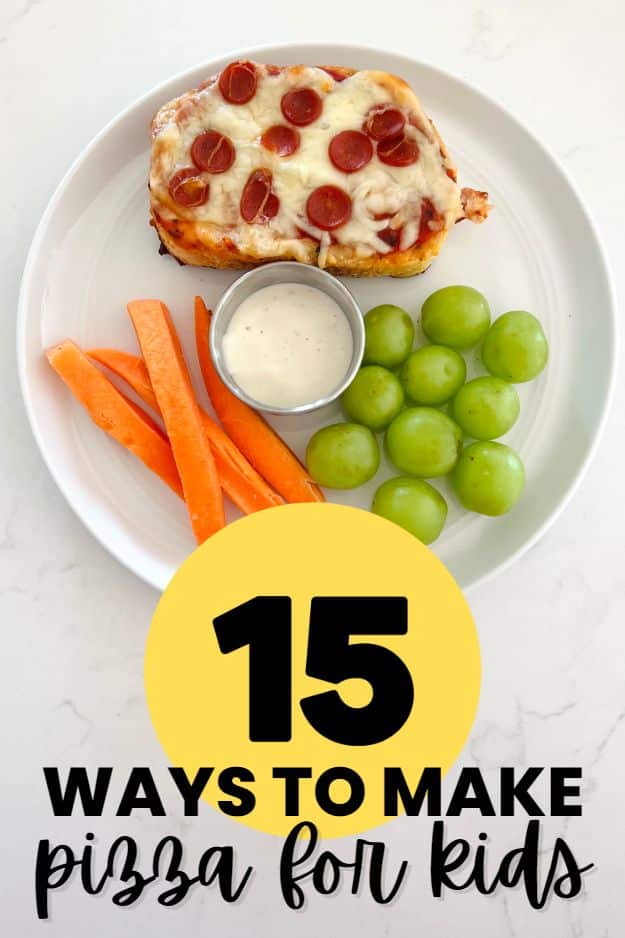 Pizza Toast
To make changing up how you offer pizza for kids, you can simply take a piece of toasted bread, spread on some sauce, sprinkle on some cheese, add your kid's favorite toppings, and broil for a few minutes. Bam, you're done and your kids will probably love it!
I also love using Texas toast for our pizza crust.
Here's a quick and easy pizza toast recipe for you to try.
English Muffin Pizzas
Same concept as pizza toast, but with an English muffin. I love the fluffiness of English muffins, plus they're round so it just makes sense.
Check out the best English muffin pizza recipe here.
Pillsbury Mini Pizza Crust
I just discovered Pillsbury's new Mini Pizza Crusts and they're awesome! It's an easy way to offer pizza for kids and for everyone to customize their own pizza, adding their favorite ingredients. Plus, it's always a great idea to get your kids in the kitchen to make their own.
The Pillsbury Mini Pizza Crusts kind of remind me of a biscuit and they're so tasty. Just make sure you spread out the dough enough so it cooks thoroughly.
Check out how I made them here.
Pizza Pasta
An easy way to help your picky eater bridge to new foods is by taking a favorite and turning it into something else. Let's take pizza and turn it into pasta! Same flavors, same toppings, you're just using pasta instead of crust as your grain.
Try a lentil or a chickpea pasta like Banza for even more protein, fiber, and iron!
Check out my favorite Pizza Pasta recipe here.
Pizzadilla
I like to have a theme for each night of the week when it comes to meal planning to help minimize decision fatigue.
Mondays are usually pasta night, Tuesdays are obviously reserved for tacos, Wednesdays are a toss-up where I usually try to use up something random we have around, Thursdays are for Brinner (breakfast for dinner) and Fridays are for family pizza nights.
But pizzadillas could fit into both Tuesdays or Fridays, you choose!
They're basically a quesadilla, but with pizza ingredients; pizza sauce, mozzarella cheese, and I like to add my favorite vegetables and mini pepperonis.
Try my favorite pizzadilla recipe here.
Naan Pizza
Naan pizzas are one of my favorite ways to offer pizza for kids and they're so quick and easy!
We love to use Stonefire Original Naan, spread on some pizza sauce for my kids, pesto for me, and you know the rest. You could also try their pizza crust or rounds for the perfect round Naan pizza option.
I also love using Stonefire Mini Naan Dippers for my kids to enjoy as a snack or even pack in their lunch for school. It's the perfect way to let them build their own pizza, which they love doing.
Here's a simple Naan pizza recipe for you to use as inspiration.
Banza Pizza
One of my favorite ways to make a more nutrient-dense pizza for kids is by using Banza Chickpea pizza crust.
The first ingredient is chickpeas so it's loaded with iron, fiber, and protein. For a nontraditional pizza crust, it's actually pretty good.
We like to get the plain crusts and make the pizza ourselves, but they also have cheese and a veggie option too.
Check out their pasta for a change in your pasta routine too.
Homemade Pizza Dough
If you're up for the challenge, you can make pizza dough from scratch. Personally, this is not my first pick, but it is a fun way to make pizza for kids fun. They will love mixing and kneading the pizza dough.
Here's a quick and easy homemade pizza dough recipe you can try, or opt for the package at the grocery store if you need something easier.
Pizza Rollups
Everything tastes better in a crescent roll, doesn't it?
Try making pizza rollups with your favorite refrigerated crescent rolls and add your favorite toppings or just leave it with sauce and cheese.
You can roll them up, or even make fun little pizza pockets too.
Check out this easy pizza rollup recipe here.
Pizza Bagel
My daughter's favorite home lunch is a pizza bagel lunch. We buy the Thomas plain mini bagels and whenever I find them I usually buy two bags and toss one in the freezer because they're not always available at my local grocery store.
Check out how I pack pizza bagels for my daughter here.
French Bread Pizza
Another super simple way to enjoy family pizza night is by making French bread pizza.
You can grab some French bread from your freezer section, or check out the bakery section for fresh garlic French bread.
Spread on some pizza sauce, sprinkle on some cheese, add your favorite toppings, and cook until things are melted and there you have it.
Pizza Rolls Air Fryer Style
Pizza rolls were a staple throughout my childhood. Any sleepover I was at, so were pizza rolls, but back then air fryers weren't a thing.
Now you can introduce pizza rolls air fryer style to your kids so they can experience a piece of your childhood, but even better and probably faster. Just don't forget to let them cool down so your kids don't burn the top of their mouths like you did a million times because you couldn't wait to eat them.
Check out how to make pizza rolls air fryer style here.
Breakfast Pizza
When you think of pizza, you probably think of red sauce, mozzarella cheese, and pepperonis.
I challenge you to think outside the box to help expand the variety in your weeknight dinners and try breakfast pizza!
Get your kids involved as you try new recipes, so they're more familiar once it's time for dinner, or breakfast and a new version of pizza is put on their plate. And feel free to try breakfast pizza any time of the day!
Check out this breakfast pizza recipe here.
Take Out
Not feeling the dirty dishes or mess homemade-ish pizza comes with? Totally fine, take-out pizza is always an option. Sometimes I just don't want to lift a finger in the kitchen, and that means I'm using paper plates too!
I've found an in-between option with Papa Murphy's take-n-bake pizza. I order my favorite kind of pizza, which my kids don't necessarily love, and I order them a Mini Murph.
A Mini Murph is the most brilliant pizza concept for any take-n-bake pizza business. Basically, it's a mini version of their take-n-bake option, with sides of sauce, cheese, and pepperonis so kids can make it themselves. It comes in a cute little pizza box too!
Frozen Pizza
The easiest and likely most affordable way to enjoy family pizza night is with a frozen pizza. There's absolutely no shame in throwing in a frozen pizza and calling it good.
Sides for Pizza
Pizza night is meant to be simple, so try for the same when it comes to the sides. We usually put out whatever fresh fruits and veggies we have left from the week or mix up a salad kit. Ranch is usually my kid's dip of choice for their pizza, which helps them eat their fresh veggies too.
Sometimes we have so many veggies as our toppings, that the pizza itself is enough and we opt for no sides.
Sides that Go Well with Family Pizza Night
Salad kits
Fresh fruit
Fresh veggies
Before Your Next Pizza Night
As you can see, there are so many different ways you can enjoy family pizza night, and switching it up can help prevent your picky eater from getting stuck on one type of pizza.
Learn how to use pizza to help your picky eater try new foods here.
You can keep it as simple as switching up the crust, to as different as turning your pizza into a quesadilla or pasta dish.
Don't forget to get your kids involved in not only the meal planning process and what kind of pizza you'll be enjoying this Friday on family pizza night but also with making the pizza too!
Next time you enjoy Family pizza night, take a picture and tag me on social media @thefamilynutritionist on Instagram or Facebook.