This post may contain affiliate links where I may make a small commission at no extra cost to you.
In our house, Fridays are reserved for pizza and while pizza rarely gets old, we do like to switch it up every once and a while. What better way to change up pizza than to add some pasta?
This pepperoni pasta bake is not only simple to make, but easy to customize based on your family's preferred pizza toppings. And hey, if your kids prefer plain ole cheese pizza, you can make a cheesy pasta bake instead.
Keep reading to learn more about the different variations, how you can squeeze in some extra veggies, and even boost the nutritional value with different types of noodles!
What You Need for Pepperoni Pasta Bake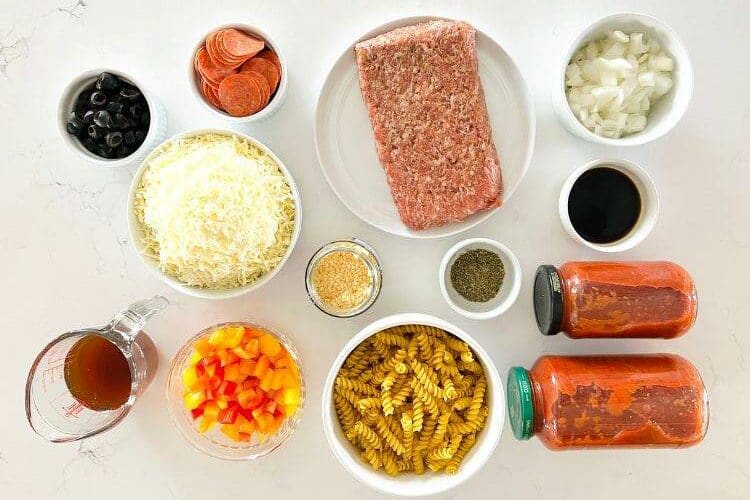 You probably already have many of the ingredients needed for this pepperoni pizza bake. You can double-check with this list here:
Ingredients for Pepperoni Pasta Bake
Vegetable broth
Ground beef
Onion, diced
Bell peppers, diced
Garlic, minced
Worstechire sauce
Italian seasoning
Marinara sauce
Pizza sauce
Rotini or penne
Mozzarella cheese
Black olives, sliced
Pepperoni
How to Make Pepperoni Pasta Bake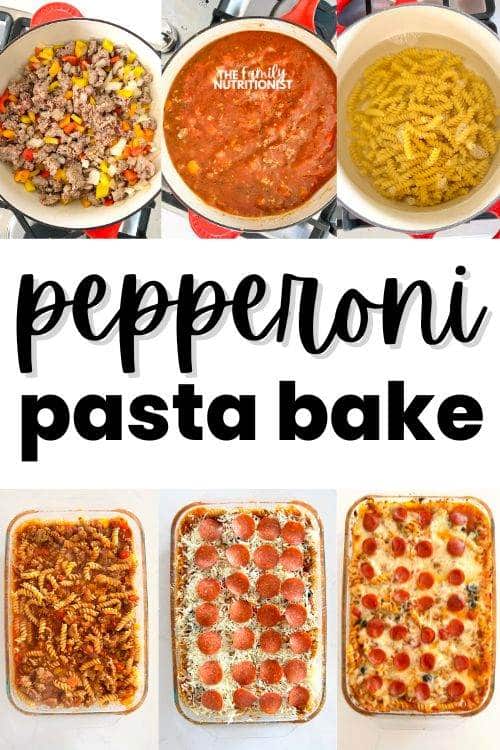 As with any recipe, you need to wash and prep any fresh produce. This is a great opportunity to get your kids involved.
Let your kids give the peppers and onions a "bath." Allow them to cut up the veggies with kid-safe knives.
While your kids are doing most of the work with the produce, you can boil the pasta, and brown up the ground beef in a Dutch oven or large saucepan. I love using the Caraway cookware sets. They're nontoxic, nonstick, super easy to clean, and beautiful too!
Once you've browned the ground beef, you can add the peppers and onions as well as the garlic, Italian seasoning, Worstechire sauce, marinara, and pizza sauce.
Here is where you will first dump the pasta into a 9 by 13-inch baking dish, then the sauce mixture. Give it a good stir so the pasta and sauce are mixed well.
You can also mix in whatever preferred pizza toppings you'd like at this point. My son loves black olives, so we add those to at least half the dish.
I always say the more cheese the better and this is where the adding of the cheese begins! Sprinkle the cheese overtop the pasta dish and give it another good mix so not one inch of the pizza bake is without cheese.
Here comes more cheese! Sprinkle the top with cheese once again, but this time you won't mix it in. Leave it and layer the top evenly with pepperonis.
You could enjoy it at this point, but it's better after you've baked it at 375 degrees F for roughly 10 to 15 minutes covered and then another 5 to 10 minutes uncovered.
What to Serve it With
Anything pizza related is great by itself, but I'm a big fan of trying to incorporate fruits and veggies wherever you can, especially when it comes to kids.
This pepperoni pizza bake goes great with a Caesar salad, roasted broccoli – since you're using the oven anyways, or any fresh veggies with ranch.
If your child doesn't enjoy pizza yet, here are a few ways to help them enjoy pizza one day!
Variations
Take your favorite pizza and use those toppings in this recipe.
Do you prefer mushrooms to black olives? Make the swap.
Love a margarita-style pizza? Toss in some extra tomatoes, top with fresh mozzarella and basil leaves, and drizzle with balsamic glaze right before eating.
One of my favorite pizzas is a chicken Alfredo pizza. You can easily turn this pepperoni pizza bake into a chicken alfredo bake by using chicken instead of beef (try rotisserie chicken) and alfredo sauce instead of marinara.
You can also switch out the pasta and use a lentil or chickpea pasta to boost the fiber and iron of each bite of this pepperoni pizza bake.
When boiling lentil or chickpea pasta, you have to watch it carefully because it boils over very easily and can leave a big foamy mess on your stovetop.
If you're looking for other creative ways to add pizza to your Friday night menu, check out 15 Ways to Make Pizza for Picky Eaters here.
FAQs
Can I Use Gluten-Free Pasta?
Absolutely. You can substitute any pasta you prefer. You will just need to adjust the cooking time for the pasta, as every pasta cooks differently.
Do I Have to Use Ground Beef?
Nope. You can go without the ground beef and just use sauteed peppers and onions and continue on with the recipe without the ground beef.
Can You Freeze Pepperoni Pasta Bake?
I don't necessarily recommend freezing any pasta dish. This is simply because the pasta doesn't always hold up the best and might turn to mush once you thaw and reheat.
How to Store and Reheat
The best part about this pepperoni pasta bake is there will likely be leftovers unless you're feeding a large group or have a bigger family.
You can easily store the pasta in the dish you baked it in in the fridge for three to seven days and reheat portions in the microwave.
Technically you should reheat all food to 165 degrees Fahrenheit for a minimum of 15 seconds, but I get that people aren't standing at the microwave doors with their food thermometers.
When reheating foods in the microwave, make sure to stir or cut the food up to distribute the heat evenly.
You're welcome to reheat the entire pan of leftovers in the oven, at the same temperature you baked it at, but this may take quite a bit of time.
Other Recipes You'll Love
Strawberries and Cream Oatmeal
The Best English Muffin Pizza Recipe
Pepperoni Pasta Bake
Ingredients
1

lb

ground beef

1

small yellow onion, diced

1

bell pepper

whichever color you prefer

1/2

cup

vegetable broth

1

tbsp

minced garlic

1

tbsp

Worcestershire sauce

32

oz

Marinara sauce

8

oz

Pizza sauce

16

oz

rotini or penne pasta

1/2

cup

parmesan cheese

shredded

2 1/2

cups

mozzarella cheese

shredded

20-30

slices

pepperoni

1

tbsp

Italian seasoning

1/2

cup

black olives, sliced
Instructions
Preheat oven to 375 degrees F. Heat large pot of water and bring to boil. Wash and prep fresh produce.

Heat dutch oven or large sauce pan over medium-high heat. Add ground beef and cook until nearly all beef has browned. Drain grease. Add onions, peppers, garlic, marinara, pizza sauce, Worcesteshire sauce, broth and Italian seasoning. Stir mixture, scraping the bottom, and bring to a simmer partially covered.

While pizza sauce mixture simmers, and once pasta water has started to boil, add pasta and cook according to the package. Drain the pasta and add to a 9 by 13 baking dish, followed by the sauce mixture. Stir to combine pasta and sauce mixture. Mix in half the mozzarella cheese and black olives. Top with remaining mozzarella and parmesan cheese and pepperoni.

Cover with tinfoil and bake for 10 to 15 minutes covered and then remove tinfoil and bake uncovered for an additional 5 to 10 minutes.

Remove from oven, let cool for 5 to 10 minutes and enjoy!