There's no doubt that mac n cheese is a kid favorite, but veggies, on the other hand, tend to be a hard sell for many kids, let alone adults.
One way to help your child learn to like veggies is by adding them to a food they love; mac n cheese.
This post will discuss whether or not you should hide veggies in your child's food, which veggies work well with mac n cheese, and also a super simple hidden veggie mac n cheese recipe.
Should you hide veggies?
As a dietitian and expert in picky eating, I actually don't recommend hiding veggies in your child's food. While it may be well-intentioned to help them actually eat their veggies, it can quickly backfire.
I can't tell you how many times I've had adults tell me that they can't eat certain food because they found out their parent had lied to them their entire life about hiding veggies in their food. Ultimately it comes down to creating trust at mealtimes. If there's no trust, it's hard to enjoy the process, let alone try new foods.
What can you do instead of hiding veggies to help your child actually eat them? My recommendation is to have them help you in the kitchen preparing the meals you make.
Even if they don't want to eat the finished product because there's spinach in it, if they helped you make it by adding the spinach, that's extremely helpful! They've still engaged with the food and it brings them that much closer to enjoying it one day.
In this Hidden Veggie Mac N Cheese, I'm sharing with you today, we're going to be using butternut squash because it's the same color (orange) as the cheddar cheese you'll be using in the recipe. But just because it appears hidden, doesn't mean we have to hide the fact that it's in there.
But if you happen to not mention it…that's okay too!
What You'll Need to Make It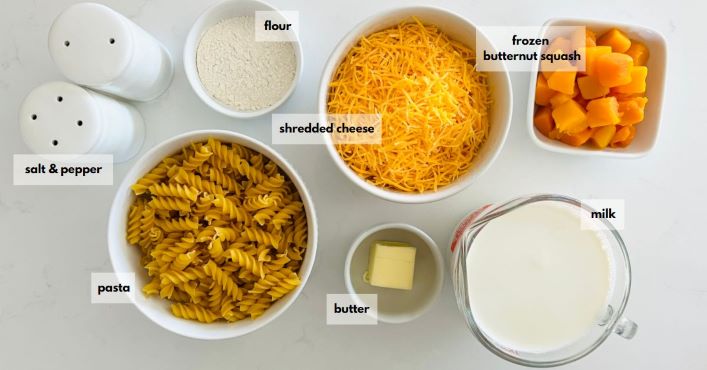 Pasta
You can use whatever pasta your child loves or switch it up and try something new.
If you'd like to bump up the nutritional value even more in this recipe, you can use a red lentil or chickpea pasta for more fiber, iron, and protein. Just be mindful that these kinds of pasta tend to boil over quickly.
Shredded Cheese
Feel free to shred your own cheese, but for the sake of time, I like to use pre-shredded cheese. We always seem to have a few bags of it in the fridge because we love cheese in our house.
I recommend using cheddar cheese in this recipe, but you can certainly use whatever cheese you'd like.
Flour & Butter
If you're not familiar with what a roux is, it's basically what helps thicken the cheese sauce. It's quite fascinating actually and you can learn more here. Once you know how to make a roux, you'll be making your own gravies and sauces and it will be so easy!
Milk
I prefer to use whole milk whenever possible to give my kids more calories in every bite because their appetite is so unpredictable.
If you're lactose intolerant, have a milk allergy or choose a vegan lifestyle, you can easily choose your favorite milk substitute instead.
Butternut Squash
I recommend keeping it simple and using frozen steamer butternut squash, but you're welcome to use fresh butternut squash if you'd like. You will just need to wash, peel, dice, and roast it prior to adding it to the recipe below.
Salt & Pepper
Salt and pepper aren't required, but it does add a little more flavor. You can always wait to add until you've portioned out your own bowl of the finished mac n cheese to help minimize extra sodium for your baby, toddler, or child.
How to Make
Cook Pasta
Your best bet is to cook your pasta of choice according to the directions on the box. Avoid overcooking the pasta or your mac n cheese will just turn into mush.
You can drain your pasta and set it aside until you're ready to add it to your roux mixture.
Blend Butternut Squash and Milk
Blend the cooked butternut squash and milk together until well blended and there's no longer any chunks of butternut squash. I used a Nutribullet blender at it worked great!
If you use a frozen steamer butternut squash, you'll drastically cut down the prep time needed for this recipe. Plus, frozen veggies have nutritional value too!
Make the Roux
If you're multitasking at this point you're going to want to stop and focus on this step. First, you'll melt the butter until it's golden brown. Then you'll add the flour, but you will want to continuously stir on medium-low to ensure it doesn't burn.
Next, you'll add in the butternut squash milk mixture and continue to stir until all the lumps are out. I recommend continuing to stir the roux mixture until it has thickened to avoid burning.
Add Cheese
When you add your shredded cheese, your mixture will continue to thicken. Feel free to add more milk if necessary.
Mix in Pasta
Now it's time to add in your cooked pasta. Stir until well combined and your hidden veggie mac n cheese is ready to be eaten!
Variations
You can easily substitute the butternut squash for other vegetables like carrots or cauliflower. Depending on how much vegetable you use will determine the strength of the vegetable flavor.
If you'd like to get really crazy and try green mac n cheese, try substituting the butternut squash for broccoli or spinach. This would be fun to do around St. Patrick's day or Christmas.
For more ways to make boost your mac n cheese, check out my blog post on 10 Ways to Make Healthy Mac and Cheese for Kids.
How to Store and Reheat
This recipe is enjoyed best fresh off the stove, but if you have leftovers, simply reheat it in the microwave and add milk to make it creamy again. Don't forget to stir the mac and cheese when reheating in the microwave to even out the heating and avoid hot spots.
Store your leftover hidden veggie mac n cheese in an air-tight container in the fridge for up to 3 days. I don't recommend freezing this recipe because the quality of the pasta will drastically decrease.
What to Serve With It
Personally, I love roasted broccoli with mac n cheese, but since you already have a veggie in the mac n cheese, you could serve it with fruit, and milk or water.
Other Recipes You'll Love
3 Ingredient Super Simple Banana Popsicles
The Best English Muffin Pizza for Toddlers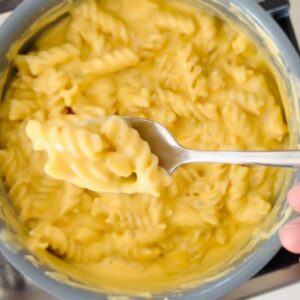 Hidden Veggie Mac N Cheese
Homemade Mac N Cheese with Butternut Squash
Equipment
Pot

Spatula

Strainer

Blender
Ingredients
16

oz

pasta, uncooked

2

Tbsp

Butter

2

Tbsp

Flour

1.5

Cup

Whole Milk

1

Cup

Butternut Squash, cooked

2

Cups

Shredded Cheddar Cheese

Salt & Pepper to taste
Instructions
Cook pasta according to package.

Blend together cooked butternut squash and 1 cup milk in blender until well combined.

Melt butter in medium saucepan on medium heat until melted and just slightly golden brown.

Add flour and whisk continuously until well combined.

Add butternut squash milk mixture and stir until mixture is smooth and creamy. Mixture will begin to thicken.

Add shredded cheese and stir until melted. Add more milk if mixture becomes too thick.

Add cooked pasta to saucepan and mix until well combined with cheese sauce.