This post may contain affiliate links.
Every once and a while, I'll work up the courage to try a new recipe.  This time it was Peanut Butter Ramen Noodles and it was a hit!
My kids love peanut butter and they can't get enough noodles so peanut butter ramen noodles just made sense.
As a busy mom with two young kids, I know how hard it can be to get dinner on the table, let alone something your kids will actually eat.
These peanut butter ramen noodles are easy to whip up in less than 30 minutes and you can customize the vegetables to your family's preferences.  Or add them on the side if you have a picky eater.  
What You'll Need for Peanut Butter Ramen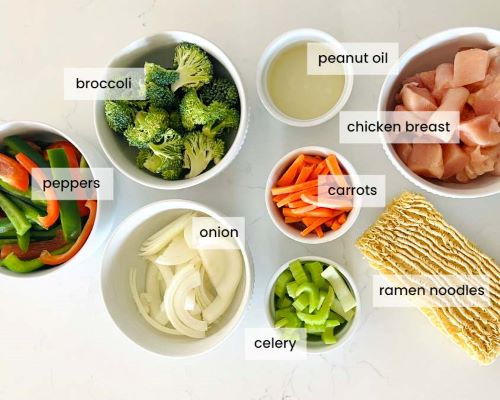 Peanut Oil
You can use whatever oil you'd like, but peanut oil does help add to the peanut flavor of this dish.
Chicken Breast
One of the hardest parts about cooking for me is remembering to take the meat out of the freezer. Thank goodness for the defrost button on the microwave. However, it's still a pain in the butt.
I recommend setting a reminder on your phone a few days before you make this dish to take some chicken out of the freezer, unless you bought it fresh, you're good.
Fresh Vegetables
The great thing about this recipe is that it has a lot of room for customization.  You can add whatever vegetables you like to this dish.  Just know that different vegetables take longer to cook.  The harder the vegetable, the longer it will take to cook. 
Ramen Noodles
I'd never bought Ramen noodles before making this recipe. I lied.  I've definitely bought my fair share of Chicken Ramen noodles, the ones with the seasoning packet. Buying plain Ramen noodles for a homemade recipe was a first for me.
This recipe was so good, I'll definitely be buying plain Ramen noodles to cook with in the future.
You can use the Ramen noodles from your chicken-flavored package, just leave out the seasoning packet.  I was able to find plain Ramen noodles in the international section or aisle of my local grocery store. 
What You'll Need for Peanut Butter Sauce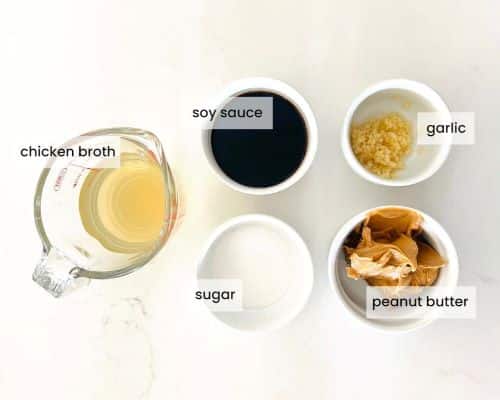 Creamy Peanut Butter
You can use whatever peanut butter you prefer. In our house, we love Skippy.
Unfortunately, we haven't acquired a taste for the "natural" varieties of peanut butter, but my philosophy is not to force yourself to eat something just because it's healthier, instead eat what tastes good to you and keep trying new things along the way.
If you or someone in your house has a peanut allergy you're welcome to substitute a tree nut or sun butter instead.
Chicken Broth
I usually opt for the reduced sodium variety to help minimize salt where we can.
If you're a vegan or vegetarian, you can use vegetable broth instead.
Soy Sauce
Less is usually more when it comes to soy sauce, but it really helps give that savory, Asian flavor.
Minced Garlic
If you're like me, you don't like wasting time peeling and mincing fresh garlic. I always have a jar of minced garlic in the fridge and it says the fresh garlic equivalents right on the bottle.
How to Make Peanut Butter Ramen Noodles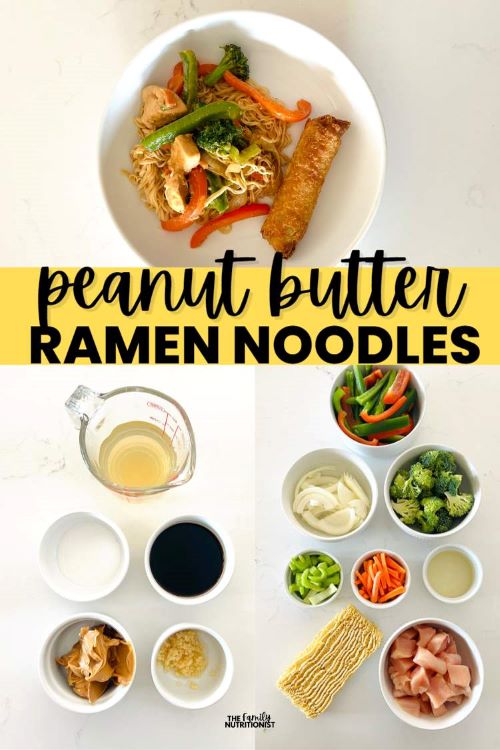 Prepare your Vegetables
I highly recommend that you get your kids involved in prepping the vegetables for this peanut butter Ramen recipe.
You can start by letting them help you give your vegetables a "bath."  They'll think this is so fun and won't even realize they're helping you out!
Then, get your kids some kid-safe knives or crinkle cutters and let them help you chop the veggies. Sounds crazy to let your kids use knives, but by providing them with safer options, you've helped them gain valuable skills that will lead to healthier habits in the future. Of course, always supervise your kids in the kitchen.
Make the Peanut Butter Sauce
Combine the creamy peanut butter, soy sauce, garlic, sugar, and chicken stock together in a microwave-safe bowl. Microwave for 30-second increments, whisking in between until sauce is combined.
The first time I tried this recipe, I didn't microwave the sauce and it was pretty lumpy.
Transfer half the peanut butter sauce to a Ziploc bag and set the rest aside for later.
Marinate Chicken
Cut your chicken breast into ½ inch pieces, season with salt and pepper if you'd like, and place in your Ziploc bag with the peanut butter sauce.
Give the bag a little toss so your chicken gets completely covered in the peanut butter sauce.
Cook Chicken
Heat your peanut oil in a skillet over medium heat. Be careful of any oil splatters during this step.
I like to use a cast iron skillet because believe it or not, cooking in a cast iron skillet can help increase the absorption of iron. Read more about how much iron you and your kids need here.
You will want to cook the chicken until it reaches a temperature of 165 degrees Fahrenheit. It can be hard to tell just by looking at the chicken, so it's best to use a meat thermometer to be safe. 
Once your chicken is cooked, you can set it aside until it is added at the end.
Boil Ramen Noodles
This does not take long at all so don't try to fold a load of laundry while your Ramen noodles boil.
Once your water starts to boil, you can add your Ramen noodles and cook for no longer than two minutes.
Drain the noodles and set aside.
Sautee the Vegetables
Heat oil in the skillet you cooked the chicken in.  Add in your hardest veggies first.  For me, this was the broccoli and carrots.  
After a few minutes, you can add in your softer veggies like onions and celery, cooking for another minute or so.
You'll want to stir throughout to ensure the vegetables don't burn.  
If you like your bell peppers a little softer, add them with the onions and celery.  I like my sauteed bell peppers more crisp so I add them last.  
Once all your vegetables are added, add the chicken to the pan and stir in with your vegetables.
Combine the Ramen and Sauce
All that's left to do from here is add the cooked ramen and the rest of the peanut butter sauce you set aside. Give it a few stirs, just enough to combine all the ingredients.
If you have picky eaters at home. You can serve items family style and let your child make their own peanut butter ramen bowl, or maybe a plain noodle bowl.
If your child doesn't like vegetables yet, try not to pressure them into trying them.  Instead, ask them to scoop them onto your plate.  This way they're still engaging with them and they're also seeing that you're trying them, which is so important. 
For more help with your picky eater, check out these three tips here.
Variations
There are so many different ways that you could change up this peanut butter ramen noodle recipe.  Starting with the sauce.  If the ramen with peanut sauce isn't your thing, you could try these sauces instead:
Don't feel like you have to make the sauce homemade either. If it's easier, go ahead and grab a bottle of your favorite sauce from the grocery store. No shame.
Can You Use Different Noodles?
One of the best things about noodles is that most kids like them and there are so many different kinds to choose from. The oodles of different kinds of noodles makes it easy to add variety to your picky eater's diet without them noticing too much.
The main thing to consider when using a different noodle is the cooking time.  Each variety of noodles will cook differently.
Other noodles you can use:
Rice Stick Noodles, soak in warm water for a few minutes
Lo Mein Noodle, 3-5 minutes boiling
Soba Noodle, 5-7 minutes boiling
Chow Mein Noodle, 3-5 minutes boiling
Udon Noodle, 8-9 minutes boiling
Rice Vermicelli Noodle, 3-4 minutes soaking in warm water
What to Serve it With
Try offering these Peanut Butter Ramen Noodles to your kids with chopsticks. This is a fun utensil to add to meals to get their curiosity and fine motor skills moving.
We have a few different chopsticks, but my favorite is Genuine Fred's animal chopsticks.  If your picky eater doesn't want to try something, ask them to feed their chopstick animal instead!  This way they still engage with the food, even if they don't try it.
For more help with your picky eater, check out these three simple tips. 
How to Store and Reheat
This recipe makes quite a bit so you'll likely have leftovers. This means two great things: you won't have to cook and it tastes even better the next day.  
To store your leftovers, place them in an air-tight container and keep them in the fridge for three days.
For a quick and easy meal, microwave the leftover peanut butter ramen noodles until it reaches 165 degrees F. Just remember to stir it well and ensure there are no hot spots.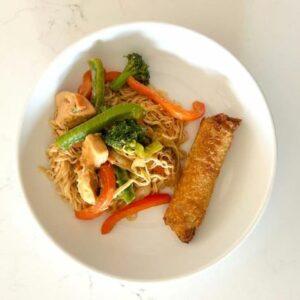 Peanut Butter Ramen Noodles
These peanut butter ramen noodles are easy to whip up in less than 30 minutes and you can customize the vegetables to your family's preferences.  Or add them on the side if you have a picky eater.  
Ingredients
Peanut Butter Sauce
1/2

Cup

creamy peanut butter

3/4

Cup

reduced sodium chicken broth

3

Tbsp

soy sauce

1

Tbsp

Sugar

1

Tbsp

Minced Garlic
Stir Fry
3

Tbsp

peanut oil

1

lb

boneless chicken breast

1

Cup

broccoli florets

1

Cup

carrot chips

1/2

yellow onion, sliced

2

stalks

celery, sliced

1

green pepper, sliced

1

red pepper, sliced

4

oz

ramen noodles
Instructions
Wash and cut fresh vegetables, set aside. Dice chicken breast and set aside.

Combine peanut butter, soy sauce, sugar, and garlic in microwave-safe bowl and micorwave for 30 second increments, stiringin between.

Add half the peanut butter sauce to a Ziploc bag and add chicken breast, distributing sauce evenly and coating each piece of chicken. Set aside.

Heat peanut oil in skillet on medium heat. Add chicken and cook until 165 degrees F, flipping over periodically. Remove from pan and set chicken aside.

Boil water in a pot and add ramen noodles. Cook for roughly 3 minuts aside.

Add broccoli and carrots to skillet previously used for chicken. Add more oil if needed. Sautee for a few minutes, then add the rest of the vegetables. and sautee until desired doneness.

Add chicken, other half of peanut butter sauce, and noodles. Stir untill well combined. Enjoy!
Other Recipes You'll Love
Peanut Butter Banana Popsicles