This article may contain affiliate links where I make a small commission at no extra cost to you.
Do you ever crave a delicious breakfast, but don't want to do all the work and clean up that comes along with it? Then this easy brioche breakfast casserole is the answer and it's really easy to make.
I wanted to do a "fancier" breakfast for Easter morning, but I also wanted to enjoy the morning without all the prep, dishes, and mess to clean up. I didn't think this was possible at first.
That's when I thought of doing a breakfast casserole. I could make it the night before and throw it in the oven that morning while I enjoyed my cup of coffee watching my kids find all the Easter eggs the Easter bunny hid.
I want your life to be easier when it comes to mealtimes. That's why I'm sharing my easy brioche breakfast casserole that uses my favorite breakfast meatballs that will help you enjoy your cup of coffee instead of cooking up a storm for breakfast.
Casseroles for Breakfast
Breakfast casseroles, also known as breakfast bakes, but I'm from the Midwest (Minnesota) so we call them casseroles, are the go-to breakfast option that allows you to cook breakfast while you sit back on the couch sipping your hot cup of coffee. Unless you have kids like me, that might be impossible.
A breakfast casserole is essentially a bunch of eggs, bread, and whatever ingredients you preferred all baked together.
Breakfast casseroles work great when you have a busy morning, especially on holidays when it's already stressful. Don't add to the stress and chaos. Instead, whip up a breakfast casserole the night before.
What You'll Need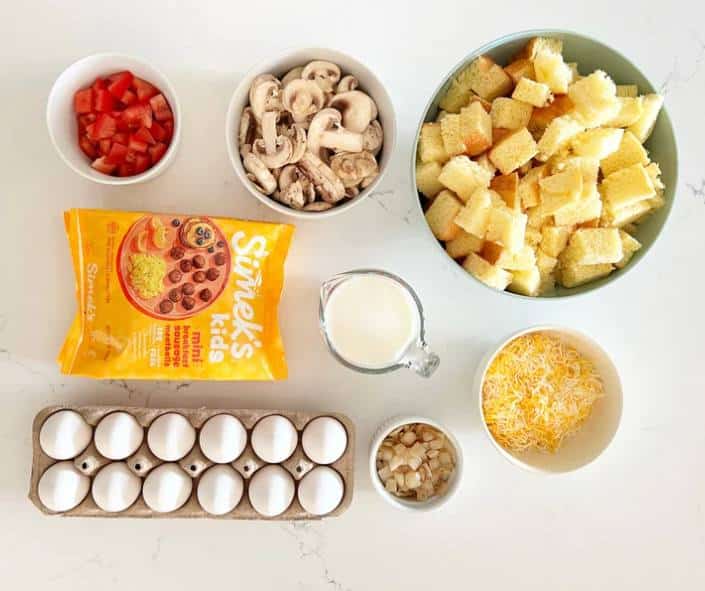 Personally, I really dislike following recipes when I cook. I use them more for inspiration than anything, but I'm also fairly comfortable in the kitchen, while others might not be.
Believe it or not, as a dietitian, I've had a lot of practice in industrial kitchens and find slicing and dicing therapeutic. I was actually a school food service dietitian for six years so I know my way around a kitchen, as well as how to cook hundreds of chicken sandwiches at once.
Eggs
For this recipe, I used a dozen eggs. At first, I thought, wow, this is going to be way too many eggs, but trust me, it's perfect!
My daughter loves to crack eggs, so I recruited her to help out. I just had to keep a close eye on any eggshells that may have ended up in our bowl.
Did you know that cracking eggs on a flat surface like your counter works better than cracking them on the edge of a bowl or pan? I've had way fewer eggshells in my egg mixture since doing it this way. Give it a try!
Milk
We use whole milk to give it more calories because I never know when my kids will only want a nibble at breakfast. This way, they're getting a few more calories per bite.
You can choose whichever variety of milk you enjoy and maybe that's a milk alternative too.
Cheese
I used shredded cheddar for this breakfast casserole recipe, but you can use whatever cheese you prefer. Heck, shred it yourself if you'd like.
Bread
I've seen breakfast casseroles made with many different kinds of bread, but I used brioche this time and it was so good! My daughter daughter at a whole slice of diced brioche before I could even put it in the casserole dish.
If you're trying for fewer carbs, which if you ask me is the best part, you can actually leave the bread out and make more of an omelet bake instead.
Simeks Mini Breakfast Meatballs
We've been enjoying Simeks Mini Breakfast Sausage Meatballs for a few years now. They're delicious, easy to make, and something different than your typical link or patty. Plus they're the perfect size for kids.
Don't forget to cut them up for kids under four to minimize the choking hazard.
If you can't find Simeks Mini Breakfast Sausage Meatballs, you can use any breakfast sausage and fry it up into crumbles to put in the breakfast casserole.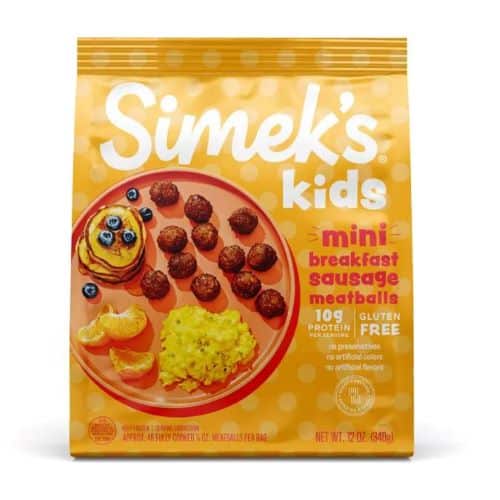 Veggies
Another easy way to customize your brioche breakfast casserole recipe is with different veggies. I say pick two or three and go with that. Too many can quickly overflow your pan and add a lot of extra moisture, taking longer to cook.
I used tomatoes and onions in this breakfast casserole recipe simply because it's what I had in my fridge.
Veggies that go well with breakfast casseroles:
Bell peppers
Spinach
Broccoli
Mushrooms
Tomatoes
Onions
Some people will sautee the veggies ahead of time, but I've found that it's not necessary. Sounds a lot like working harder, not smarter to me and I prefer to work smarter. However, I did sautee the onions because they're more flavorful this way.
How to Make Brioche Breakfast Casserole
Wash and Prep Veggies
Always necessary to do this before you start slicing and dicing your fresh produce. And don't forget to wash your hands too.
This is a great opportunity to get your kids involved and let them give your produce a "bath."
I recommend dicing any veggies you have into smaller pieces because they will mix better into the casserole.
As long as you dice up your veggies small enough, they should cook just fine in the breakfast casserole.
Again, another great opportunity to get your kids involved and maybe even watch them try a few new foods. Let them help you slice and dice your veggies using kid-safe knives or a crinkle cutter.
Dice Bread
I've found that it's easiest to use a serrated bread knife for this step, but use what you have.
Depending on the size of your loaf of bread, you'll need roughly six cups of diced bread.
Dicing bread is a great activity for your toddler or child to work on their knife skills using kid-safe knives. Just make sure you account for all the slices they'll eat throughout the process.
Grease a 9 by 13 cake pan and add your diced bread and set aside.
Mix Eggs, Milk, and Cheese
In a large mixing bowl, you, or your kids if they're helping, will crack all dozen eggs and whisk until eggs are thoroughly combined. I like to use an egg beater for this part because it's super quick and really mixes the egg white and yolk together better than I can do by hand.
Then you'll add in your milk and cheese, salt and pepper if you choose, and give a good stir.
Add Egg, Veggies, and Breakfast Meatballs
Sprinkle your veggies overtop your pan of diced bread, then your breakfast meatballs, and finally, your egg mixture.
You might find that the cheese comes out last. Just spread it out over the breakfast casserole.
Your pan might feel a little full at this point, but try to give it a stir so your veggies and breakfast meatballs get evenly distributed throughout the breakfast casserole.
Bake Brioche Breakfast Casserole
Hopefully, you already preheated your oven, but if you didn't, set it to 350 degrees Fahrenheit. Once preheated, pop your breakfast casserole with your mini breakfast meatballs into the oven for roughly 40-50 minutes, checking every five minutes for the last fifteen minutes.
Once your egg bake is firm in the middle and a light golden brown, it's done.
Breakfast Casserole Variations
The great thing about breakfast casseroles is that you can customize them with whatever ingredients you prefer! You can even do half and half, so everyone can have what they love, or don't love.
Traditionally, breakfast casseroles, or breakfast bakes, depending on where you live, are made in a 9 by 13 cake pan, but you can bake it in whatever pan you'd like.
Try a smaller, square pan for a smaller group. Or a round pan and cut it into triangles. You can even make mini versions in muffin tins. You'll just have to adjust the time depending on the pan. A smaller pan equals less time to bake.
What to Serve with Breakfast Casserole
Because your brioche breakfast casserole already has breakfast meatballs and eggs (protein), bread (grain), and hopefully some veggies, you can just keep it at that if you'd like.
However, having just a slice of breakfast casserole on my plate feels like it's missing something. I like adding fresh fruit, a glass of orange juice if that's your thing, or even a glass of milk, totally up to you.
Another great side option with breakfast casseroles is a breakfast potato. We love frying up shredded hashbrowns, but tater tots, fried potatoes, or hash brown patties work great too.
How to Store and Reheat
Most leftovers are best if used within three days, but you can keep this brioche breakfast casserole in your fridge for up to one week if you'd like.
Store your brioche breakfast casserole with a tight cover. When reheating, make sure to heat all the way through to 165 degrees Fahrenheit for food safety reasons.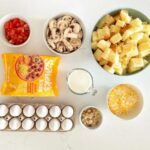 Print Recipe
Brioche Breakfast Casserole
An easy brioche breakfast casserole that uses my favorite breakfast meatballs that will help you enjoy your cup of coffee instead of cooking up a storm for breakfast.
Equipment
9 x 13 baking dish

Mixing bowls

Whisk

Egg beater

Serated knife

Cutting board
Ingredients
12

eggs

1/2

Bag

Simeks Mini Breakfast Sausage Meatballs

6

Cups

Brioche bread, diced

1

Cup

Shredded cheese

1

Cup

Whole Milk

2

Cups

Veggies of choice

Salt and pepper to taste

1

Tbsp

Oil
Instructions
Preheat oven to 350 degrees Farenheit

Wash and dice veggies into small, bite-sized pieces. If using onions, sautee onions with oil in pan until translucent. Set veggies aside.

Dice bread into 1 inch cubes and put into greased baking dish. Add Simeks Mini Breakfast Sausage Meatballs, or cooked breakfast sausage crumbles,

Whisk together eggs, milk and cheese. Pour egg mixture over the diced bread, breakfast meatballs, and veggies. Stir breakfast bake to evenly distribute ingredients.

Bake for roughly 40-50 minutes or until center of the breakfast casserole is firm.
Other Recipes You'll Love
The Best English Muffin Pizza for Toddlers