This post may contain affiliate links where I may make a small commission at no extra cost to you.
I grew up on Quaker Strawberries and Cream Instant Oatmeal.  I could easily eat two to three packets in one sitting.  It was so tasty!
While I still enjoy instant oatmeal occasionally, I thought I'd try to replicate my childhood favorite breakfast and see if I could give it a nutritional boost for my kids.
I'm not going to lie, sometimes trying to make things "healthier" doesn't always mean it's tastier. But this homemade oatmeal for kids is delicious, is simple to make, and you can control what you put in it.
Equipment You Need
The great thing about making homemade oatmeal for kids is that you can customize and control the ingredients you add. Want less added sugar, hold the brown sugar. Want to bump up their fruit, add more strawberries. Need more fiber? Add more ground flax.
You don't need many kitchen gadgets to make homemade oatmeal for kids. All you need is something to heat your water, and a knife to chop up the strawberries, and if you're not an eye baller like me when measuring your ingredients, you might need measuring cups.
I like to use my whistling tea kettle to boil the water for my homemade oatmeal, but you can heat it on the stove, use the boil water feature on your coffee maker, or whatever floats your boat.
Homemade Oatmeal for Kids Ingredients
Maybe your child loves oatmeal, maybe they've never had it, or maybe they don't like it (yet). Either way, this homemade oatmeal for kids is worth a try. And if you can enlist their help making it, you might just get them to buy into it too!
Many of the ingredients needed for homemade oatmeal for kids are probably already hanging out in your pantry or fridge. The best part is that you can easily customize it based on what you have available and your child's preferences.
Oats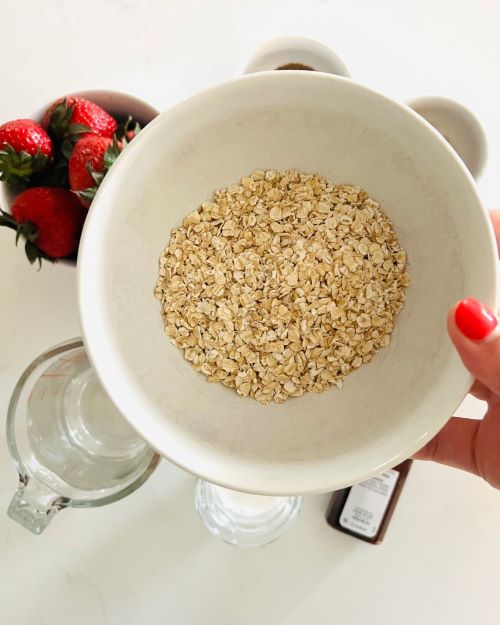 I used quick oats because that's what I had in my pantry, but you can use whatever kind of oats you'd like. The more intact the oats are, the longer they'll take to cook.
Oats are a great breakfast option for kids because they give them a boost of energy with carbohydrates, but they also contain protein and fiber to keep them fuller longer.
Water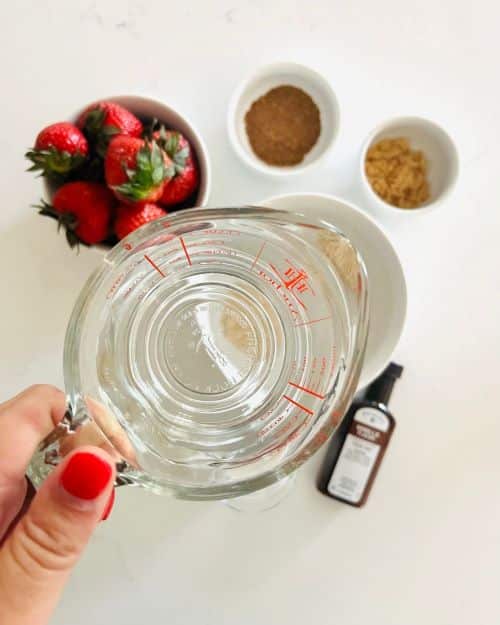 If you have a light eater at home or you're looking for ways to add calories to your picky eater's diet, here's where you're going to want to substitute whole milk for water. You can also use whatever milk substitute you'd like.
Ground Flaxseed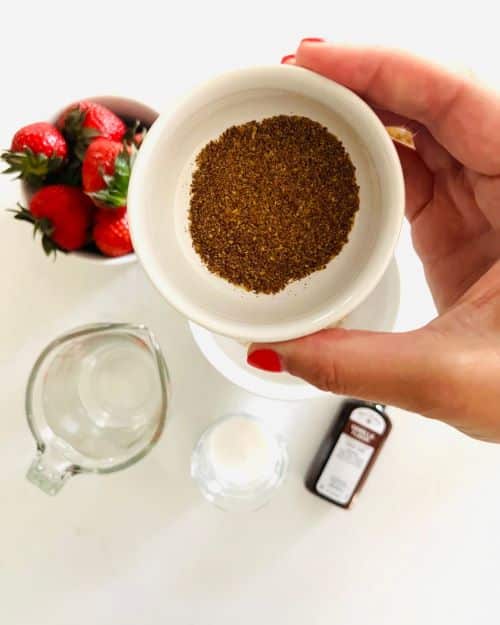 We love to use Tiny Sprouts Digestive Boosters which has milled flaxseed and chia seeds, apple, and cinnamon which adds great flavor to your oatmeal for kids.
You can use any brand you'd like, but I recommend finding a ground version of flaxseed to make it easier to digest.
Brown sugar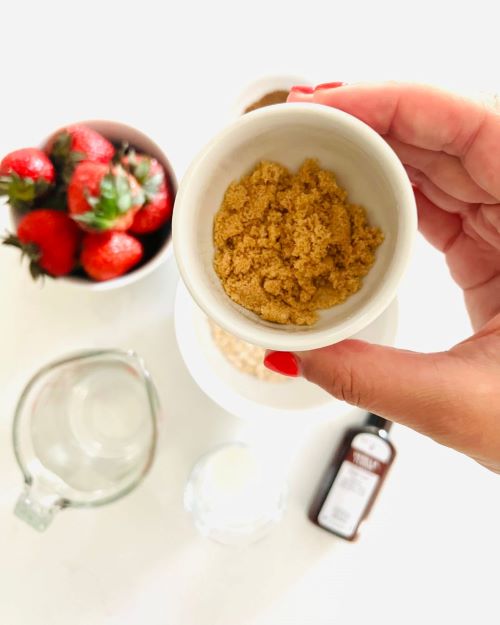 Yes, this is still added sugar, but I prefer oatmeal to have a little flavor. By making your own homemade oatmeal for kids, you can control how much sugar you add.
Strawberries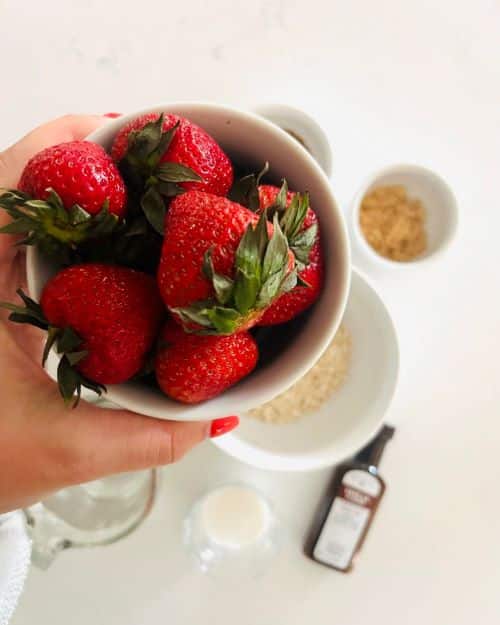 I love adding fresh strawberries, finely diced up to help replicate the nostalgia of eating the Quaker Strawberries and Cream Instant Oatmeal I used to eat as a child.
Again, making it yourself allows you to customize your homemade oatmeal for kids. You can add any fruit, fresh, frozen, dried, or freeze-dried.
Cream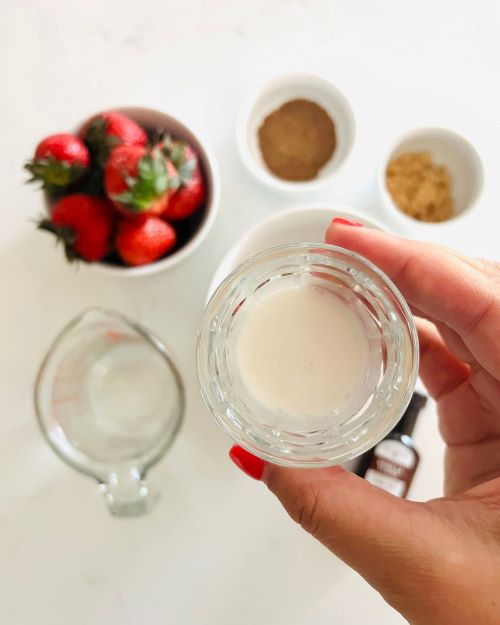 I used my vanilla coffee creamer and it was delicious! If you do this, you can leave the vanilla extract out.
You're more than welcome to use regular cream too!
Salt
You only need a little, but a sprinkle of salt goes a long way in homemade oatmeal for kids.
How to Make Homemade Oatmeal for Kids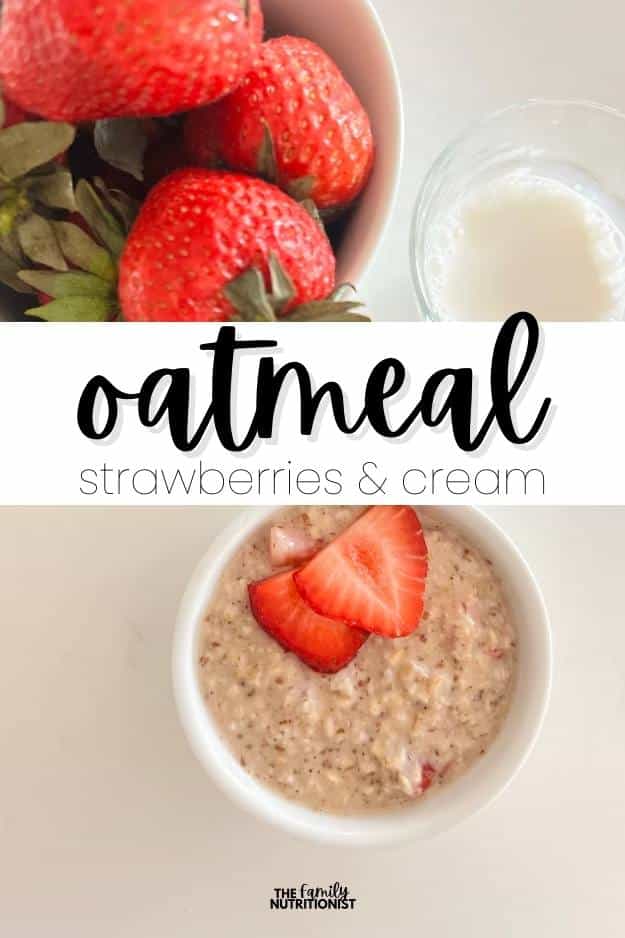 To kick off your super simple homemade oatmeal for kids, you're going to boil your water, or whatever liquid you choose for your base.
If you're feeling extra patient, you can have your kids help you measure out the ingredients, cut up the fruit with kid-safe knives, and mix the ingredients together.
If that's not in the cards, you can pre-measure and chop the ingredients to make it a little easier.
It's great to get your kids involved in the kitchen to help them try new foods, and gain valuable kitchen skills, and hopefully, they'll be more likely to eat it since they put the effort into it.
And sometimes you just do it all yourself to make life easier.
Regardless of how many little hands you have to help you in the kitchen, you can add all your ingredients, minus the cream, to your child's bowl and pour in the hot water.
Let the homemade oatmeal for kids sit until the oats cook. After a few minutes pass, you can stir it and add the best part; the cream.
Variations
Making recipes from scratch may take more time, but it also allows you to customize based on your preferences and change improve the nutritional profile compared to the store-bought version.
You can easily change up the ingredients you add to homemade oatmeal for kids.
The easiest swap to make is the type of fruit you add. My two personal favorites are strawberries and peaches simply because I grew up eating strawberries or Peaches and Cream Instant Oatmeal.
Other fruits that go well with homemade oatmeal for kids are blueberries, bananas, raisins, craisins, and apples.
You can use fresh if you have it, but frozen, dried, or even freeze-dried will work too!
How to Store
I don't recommend saving oatmeal. Not because it's unsafe, but because it turns into cement if you let it sit too long. Try to make only what you think you'll eat to help reduce food waste.
What to Serve it With
Oatmeal tends to be a carbohydrate-heavy meal, which let me stop you before you think that's bad – it's not! Kids need carbohydrates, everyone does! Oats will also provide some protein and fiber, but I do suggest offering a protein-rich option as a side.
Protein-rich sides might include a hard-boiled egg, cheese stick, or yogurt. It's not necessary, but providing options can be helpful, even for the pickiest of eaters.
Find out how much protein your child needs here.
Other Recipes You'll Love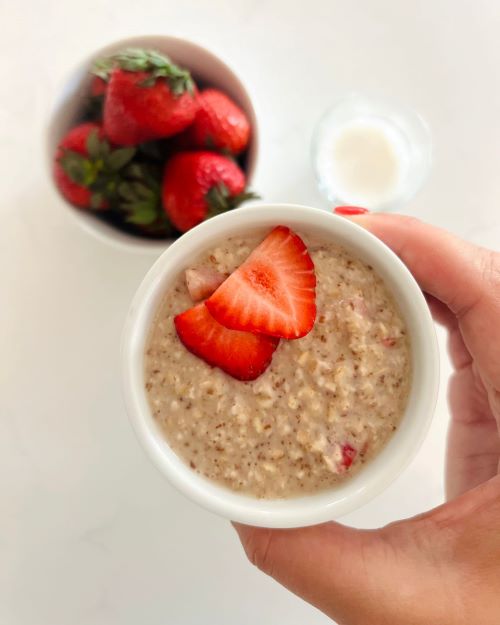 Strawberries and Cream Oatmeal
This homemade oatmeal for kids can easily be customized based on your child's favorite fruit!
Ingredients
1/4

cup

Quick Oats

1/4-1/2

cup

Water

or milk of choice

1/4

cup

Strawberries, diced

1-2

tbsp

Cream

1-2

tsp

Brown Sugar

2

tsp

Ground Flaxseed

1/2

tsp

Vanilla

1

pinch

Salt
Instructions
Boil water using stove top tea kettle, microwave, etc.

Add all ingredients, except cream to bowl.

Add boiling water to bown with oatmeal ingredients. Stir in vanilla and let sit until oatmeal is soft. Pour in cream and stir.