This article may contain affiliate links where I make a small commission at no extra cost to you.
Do you love pancakes, but hate the undivided attention it requires to flip each and every one, let alone the mess you have to clean up after?  Me too.  That's why you have to try sheet pancakes. They are a game changer when it comes to easy meal prep. 
What Are Sheet Pan Pancakes?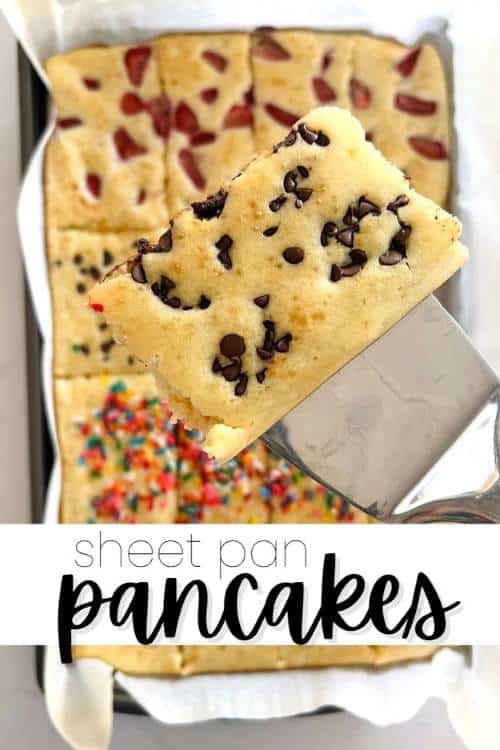 Sheet pancakes are literally whatever pancake mix you prefer, homemade or from a pre-made mix, cooked on a sheet pan instead of individual pancakes you have to hover over and flip yourself. You pop them in the oven and enjoy your cup of coffee while they bake.
With sheet pancakes, you can eat warm pancakes together as a family instead of taking turns eating while you wait for the next batch of pancakes comes off the griddle.
What You Need
You really don't need a whole lot to make sheet pancakes, but there are a few essentials you want to make sure you have before starting
Equipment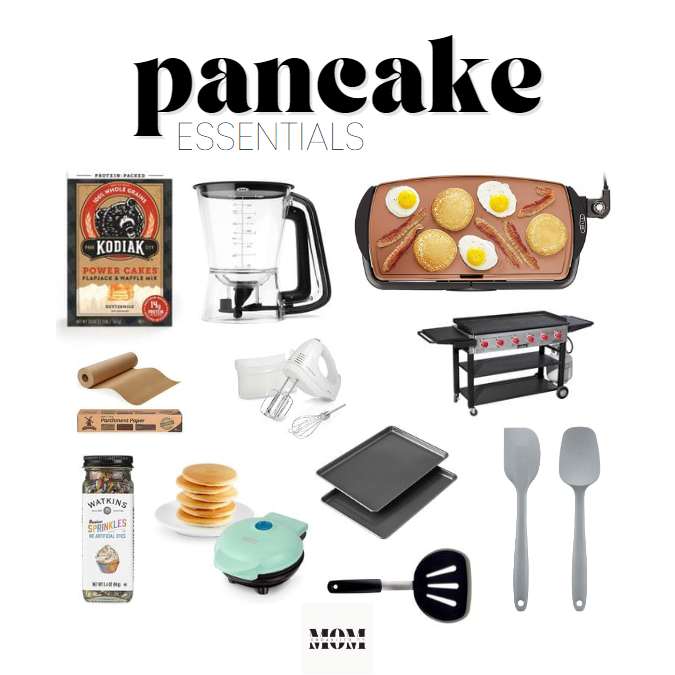 Ingredients for Homemade Sheet Pancakes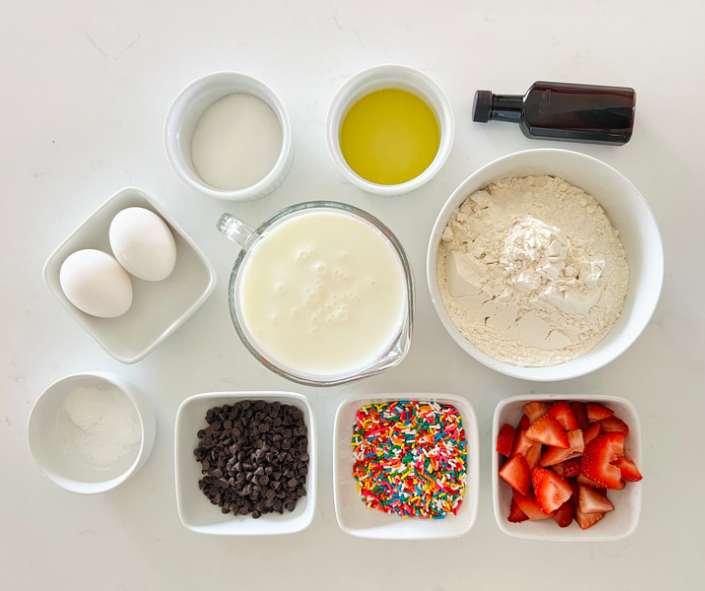 Flour – I used regular unbleached flour.
Buttermilk – there's just something better about buttermilk pancakes, but feel free to substitute for your preferred milk alternative.
Sugar
Oil – I used olive oil because that's all I had, but you can also use canola oil. feel free to substitute melted butter instead.
Vanilla extract
Baking soda
Baking powder
Salt
Mix In Options
Chocolate chips
Mini chocolate chips
Strawberries
Blueberries
Bananas
Sprinkles
Walnuts
How to Make Sheet Pancakes
Most of the time I will use a boxed pancake mix to make life a little easier and ensure I don't screw the pancakes up because I got distracted during the process and forgot to add the baking powder.
My favorite pancake mix is Kodiak Flap Jack and Waffle Mix because they're 100% whole grain, packed with 14 grams of protein and 5 grams of fiber per serving with only 2 grams of added sugar.
For these sheet pancakes, I made a homemade recipe that's been in my husband's family for decades. Every year on the day after Thanksgiving, his aunt and uncle host a brunch and they make these delicious homemade buttermilk pancakes on their Camp Cheff 900 Flat Top Grill.
I'll leave the pancake brunch for them and make the sheet pan version for our family.
Here's a general idea of how to make your sheet pancakes:
Whip up your pancake batter, homemade or from a pre-made mix.
Place parchment paper on your 9 x 13 sheet pan, making sure it covers the edges.
Pour the pancake batter onto the parchment paper-lined baking sheet.
Add your mix-ins of choice into sections.
Bake at 350 degrees Fahrenheit for 15 – 20 minutes or until golden brown edges.
Cut your pancakes into squares and enjoy!
Variations
There are so many different mix-ins you can add to your sheet pan pancakes. I love chocolate chip pancakes, but my kids prefer sprinkles in their pancakes – why not!? With sheet pan pancakes, everyone can have what they love.
Mix In Options
Chocolate chips
Mini chocolate chips
Strawberries
Blueberries
Bananas
Sprinkles
Walnuts
If you'd like a more savory version, you could add cooked breakfast sausage or bacon too!
You can also make mini muffin pancakes with a mini muffin tin instead of a sheet pan and customize each one. This is next on our list to try!
Can You Freeze Sheet Pancakes?
Absolutely! In fact, you should make multiple pans just to freeze extra for later.
Having quick and easy breakfast options for the morning is essential when you have kids.
Cut your sheet pan pancakes into squares, freeze them individually on the same parchment paper-lined baking pan you baked them on, and once frozen, place them in a freezer bag or container to pull out as needed.
Can You Use Pre-Made Pancake Mix?
You're more than welcome to make sheet pan pancakes fro mix! You can use whatever pancake mix you'd like.
Honesty, I only whip out this homemade pancake mix on the weekends when I know we have nothing going on. Otherwise, we definitely rely on a pre-made pancake mix to make things easy.
My favorite pancake mix is Kodiak because it's 100% whole grain, packed with protein and fiber and your kids will still love it!
How to Store and Reheat Sheet Pan Pancakes
I like to store whatever sheet pancakes my kids didn't gobble up in our Rubbermaid Brilliance Food Storage Containers.
This makes it easy for my kids to even pull out and microwave themselves. My kids will even eat them cold. Heat for 30-second increments at a time, they don't take much to warm up.
What to Serve With It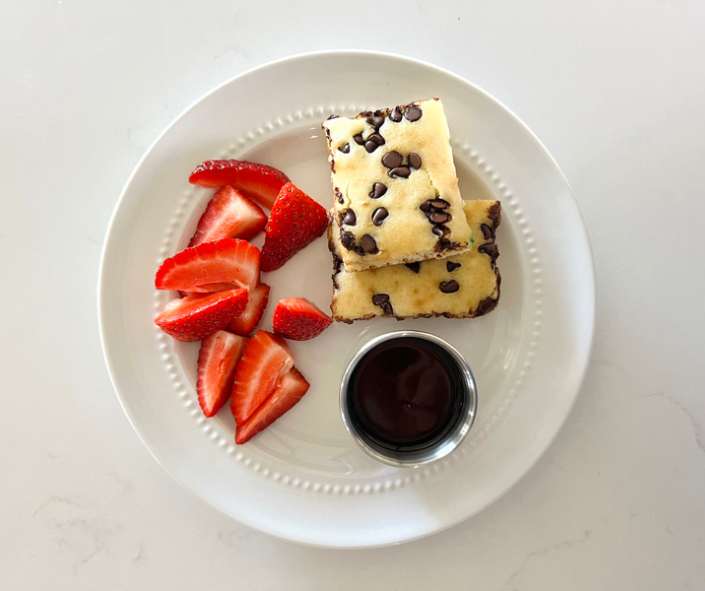 Pancakes definitely fulfill the grain category for a balanced breakfast, so I like to make sure there is also a protein and at least some kind of fruit or vegetable, likely fruit though.
Then again, you could add sausage or berries to your sheet pan pancakes and it's basically a balanced breakfast alone!
Proteins:
Sausage links, patties, or meatballs
Hard-boiled egg
Scrambled eggs
Yogurt
Cheese stick
Fruit or Vegetable
Strawberries
Blueberries
Blackberries
Orange wedges
Banana
Grapes
Hashbrowns
Roasted potatoes
How to Serve to Picky Eaters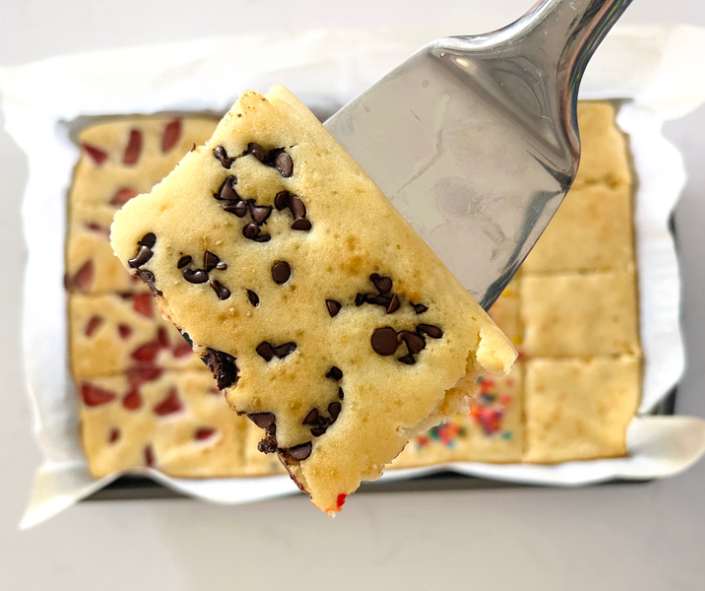 Sheet pancakes are a great option for picky eaters because you can customize them to their preferences. The most important thing to consider if you have a picky eater is trust and autonomy. When we have these two things at mealtimes, your picky eater is more likely to engage with the mealtime process and new foods.
Let your child pick out what mix in they'd like for their portion of the sheet pancakes and let them help you make them! Getting your kids in the kitchen, although it can be very messy, is so helpful for helping your child develop a healthy relationship with food.
Tips for Picky Eaters
Offer syrup for them to dip or pour over their pancakes
Give them mini cookie cutters to cut out fun shapes into their pancakes
Let them use a kid-safe knife to cut their sheet pancakes up themselves
Always offer at least one preferred food with the meal
Let your kids help make the pancakes
If you need more help with your picky eater, read more here.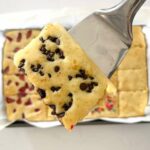 Print Recipe
Sheet Pancakes
Equipment
1-2 Sheet pans

Mixing bowl

Electric mixer

Rubber spatula

Parchment paper
Ingredients
2

Eggs

2

Cups

Buttermilk

1

tsp

Baking soda

1

tsp

Baking powder

1/2

tsp

salt

1/4

Cup

sugar

1/4

Cup

Oil

or melted butter

2

Cups

Flour

Mix ins of choice
Instructions
Preheat oven to 350 degrees F. Add all ingredients to a large mixing bowl. Use electric beater to blend ingredients together.

Line 9 x 13 baking sheet with parchment paper and pour pancake mixture into parchment paper-lined sheet pan.

Add your mix-ins on top of the pancake batter in sections either vertically or in quarters.

Bake sheet pancakes for 15 – 20 minutes or until light golden brown edges.

Cut sheet pancakes into desired sizes and enjoy!
Other Recipes You'll Love
Easy Brioche Breakfast Casserole
The Best English Muffin Pizza Recipe