This post may contain affiliate links
Ask anyone who knows me what my favorite food is and they'll likely say cheeseburgers.
Yup, a dietitian who loves cheeseburgers. And if there's a side of truffle fries available, oh man. Watch out!
I usually don't make cheeseburgers at home and instead, they're my go-to out-to-eat choice. But when I saw the viral Big Mac smash burger tacos all over social media, I had to try them out and they did not disappoint.
These Big Mac smash burgers are easy, and delicious, and help add some variety to your taco Tuesdays.
What You Need to Make Big Mac Tacos
I don't know about you, but when I see a recipe with a laundry list of ingredients, I'm out.
This Big Mac Taco recipe isn't that kind of recipe. It's so simple and doesn't require a bajillion ingredients or tools. And you likely have many of the ingredients hanging out in your pantry or fridge.
Equipment
Griddle, Flattop griddle, Frying pan
Spatula
Cutting board
Knife
Ingredients for Burger Tacos
Tortillas
Ground beef
Sliced or shredded cheese
Salt & pepper
Shredded lettuce
Sesame Seeds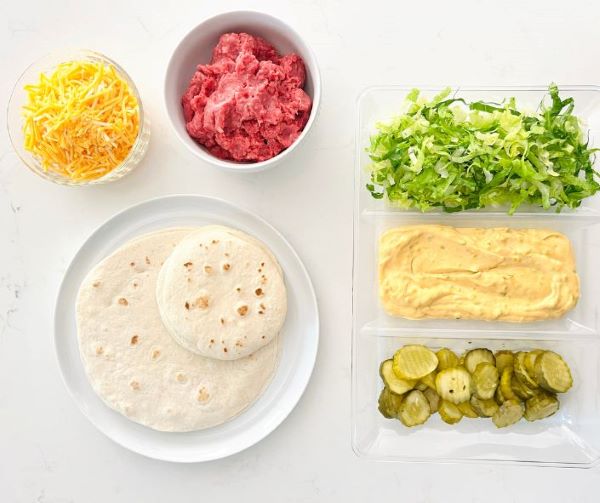 Ingredients for Smash Burger Sauce
Mayo
Mustard
Worstechire sauce
Paprika
Onion Powder
Garlic Powder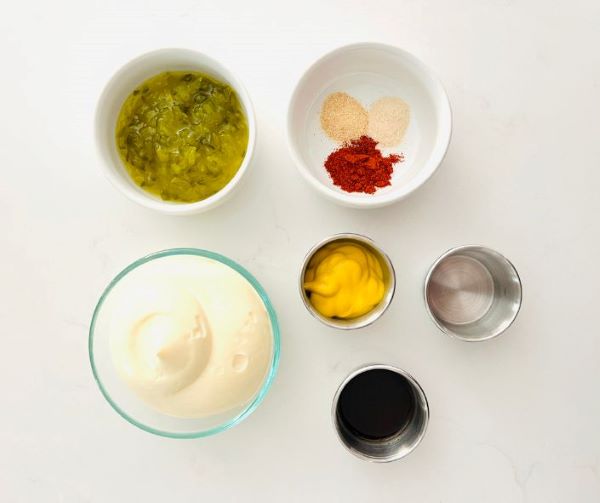 The first time I made these Big Mac Smash Burger Tacos was at my parents and they have a Blackstone grill which made this recipe even simpler, but you can absolutely use a tabletop griddle or even a fry pan.
How to Make Big Mac Smash Burger Tacos
This sounds kind of strange, but you're going to start out by smashing the raw ground beef onto your tortillas, all the way to the edge. Spread the beef fairly thin, enough to cover the tortilla, but thick enough where you don't have any holes. As the beef cooks, it will shrink a little.
As for the size of the tortillas, you can use really whatever size you'd like. Personally, I like the 6" street taco tortillas for my kids and if you don't have those, you can use a cup to make mini tortillas out of a large tortilla, perfect for the pickiest of eaters. For my husband and I, I like to use the 8" or 10" flour tortillas.
I recommend getting all your beef tortillas made up first so you don't find yourself scrambling throughout the process.
Once your beef tortillas are all set, you can fry them up beef side down for roughly three to five minutes. Flip the tortillas over, add your cheese, and let it melt while the tortilla frys up from the grease of the beef.
Once your tortilla is fried to your liking, take it off the griddle and continue to make up the rest of the burger tacos.
I like my tortilla to be a little crispy, but others might still like it on the softer side. Totally up to you and your preference – or your picky eater's that is.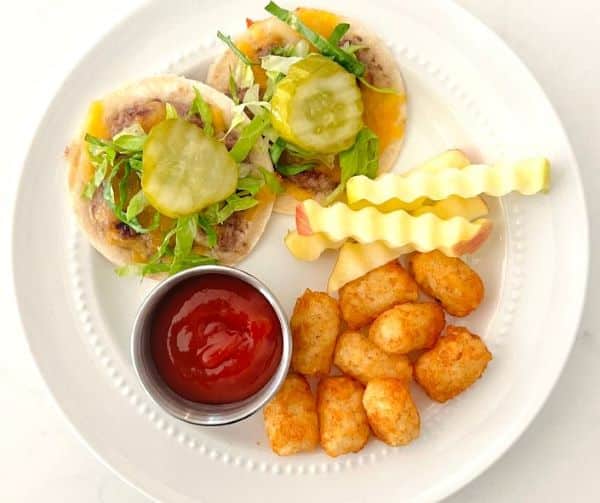 How to Make Smash Burger Sauce
The smash burger sauce isn't required for these viral burger tacos, but it sure does take it to another level.
The ingredients used in this smash burger sauce are common staples in many household pantries and fridges. Surprisingly, there's no tomato base in this recipe, which I was shocked to find out too!
Mayo
Mustard
Relish
Worstechire sauce
Paprika
Onion Powder
Garlic Powder
Ready for things to get even simpler? Mix these all together and you have your very own homemade smash burger sauce that you can store for up to three months in the fridge.
Variations
Not a huge fan of Big Macs? No problem, forget the smash burger sauce, and simply add your favorite burger toppings.
Enjoy a BBQ bacon cheeseburger? Add BBQ sauce and chopped bacon.
Want more of a traditional taco cheeseburger? Add some chili powder, cumin, and garlic powder to the burger patties before frying – or just use a premade taco seasoning.
When it comes to serving these viral Bic Mac Smash Burger Tacos to kids, I like to make mini versions with street taco tortillas. You can even use cut-out mini tortillas from a larger tortilla using a cup!
Need a gluten-free option? Try corn tortillas instead of flour tortillas.
FAQs
Can You Use Ground Turkey?
Absolutely! You can use whatever ground meat you'd like for this recipe.
Do You Need to Grease the Griddle?
Nope! The grease from the ground beef works as a natural grease for cooking.
How Long Does the Smash Burger Sauce Last?
If you don't manage to eat it all, you can store the smash burger sauce in the refrigerator for up to three months.
I've recently started using condiment squeeze bottles for some of our condiments like ketchup, ranch, and BBQ sauce. You could do the same with the smash burger sauce too. I'd just cut the tip of the nozzle to make sure the relish in the sauce doesn't get stuck.
How to Store and Reheat
These Big Mac Smash Burger Tacos are best fresh off the griddle, but they're so good it's hard not to make a few extra to enjoy the next day.
You can store your leftover burger tacos without the toppings in a Ziploc bag, or a large airtight container in the fridge for three to seven days.
When you'd like to reheat your burger tacos, microwave for 1-2 minutes. Be aware that by microwaving your leftover burger tacos, they won't be crispy like when you first made them.
If you'd like a crispy leftover version, add your burger taco to your air fryer at 375 F for three to five minutes.
What to serve it with
Big Mac smash burger tacos are delicious by themselves, but it just feels wrong to not add a side to them, especially if you're not sure if your kids will like them – always offer a preferred food with new recipes.
Sides That Go With Burger Tacos
Shredded lettuce
Pickles
Tater tots
French fries
Sweet potato fries
Apple fries – fresh apples cut with a crinkle cutter
Garden salad
Salad kit
Other Recipes You'll Love
Strawberries and Cream Oatmeal
The Best English Muffin Pizza Recipe
Viral Big Mac Smash Burger Tacos
The most delicious taco you'll ever enjoy!
Equipment
Griddle

or large frying pan

Spatula

Small mixing bowl

Mixing spoon
Ingredients
1

lb

Ground beef

4

10"

Flour tortillas

4

slices

Cheese

1

tbsp

Sesame seeds

Salt and Pepper

to taste
Smash Burger Sauce
1

cup

Mayo

1/4

cup

Sweet relish

2

tbsp

Mustard

1

tsp

White vinegar

1

tsp

Worstechire sauce

1/2

tsp

Paprika

1/4

tsp

Garlic powder

1/4

tsp

Onion powder
Instructions
Smash just enough ground beef on one side of the tortilla to form a thin layer of beef. Add salt and pepper to the beef side of the tortilla. Assemble all beef tortillas prior to frying.

Fry on griddle on medium heat, beef side down, for roughly three to five minutes or until the beef starts to form a little bit of a crispy brown layer.

Flip the beef tortillas with a spatula, add cheese and let the tortilla fry until it's a light golden brown and crispy.

Top with shredded lettuce, Big Mac smash burger sauce, and sesame seeds.
Smash Burger Sauce
Mix together all ingredients for the smash burger sauce until well combined.