This post may contain affiliate links where I may make a small commission at no extra cost to you!
Have you ever found a recipe that looks delicious, only to be disappointed with the laundry list of ingredients and the horror of how many dishes you'll have to wash after the fact?
As a mom of two young children myself, I avoid recipes that have too many moving parts. I need simple. I need quick. And I need as few dishes to wash as possible.
Cue my easy one pot chili mac recipe. It's so simple, is made in only one pot (hence the name), plus it's homemade so you'll feel like a professional chef when it's all said and done.
Don't forget to read along the way on how tips for how to prepare and offer this easy one pot chili mac n cheese to your kids, even the pickiest of eaters too!
What You'll Need
Equipment
Optional:
Ingredients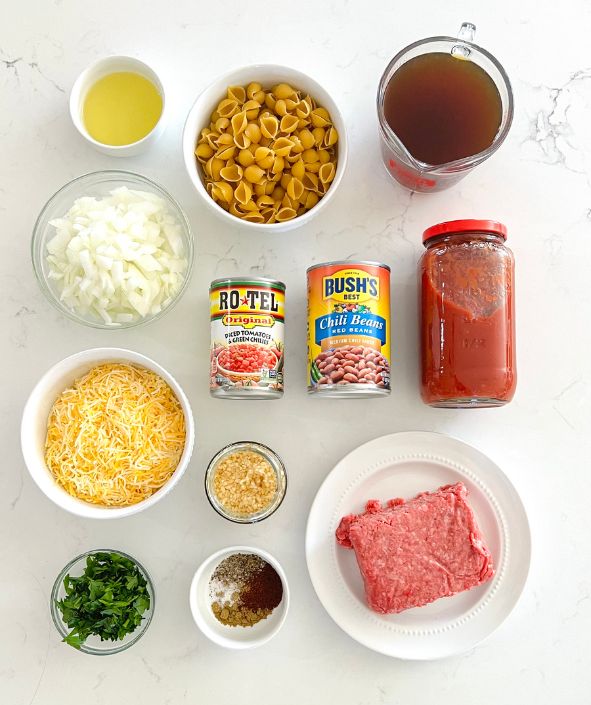 Pasta– you can use whatever kind of pasta you'd like! I used a medium shell, but elbow, penne or rotini would also work great.

Picky eater tip: let your child pick out a pasta at the grocery store for this recipe.

Minced garlic – you're welcome to use fresh garlic, but I always forget to pick some up, so I usually default to the pre-minced garlic in my fridge.
Onion – you don't have to use onion, but it does give it a better flavor.

Picky eater tip: give your kids a few onion rings to cut up with kid-safe knives and don't assume they won't like it just because it's a raw onion!

Beef broth – I like using the low-sodium varieties to help minimize sodium where I can. You can also use chicken or vegetable broth too.
Rotel – this helps give it that Mexican flavor.
Chili beans – not everyone is a fan of beans, but the chili flavor also helps contribute to the overall flavor of the dish.

Picky eater tip: after you open the can, let your child dump the beans into the pot.

Shredded cheese – I used Mexican shredded cheese, but regular cheddar would work too.

Picky eater tip: when offering the one pot chili mac n cheese at mealtime, offer a side of cheese (if it's a preferred food). This will help them connect to what's in the dish and still give them something to eat in case they don't like the one pot chili mac (yet).

Seasonings – not too many, but just the right combo for great flavor (salt, pepper, chili, and cumin).
Oil – I usually use olive oil, but you can use whatever cooking oil you prefer.
Fresh parsley – mostly to add a little color at the end, but honestly, the flavor really seals the deal on this recipe.
How to Make One Pot Chili Mac n Cheese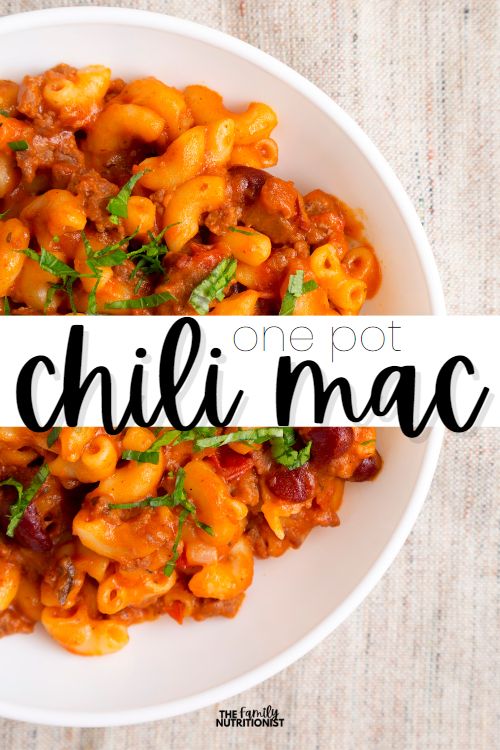 The good news is that this recipe is all made in one pot to help minimize the dirty dishes that pile up in your sink all too often.
The questionable news is whether or not your child will like this recipe.
If this is a new recipe and you're not sure if they'll like it, invite them to help you make it!
We love using our kitchen helper (use code family10 for 10% off) to get our kids safely and easily up at the counter to chop things with kid-safe knives, and pour, stir, and sprinkle in seasonings.
Even if they don't eat it the first time you make it, getting them involved in the process can really open up their trust in trying it one day.
This recipe really has only two major steps:
Brown the ground beef, onion, and garlic
Add the rest of the ingredients and boil until the noodles are cooked, adding cheese and parsley at the end.
For more details on how to make this one pot chili mac n cheese, scroll to the recipe card.
What to serve it with
When I think of chili, my mind instantly goes to cornbread. We love making mini cornbread muffins whenever we have chili.
I recently found these Pillsbury Cornbread Swirls and had to give them a try. They were not only really easy to make, but they were so good and went perfectly with our one pot chili mac n cheese.
You can also top it with additional cheese and sour cream to give it that final chili touch.
Variations
One of my favorite strategies with picky eaters is to take a recipe they love (this one), and change it up slightly. This way it's familiar to them, but the slight change helps them get used to new foods and change.
You can make a small change to this recipe and try a different type of pasta. If you do this, you'll just have to adjust the cooking time up or down. The smaller or thinner the noodle, the less time it takes to cook.
Another way to change up this recipe is to make it a more traditional Italian dish with a garlic diced tomato instead of rotel, Italian seasonings instead of chili and cumin, mushrooms or spinach instead of canned beans, and mozzarella instead of Mexican or cheddar cheese.
How to Store and Reheat
Sometimes I just put the whole Dutch oven into the fridge to cool down overnight once dinner is over. This way I can easily just pop it back on the stove the next night for leftovers.
Just make sure to leave the lid off so the heat can be released, and if you can remember, give it a few stirs every few hours or before you go to bed to help release even more heat. This is just to make sure your food cools down to a safe temperature where bacteria can't grow.
As far as reheating, pop it on the stove and bring to a simmer, or toss it in the microwave, making sure to stir in between until it is heated all the way through.
You can also freeze this meal for three to six months, but if you are planning to do this, I recommend cooking the noodles al dente because the reheating process will only cook them even more.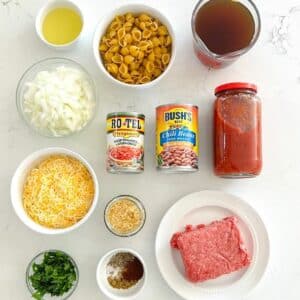 Easy One Pot Chili Mac
Ingredients
1-2

Tbsp

Olive oil

1

Tbsp

Garlic

minced

1

small

Onion

diced

1

lb

ground beef

2

Cups

Low sodium beef broth

10

oz

Chili Beans

16

oz

Marinara

10

oz

Rotel

1

tsp

Chili powder

1

tsp

Cumin

2

Cups

Uncooked pasta

2

Cups

Shredded cheese

cheddar or Mexican

1/4

Cup

Parsley

fresh

Salt and pepper to taste
Instructions
Add oil to dutch oven, along with diced onions, minced garlic, and raw ground beef. Brown ground beef and soak up ground beef with paper towel or drain and add back to dutch oven.

Add broth, beans, seasoning, Rotel, marinara, and pasta to dutch oven. Cook covered on medium until pasta is al dente, stirring occassionally.

Add cheese and stir until combined. Sprinkle with fresh, parsley and enjoy!
Other Recipes You'll Love