Friday nights are made for pizza, but the same pizza every Friday can get old pretty fast. Good news is that there's so many different ways you can enjoy pizza.
To keep things fresh and exciting in our house, we like to change up pizza nights.  We definitely get take out, and sometimes even go the extra mile and make homemade pizza, but one of our favorites is pizza quesadillas.  Essentially a pizza quesadilla.
This pizza quesadilla recipe is super simple and easily customizable, even for the pickiest of eaters.  
What You Need to Make Pizza Quesadillas
The ingredients you need to make pizza quesadillas are fairly simple.  So simple, you may already have them in your pantry and fridge.
Think about how you make a traditional quesadilla, but tweak the ingredients to resemble pizza.
Ingredients for Pizza Quesadillas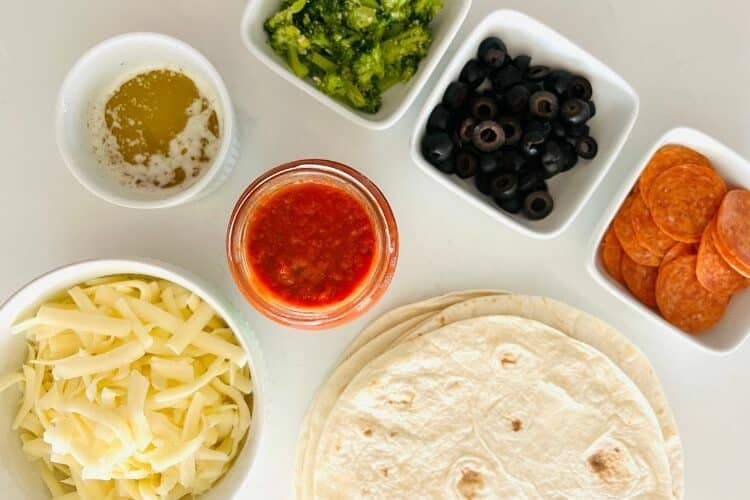 Tortillas: I like to use 8" or 10" flour tortillas, but you can make mini pizza quesadillas with 6″ or street taco tortillas. 
Pizza sauce: you can also use leftover pasta sauce or marinara.
Mozzarella cheese: feel free to buy it in block form and shred it yourself or keep it simple and buy it already shredded.  
Pizza toppings of your choice: pepperoni, sausage, olives, peppers, onions, mushrooms, broccoli, tomatoes, or pineapple if you dare.
Olive oil or melted butter: this ingredient is key for a super tasty pizza quesadilla
Italian seasoning
Garlic powder: opt for garlic powder over garlic salt to minimize sodium
How to Make Pizza Quesadillas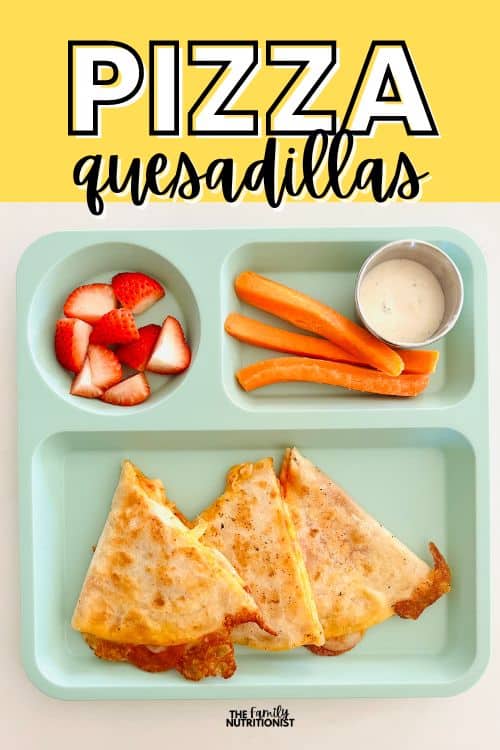 I like to assemble all my quesadillas prior to cooking them, but they're easy enough to make on the fly.
First you will spread sauce on half of the tortilla.  Then you'll add your shredded cheese, followed by your toppings of choice, add a little bit more cheese to help the other side of the tortilla stick.  Finally you will fold the tortilla over.
Before you cook your pizza quesadillas, mix together olive oil, Italian seasoning, and garlic powder in a small bowl.  You can also use melted butter.  Using a silicone brush, brush the seasoned oil on one side of the pizza quesadilla.
Cook the pizza quesadillas, oiled side down, in a frying pan or on an electric griddle on medium heat or 375F.  I like using an electric griddle because I can cook four to six quesadillas at a time.
The great thing about these pizza quesadillas is that they don't take very long.  You only need to cook them long enough for the tortilla to turn golden brown and the cheese to melt.  
While your first side is cooking, brush the seasoned oil onto the top side of the pizza quesadilla prior to flipping.
If you find that the tortilla has cooked to your liking, but the cheese hasn't melted enough, you can always zap the pizza quesadillas in the microwave for thirty seconds. 
What to Serve with Pizzadillas
A great side dish for quesadillas typically includes a Spanish rice or anything you can dip your quesadillas in.
As for pizza quesadillas, I like to add the leftover pizza sauce as a dip to keep it simple.  
Instead of a Spanish rice, a nice side salad would go great with pizza quesadillas.
In our house we usually take Friday night pizza nights as an opportunity to use up whatever fresh produce we have in the house as a side to our pizza entree.
Pizza quesadilla for Picky Eaters
When serving these pizza quesadillas to picky eaters, it's important to keep in mind if this is a new option for them or not.  If it is something new, consider having them help you make the pizza quesadillas and let them pick out the toppings that go in theirs.
The great thing about pizza quesadillas is that they are easily customizable so everyone can add their favorite toppings or simply keep it to just a cheese pizza quesadilla or even a traditional cheese quesadilla.
Pizza has many opportunities to expose children to new foods through it's toppings, but if your child doesn't enjoy pizza yet, check out these additional tips to help them learn to like it.
Pizza quesadilla Variations
As mentioned, there are many different ways you can customize pizza quesadillas, starting with the toppings you add.
Pepperoni
Sausage
Peppers
Broccoli
Onion
Mushrooms
Olives
You can also change the flavor profile up completely
Buffalo chicken quesadilla with Monterey jack cheese, chicken tossed in buffalo sauce, diced red onion, and blue cheese or ranch dressing for dipping.
BBQ chicken quesadillas with mozzarella cheese, chicken tossed in BBQ sauce, diced red onion, corn, diced tomato, and ranch dressing for dipping.
Smash burger tacos with ground beef, cheddar cheese, shredded lettuce, tomato and onion with a homemade Big Mac sauce for dipping
Frequently Asked Questions
How do you Store and Reheat Pizzadillas
You can store and reheat pizza quesadillas just like regular quesadillas.  Place in an airtight container or bag and store in the fridge for three to seven days.  Simply heat in the microwave for 1-2 minutes or heat in frying pan.
Can you Freeze Pizzadillas
You can definitely freeze pizza quesadillas.  It's a great idea to make extra and freeze for later.  Lay pizza quesadillas on a parchment paper lined baking sheet and freeze.  Once frozen you can add to an airtight container or Ziplock bag and freeze for three to six months.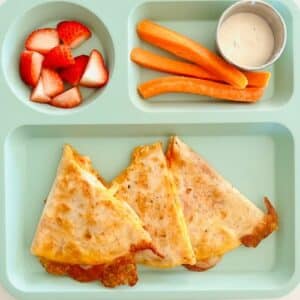 Quick and Easy Pizzadillas
A delicious spin on traditional quesadilla with pizza inspired ingredients
Equipment
Large frying pan

or electric griddle

Spatula

Spoon
Ingredients
4-6

Flour tortillas

8" or 10"

2

cups

Mozzarella cheese, shredded

1/2

cup

Pizza sauce

1/2

cup

Pizza toppings of choice

1/4

cup

Oil or melted butter

2

tsp

Italian seasoning

1

tsp

Garlic powder
Instructions
Spread pizza sauce on half the flour tortilla, sprinkle enough cheese to slightly cover with pizza sauce, and add preferred pizza topping ingredients. Top again with a small amount of cheese and fold the tortilla over to make a half circle.

Mix together oil, or melted butter, with Italian seasoning, and garlic powder. Use silicone brush to brush the top of the pizzadilla with seasoned oil.

Heat large frying pan to medium or electric griddle to 350F and cook pizzadilla oil side down. Let the pizzadilla cook until bottom side of tortilla is golden brown.

Before flipping the pizzadilla, brush the top side with seasoned oil. Once bottom side of pizzadilla is golden brown flip pizzadilla to cook the other side and let cheese continue to melt.

Remove pizzadillas from the frying pan or electric griddle and let cool before cutting to prevent cheese from spilling out.
Other Recipes You'll Love
Strawberries and Cream Oatmeal
The Best English Muffin Pizza Recipe